Daily Joke: Man Admits to His Old Friend He Is Cheating With the Local Bartender's Wife
Today's joke is about a man who went to see his best friend one day with a shocking revelation. After hearing about the man's adventures, the friend was taken aback but agreed to support him nonetheless. 
We all have friends we can confide in with our deepest darkest secrets because we know they'll keep them safe and sound. And while our friends always have our back, there can be awkward situations where we might be asking too much of them, leaving them no option but to help us out.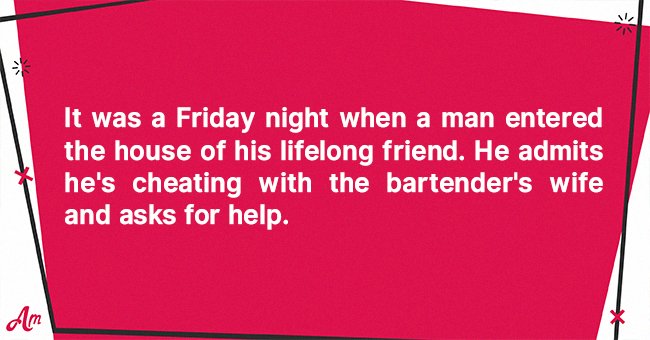 This #jokeoftheday covers a similar scenario, but with an interesting twist. Patrick showed up at his friend's house on a Friday night with a surprising piece of information. His friend, Paddy, let him inside, and they both sat down, after which Patrick revealed a shocking story:
"Paddy, I need a favor - I'm sleeping with the bartender's wife. Can you hold him in the pub for an hour after he closes up?" 
After hearing Patrick's words, Paddy was deeply shocked and told his friend that he disapproved of the idea. However, because he was an old friend of Patrick's, he didn't have much choice and unwillingly agreed to support his friend. 
So Paddy rushed to keep the bartender engaged as soon as the pub closed. The two got talking, and Paddy tried his level best to keep the bartender busy with his absurd questions.
When Paddy's questions had stopped making sense, and he could not go on any further, the bartender became suspicious of his actions and said:
"Paddy, what are you really up to with all this?" 
Poor Paddy could not keep the bartender occupied any longer and had no choice left but to surrender. He remorsefully told the bartender where he was going with the whole thing: 
"I'm sorry....my friend Patrick is sleeping with your wife right now and asked me to keep you occupied."
When the bartender heard Paddy's response, he patted his shoulder like an older brother and added:  "I think you'd better hurry home, my wife died two years ago."
If you enjoyed reading this joke, you can enjoy more hilarious moments by checking out another joke about a man who meets a beautiful lady in a bar after breaking up with his girlfriend.
Source: Reddit