Mary J Blige, 50, Is a 'Sun Goddess' in Golden Dress with High Slit to Showcase Her Long Legs
Mary J Blige glows like a sun goddess in a recent Instagram post promoting her wine collection. The 50-year-old R&B legend puts her best golden thigh-high boot embellished foot forward for the new venture. 
Mary J Blige has been one of the most iconic women in music for at least three decades now. The Grammy Award winner is famous for revolutionizing the role of female vocalists in hip-hop and barely aging. 
As seen in her latest post promoting her new wine collection, Mary J Blige is getting more fabulous by the year. Her long, toned legs in her signature thigh-high boots are fantastic enough to make a woman in her 20s jealous.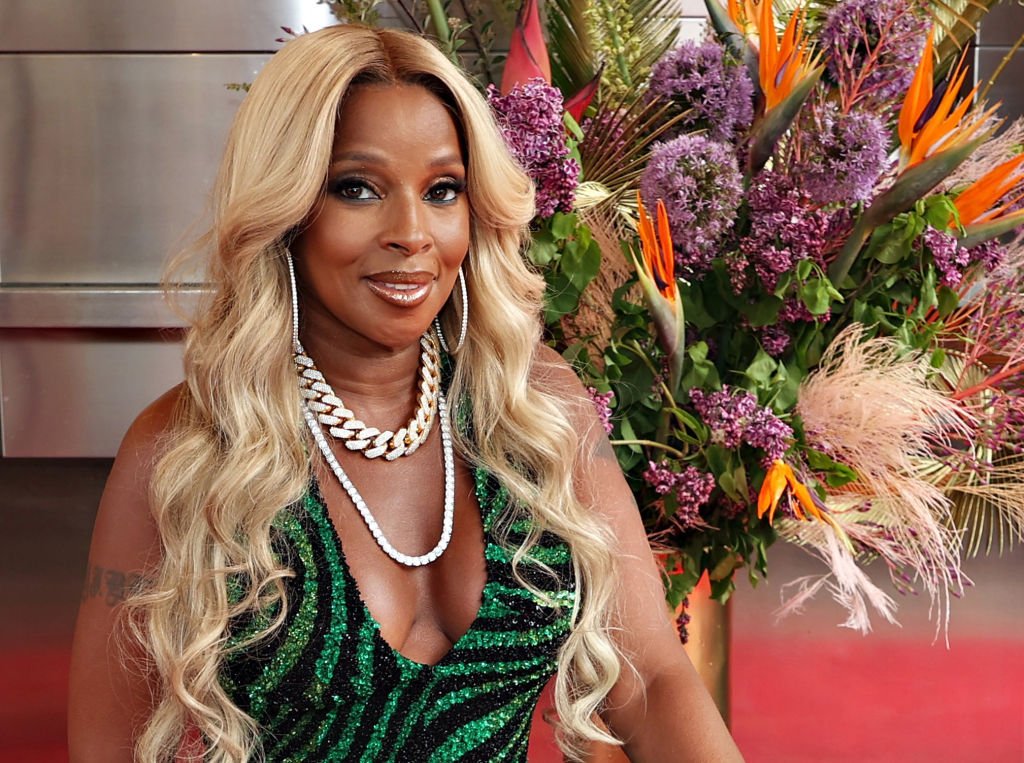 Mary J Blige looks radiant in her gorgeous golden picture for Sun Goddess, her new wine collection. The 50-year-old singer wears her hair in platinum blonde long braids, a signature color that keeps Blige looking youthful. 
Her face makeup glows, showing off her radiant complexion and youthful features impressive for her age. The golden gown she wears has slits that go up to the hip, presenting her long glistening legs to the world. 
Blige also accessorized the perfectly radiant ensemble with a pair of golden gloves in true R&B queen style. Everything about the glamorous shot represents the true powerful queen that the singer is in one frame. 
Like many celebrities, Blige has dipped her toes in an alcohol brand venture with the help of some experienced professionals. Blige announced the Sun Goddess Wines collection's arrival last year. 
The iconic singer partnered with the renowned Fantinel Winery to create her selection of special wines. Her first collection included two of her favorite wine varietals, namely a Sauvignon Blanc and Pinot Grigio Ramato. 
Blige revealed that a friend had introduced Marco Fantinel to her as the producer of the best Pinot Grigio in the world. As a result, Blige visited the Fantinel family vineyards and connected to the space and people. 
Blige reveals that the energy she felt at the Fantinel Winery opened her up to partnering with the wine producers. Thus, Sun Goddess Wines was born, and it looks like it has been doing very well since then. 
The name "Sun Goddess" stems from Blige's limitless love for the energy and warmth radiated by the sun. Her wine collection's name is also special because she has childhood memories linked to her admiration of the sun. 
Unfortunately, Blige's childhood memories aren't always filled with sunshine as she's revealed a past of sexual and substance abuse. However, the queen of hip-hop soul seems to be making up for it all in her adulthood. 
At 50-years-old, Blige is looking and feeling better than ever, as seen in her recent documentary. The singer has come a long way from being a young woman who hated herself so much that it made her depressed. 
Nowadays, Blige can be seen celebrating her life, beauty, and body on her social media accounts. The iconic musician even celebrated her 50th birthday on the beach in a golden bikini that made her look breathtaking. 
Although Blige has gone through enough hardships to age someone within a week, she only gets better with time. She also reveals that she has a few dedicated self-care practices to keep her looking that good. 
Blige has a structured schedule that includes a workout with her trainer of twenty years at 7:30 every morning. However, she also treats herself with tenderness by taking a midday nap whenever she can. 
Blige's wine collection couldn't have come at a better time of the singer's life as it perfectly captures where she is now. She is a gorgeous sun goddess enjoying life and getting even better with time like a fine wine.