Police Find Missing 4-Year-Old Boy in a Pond, Dashcam Catches Everything
A team of three police officers from Painesville, Ohio, responded to a call of someone reporting a body floating in a pond, and upon closer inspection, they realized it was a little boy that went missing a few hours before. 
Officers Daniel Thompson, Matthew Tycast, and Chad Balausky's heroic actions were captured on their vehicle's dashcam as they rushed to the aid of a four-year-old boy that was drowning in a pond. 
On Saturday, June 12, the police department received a report that there was a little boy, Paolo Moctezuma, missing from a house in Erie Street where he was last seen with a relative. The officers not only found him but also saved his life.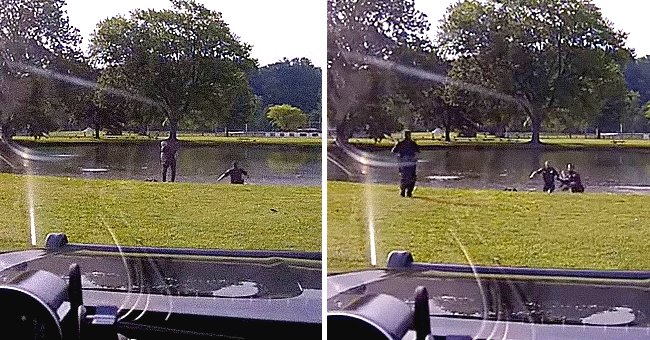 SAVED FROM DROWNING
A few hours after the four-year-old was reported missing, the officers received a call that there was a suspected body floating in a pond located in a park close by. 
The three officers rushed to the scene, and upon arrival at the pond, there were no obvious signs of a body. After looking closely, they spotted air bubbles on the surface of the water and rushed in to grab the little boy. 
Warning: Some viewers may find this video disturbing.
CAPTURED ON CAMERA
The entire ordeal was captured on the officers' dashcam showing Officers Tycast and Thompson quickly remove their gunbelts and wade into the water to reach the four-year-old boy. 
Officer Balausky ran to get a rope which may have been necessary if the boy was further out, but the other two officers managed to get to Moctezuma without struggling too much. 
CHEST COMPRESSIONS
The footage shows that once they were out of the water, Officer Thompson immediately began chest compressions. In a statement, Police Chief Dan Waterman gave more details of what happened, saying: 
"After a number of chest compressions, they had a cough and things started to expel, water started to expel out of the child's mouth."
The officers stayed by the little boy's side until personnel from the Painesville City Fire Department arrived and provided further medical care to him. 
FULL RECOVERY
In a later statement, it was revealed that Moctezuma made a full recovery and is happy to be back home with his parents after the almost-horrific incident. 
The three officers who acted quickly in order to get to the boy in time and administer the correct treatment were hailed by their department as local heroes. The department took to Facebook to share the video, writing: 
"The Painesville Police Department is proud of the responding officers for their courageous actions and lifesaving efforts." 
The Painesville police department also revealed that if the officers did not respond as swiftly as they did, the outcome of this case might have been very tragic, making their actions all the more heroic and important.