Hollywood Legends Sylvester Stallone & Arnold Schwarzenegger Reunite & Fans Cannot Stop Gushing over New Photos
Hollywood's legends Sylvester Stallone & Arnold Schwarzenegger got fans smirting with a recent social media appearance. The iconic actors reunited for a time out after a year of being apart.
Hollywood's iconic actors, Sylvester Stallone and Arnold Schwarzenegger, reunited after a year of being apart. The two stars appeared great together as they blessed fans with photos of their reunion on social media. 
Sylvester took to his Instagram page on Saturday, 10, 2021, and shared two incredible images of him and co-actor with some other notable faces as they enjoyed each other's company.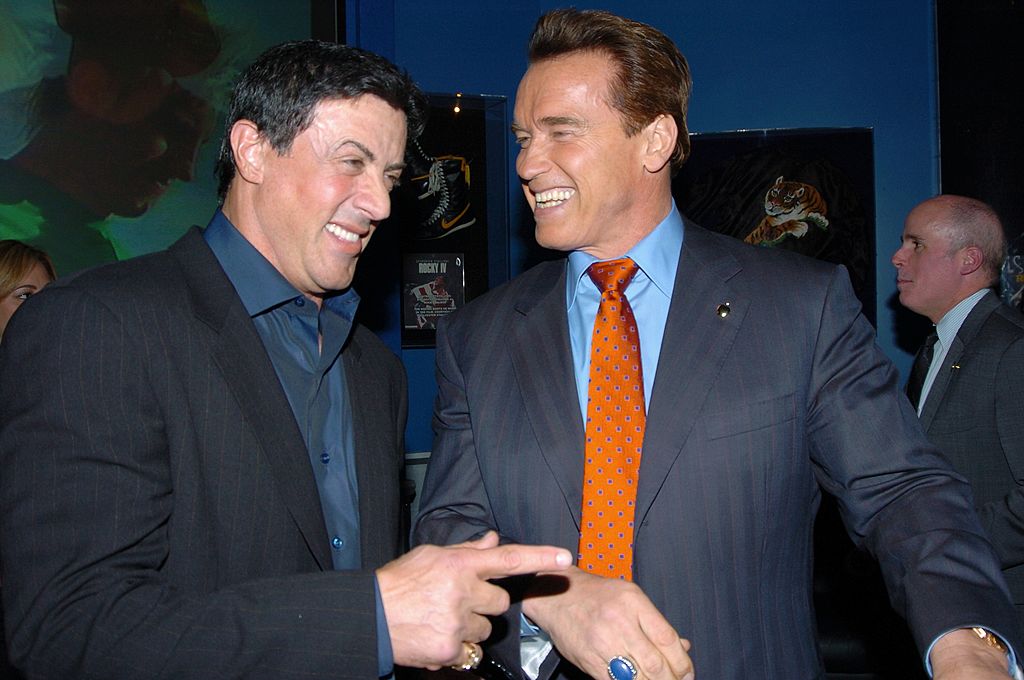 AN HEART-WARMING REUNION
In the first image, Sylvester and Arnold wore black tops as they shared a side embrace. The next slide featured them standing alongside two-star actors, Ralf Moeller and Frank Sylvester, for a longer chain of embrace.
The post has gotten many likes and tons of comments. Fans could not hide their admiration for the actors as they flooded the comment section with praises.  The "Rambo" star's caption read:
"The first time I've seen Arnold in over a year! And the gang…  @schwarzenegger  @ralf.moeller  @frankstalloneguitars."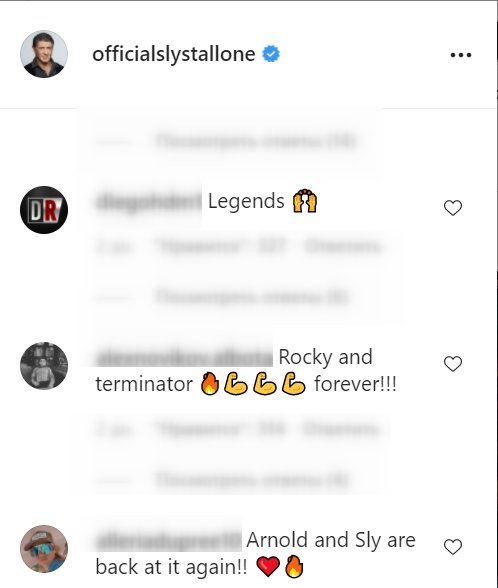 THE DELIGHTED FANS
Many of the iconic actors' fans paid tribute to the legends with their adoring statements. A fan proclaimed that the two would continue to be legends. Another fan emphasized their presence under the same roof while many dropped red heart emojis. 
While some fans just acknowledged their fantastic personalities, some took their admiration to another level as they became curious. A commenter asked if they should hope for another showdown.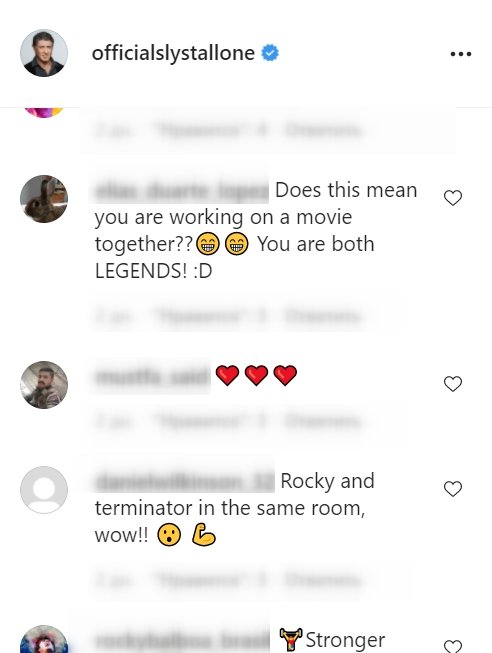 More fans continued to fill the comment section with appreciative statements. They gushed over the great Union, and a fan went on to call them the "greatest action stars of all time."
The two stars famous for their almost similar roles in different action films in the 80s were not always close pals.
THE RIVALRY 
Over the past years, Sylvester and Arnold have given the best action movie. The two are well known for their skilled moves on set and ability to keep fans entertained.
Once speaking on the "David Letterman" show, Sylvester opened up about their relationship. He noted that although their similar career choices gave birth to conflict, he started enjoying the competition after a while.
The action icons commemorated their reunion on Instagram, following a year of not seeing each other. https://t.co/0bupxDJrk3

— HOLA! USA (@USAHOLA) July 11, 2021
The two legendary action heroes became famous for their significant roles back in the late 1970s. Sylvester's career kicked off after "Rocky," where he starred as boxer Rocky Balboa. The movie earned him an Oscar award for Best Picture in 1976.
Arnold was first known as a bodybuilder in the Olympics. He moved to Hollywood and became famous after he starred in "Conan The Barbarian" in 1982.  He became even more known after his role in "The Terminator" in 1984.
Inside Arnold Schwarzenegger and Sylvester Stallone's old feud sparked by movie rivalry https://t.co/gDLEJ2cWTo pic.twitter.com/ZAfKlS2Jcw

— Daily Star (@dailystar) May 17, 2021
However, the two stars famous for their almost similar roles in different action films in the 80s were not always close pals. The duo's career that took off simultaneously created some form of rivalry between them.
The Hollywood legends have since buried the hatchet and even starred in movies like "The Expendables" and "The Escape Plan" together. While Arnold has spent more of his energy on politics, Slyvester continues to make a mark in entertainment.
THE STALLONE KIDS
Sylvester has been married three times, and he is a father to five children. He had sons Sage and Seargeoh from his marriage with Sasha Czack. Sage was his first child who was also an actor. He passed away after battling heart disease in 2012.
Sylvester also married Brigitte Nielson, but they had no kids. He had Sistine, Scarlet, and Sophia from his marriage to former American model Jennifer Flavin. The three daughters are also Hollywood actors like their iconic father.
THE SCHWARZENEGGER CHILDREN
The former governor of California tied the knot with ex-wife Maria Shriver in 1986. They share four kids, Katherine Eunice, Christina Maria Aurelia, Patrick Arnold Shriver, and Christopher Sargent Shriver, from their marriage. 
Arnold welcomed his last child Joseph Baena with Mildred Patricia Baena, a household employee for the Schwarzeneggers. Arnold's first child Katherine became a published author in 2010 and is a Georgetown University graduate.
However, in recent years she is known as Mrs. Chris Pratt after she married the "Guardians of the Galaxy" star in 2019. Her siblings have also chosen excellent career choices, and Arnold's once mentioned in an interview that he was proud of his kids.