Shaunie O'Neal Stuns in Tight Glittering Dress Dancing with Son Shaqir & Daughter Amirah in 360° Video
Reality TV star Shaunie O'Neal dazzles fans in a tight high neck, glittering dress as she dances elegantly with her son Shaqir, and daughter, Amirah, in a new 360° video.
Popular American TV personality and entrepreneur Shaunie O'Neal is known for her admirable taste in fashion. Despite her busy schedule and the responsibilities that come with being a mother to five kids, the 46-year-old knows how best to keep everyone gushing. 
Onscreen and online, Shaunie thrills her fans to stunning appearances, and recently, the entrepreneur dazzled in an elegant dress, looking like a Greek goddess via a newly uploaded 360° clip.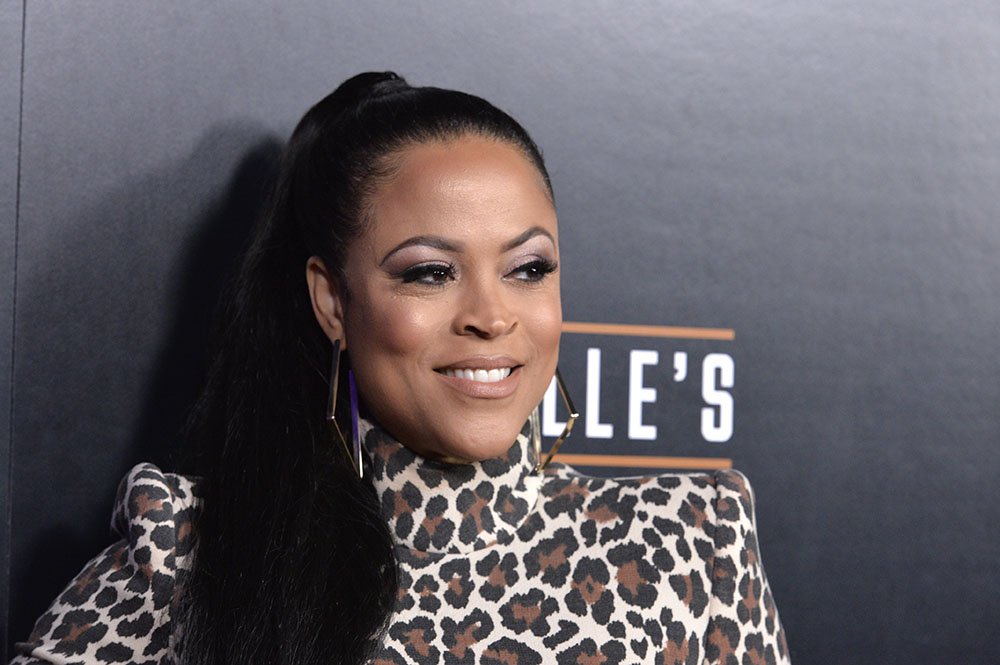 The onscreen diva dressed in a high neck, jewelry embellished long dress with long sleeves. To go with the glittering outfit were a glamorous face beat, minimal jewelry, and a sleek low ponytail hairstyle.
Leaning very close to the reality TV star who could be seen dancing in slow motion were two of her kids, Amirah, and Shaqir who are now significantly taller than their mom.
Amirah unlike her mom let her black hair loose as it fell gorgeously down her back. In addition, Shaunie's daughter donned a thin sleeve caramel body-hugging dress that left her curves on display.
She accessorized the chic dress with a dainty-looking necklace, and like her mom, opted for a red-carpet makeup glam. She also made some unique moves in the clip which showed them all looking stunning.
Next to her was Shaqir, dressed like a gentleman in an all-black suit and bow tie. He added a shining and expensive-looking wristwatch to his look. He could be seen confidently displayed some swag by rubbing and raising his hands.
While fans could not get their eyes off the dynamic and stylish trio, they were opportune to notice the brightly lit room with a five-star rating chandelier, a group of fashionably dressed individuals, and decorated chairs and tables fit for dining.
It was more than evident that the O'Neals were in high spirits and celebrated a special occasion in the company of a few close associates and friends. Of course, the slow motion and 360° effect added an elegant touch to the clip which was captioned:
"Creating memories every moment we get! @amirahoneal_ @shaqironeall #KH40."
SHAUNIE AND SHAQUILLE'S KIDS
Shaunie and Shaquille share four kids together. However, altogether, the couple has six kids between them; two are from previous relationships, one from Shaunie and one from Shaquille. Catch a glimpse at the entire clan!
Taahirah is Shaquille's firstborn from a former relationship. She was born in 1996 and has maintained a low-profile lifestyle while she engages in charitable deeds.
Myles O'Neal is Shaunie's firstborn child and the NBA star's stepchild, whose interest lies in modeling, music, and DJing. Shareef is the couple's first child together.
Shareef is a tenacious basketball player, who is often compared to his dad. He first played with UCLA but is currently on the LSU team.
Amirah was born in 2001, and like her brother, is following in their dad's footsteps. Amirah played for her high school team and made it into LSU's team, where she picked the "Tigers," as her team.
Shaqir, the couple's third child is also skilled in the sports; he is set to play for Texas Southern next season. Shaqir is Instagram famous and loves to showcase his lifestyle on the app. Me'arah is the youngest of the pack; she also inherited her dad's athletic genes.
THEIR PERFECT CO-PARENTING APPROACH
Shaunie and Shaquille were married from 2002 to 2009. After they went their separate ways, the couple had to work on custody arrangements for their children.
Even after a decade, the couple has done so remarkably well that Shaunie has nothing but praises for how well they do co-parent their kids.
While speaking in an interview, she explained that they conveniently co-parent with no hassle; however, it was difficult reaching this stage. They were able to reach this feat through honesty and agreeing to be supportive of each other no matter the situation.
Shaquille has also commended his ex-wife for doing incredibly well in grooming the kids. However, he admitted that he is less concerned about disciplining the kids and more about having fun with them. 
THEIR ADMIRABLE RELATIONSHIP
Even as friends, the former lovers show up for each other when needed. They often talk virtually, and Shaunie jokingly teases her ex-husband about finding a wife so that she can be free of him.
Shaquille's confidence in his kids' mom is outstanding, and he has confessed about his desire to have more kids — which was warmly received by the reality TV star, who advised him to knock himself out.