Seattle Mom Is Humiliated by Flight Attendant Because of Her Daughter's Dirty Diaper
A mother was harassed and threatened by a United Airlines flight attendant after changing her 23-month-old daughter's dirty diaper and disposing of it in the airplane's bin. 
Farah Naz Khan, a woman from Seattle, is still reeling after dealing with harassment and threats while onboard a United Airlines flight from Montana to Houston. She took to Twitter to share what happened. 
The entire ordeal started when Khan used the plane's back bathroom to change her daughter's soiled diaper, placed it in a scented diaper disposal bag, and threw it away in the toilet's trash can.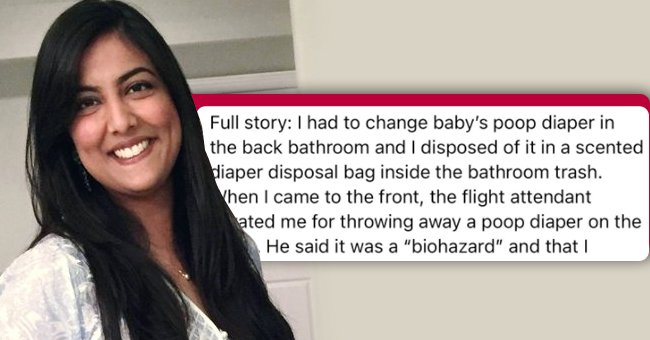 TRASH CAN 
When the mother and baby came out of the bathroom and were on their way to their seats, they were met by a flight attendant who was very upset that Khan had placed the dirty diaper in the trash can. Khan shared: 
"When I came to the front, the flight attendant berated me for throwing away a poop diaper on the plane. He said it was a biohazard and that I should retrieve it if I can."
The distraught mother then proceeded to dig the soiled diaper out of the trash can, which she described as an experience that was equally humiliating and degrading. 
NOT ENDING THERE
In her tweet, Khan explained that after retrieving the diaper, she asked another flight attendant for a garbage bag so that she could place the diaper in it and dispose of it once they landed. 
Khan is now pursuing legal action against the airline, saying that beyond the harassment, there was also a privacy issue.
The other flight attendant told Khan that she was supposed to throw it away in the lavatory's trash can as she had initially done, and the mother then turned to question the first flight attendant that had belittled her. 
This is not okay! "You people"?! @united what do you plan on doing here? Your airline keeps screwing up. https://t.co/5fXZ19YMqd

— Gigi (@Gigihasthoughts) July 14, 2021
NO-FLY LIST 
After saying that he didn't want to deal with the mother, the flight attendant left Khan for the rest of the flight, but once they landed and had disembarked, Khan received a disturbing phone call. 
An unidentified number phoned her and with the same flight attendant on the other side. He phoned with threats which could have hindered Khan's trip back home as she shared: 
"When I picked up, it was the same flight attendant saying I had been placed on the 'do not fly list' because of a biohazard incident."
Appalling and totally unacceptable behavior by a @united and @MesaAirlines flight attendant. Tracked down her phone number after she deplaned to call and harass her?!? What are you going to do about this? https://t.co/pZFYxzaZu4

— Katie Anthony (@yokatykatikate) July 14, 2021
SLANDER AND HUMILIATION
Khan didn't stand for the threats and told the flight attendant that she would be seeking legal assistance if she was placed on the no-fly list and that she had already filed a customer service complaint with the airline. 
The flight attendant didn't stop there as he changed the tone, and he began harassing and verbally abusing the mother and her family, saying that they should rather drive than bring their children on the flights. 
Seattle doctor says United Airlines told her she was placed on the 'no fly list' for throwing a dirty diaper wrapped in a plastic bag in the lavatory bathroom. #komonews pic.twitter.com/mSdlBgBwIh

— Kara Kostanich (@KaraKostanich) July 13, 2021
Distraught after the incident, Khan not only filed a formal complaint but also took the matter to social media to inform the public about the horrific treatment she received while onboard the United Airlines flight. 
Khan is now pursuing legal action against the airline, saying that beyond the harassment, there was also a privacy issue at hand because the flight attendant accessed her private contact information and phoned her with threats.