Daily Joke: Massive Man Helped Solve a Problem with a Loud Neighbor
A man moved into a new neighborhood in New York City, but he could get no rest because of his loud neighbor. He Until a muscular man offered to help.
A man found a new apartment in a New York neighborhood, and after he moved in, he discovered the neighbor who lived upstairs was quite noisy, as the neighbor played loud music all the time.
This went on for a while, and one day while the neighbor boomed loud music from his sound system, the new city man visited him and banged on the door. When the neighbor opened, he laid his complaints.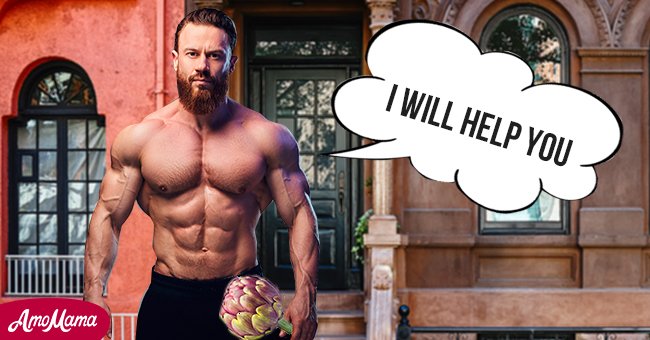 The man told the new neighbor to leave and banged the door close in the man's face. He also did not stop playing loud music. The loudness continued daily, and by now, the new city guy was super fed up. 
One day he went to the mall, shopped for groceries, and just as he was about to step out, he saw a huge muscular man who wore heavy chains and had a strong, musty smell.
The huge man addressed him, noting that he had observed that the city guy was new to the neighborhood. He welcomed him and told him that he would be glad to be of help if the city man ever needed anything. 
When the new guy got home, he realized that his upstairs neighbor was home again, blasting loud music from his stereo. He became helpless and decided to inform the huge guy about his dilemma.
He went to the big guy's house and told him about the situation with his lousy neighbor. The big man wasted no time calling his friend Artie, who was there in the wink of an eye.
Artie had a larger and more imposing frame. After he was told about the situation, he offered to help for a token of $1. When he received the dollar, he stormed off.
He saw the lousy neighbor leaving the house and followed him. He trailed him for a while and followed him to the market. Finally, Artie approached the guy and choked him.
Someone saw him from far off, and he knew the witness could smoke him out. Artie grabbed the witness and choked him. The next day, the city man read this in the news: 
"Artie chokes two for a dollar at the local market."
Enjoyed this joke? Read another joke about a man who broke into a bar.
Source: Upjoke