Check Out Martin Lawrence's Ex-wife Pat Smith Looking Age Defying in White Outfit & Blonde Braids in Selfie
Martin Lawrence's ex-wife Patricia Smith looks radiant in an Instagram post she shared recently. The fifty-year-old former beauty queen defies her age with her flawless complexion and beautiful blonde braids. 
Patricia Smith, also widely known as Pat Smith, is more than just Martin Lawrence's ex-wife. Pat is the founder and spokesperson of a non-profit organization that supports women's financial, emotional, and spiritual needs. 
She was also the first African American woman to win the Miss Virginia title in 1993. Pat then competed in the Miss USA pageant and became the first runner-up, all a year before she married Lawrence.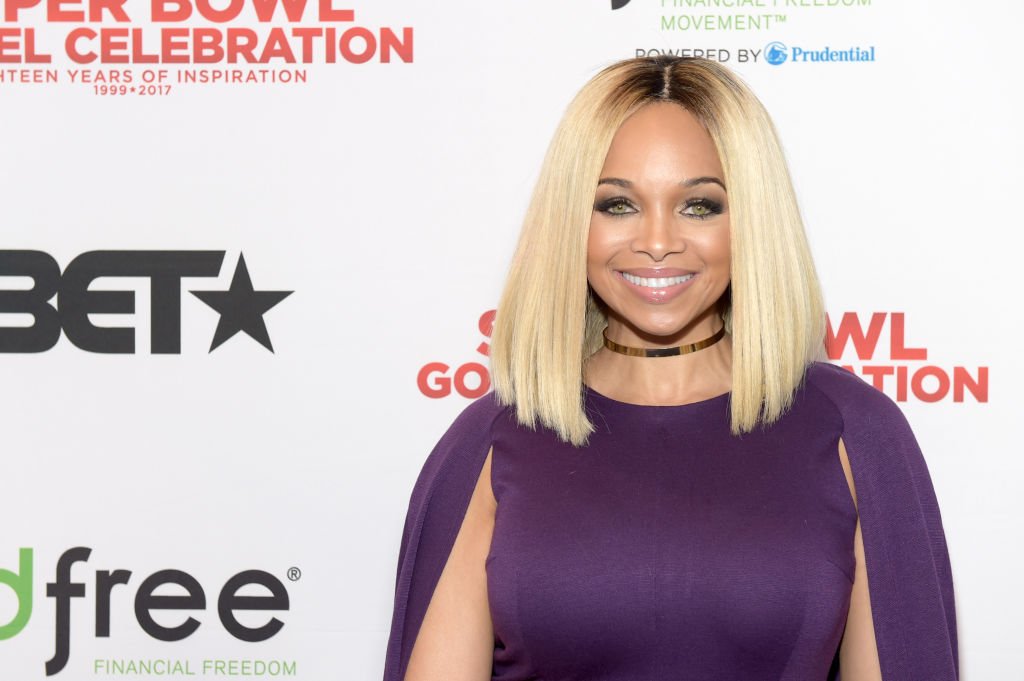 Almost three decades later, Smith still looks as radiant as she did back in her pageant competing days. She recently posted a picture that proves that the fifty-year-old could still hold it down on a pageant stage. 
In the picture, Smith smiles brightly into the camera showing off her gorgeous facial features and perfect teeth. Her neutral-colored outfit is accessorized with a large cream-colored hat, giving it a fashionable touch. 
Smith shares a motivational quote by Dr. Seuss in her caption, reminding her followers to be themselves. In return, she rocks beautiful long braids in a signature blonde color she's loved for years. 
Smith's loyalty reaches much further than her hair color, as proven by her relationship with ex-husband Martin Lawrence. The two remain close and even participate in playful banter with each other, despite their split. 
Smith and Lawrence married in a lavish ceremony at the Waterside Marriott Hotel in Norfolk, Virginia, back in 1995. More than 600 people reportedly attended the wedding that featured 18 bridesmaids and 18 groomsmen. 
Brain McKnight and Richard Smallwood were among the performers at the high-profile ceremony. However, the highly reported union did not last longer than two years after Lawrence filed for divorce. 
The comedian had faced multiple run-ins with the law before filing for divorce from his ex-wife. Smith even filed and won a restraining order against Lawrence after allegedly threatening to kill her and her family. 
At the time, many people close to the comedian claimed that he had two opposing sides. He pursued a dramatic custody battle with Smith, but eventually, the two came to a civil agreement.
Fortunately, Smith found love shortly with record-breaking NFL Hall of Famer, Emmitt Smith. The couple married in 2000 and stayed happily married for twenty years and celebrated the milestone months before separating. 
Smith and her estranged husband both shared statements on their Instagram pages about their separation. In the statements, they mentioned that they'd still be working together on their ventures. 
The statements also mentioned working for the best interests of the four children they have together. Their children are EJ Smith, Rheagan Smith, Skylar Smith, and Elijah Smith, and all look very close. 
The Smith children are also extremely close to their older half-sister, Jasmin Lawrence, who Smith had with her ex. Additionally, Jasmin is also very close to her half-siblings from her father's side and regularly hangs out with them. 
Lawrence remarried in 2010 and welcomed two girls with his wife, Shamicka Gibbs, soon after. His younger daughters, Iyanna and Amara, constantly feature on their older sister, Jasmin's Instagram page. 
Although Lawrence is one of the most prolific comedians in America, he doesn't let it get to his children. He previously opened up about his parenting approach and revealed that he continually reminds them of their privilege. 
However, Lawrence admits that he has it easy as a girl dad with three girls who make him proud all the time. He even revealed that his second daughter is a straight-A student, which probably came in handy for remote schooling last year.