Snoop Dogg Is Image of Grandfatherly Bliss Hugging Two Look-Alike Brown-Eyed Grandkids
A picture of American rapper Calvin Cordozar Broadus Jr., known professionally as Snoop Dogg, enjoying time with his grandkids was enough to leave his fans speechless. Meet the proud granddad.
In the early 90s, the world was introduced to a fiery young rapper whose skills and energy quickly made him a fan favorite with several hit singles and chart-topping songs to his name.
Despite all the good memories of Calvin Cordozar Broadus Jr., known by his nickname, Snoop Dogg, nothing beats the sight of the famous rapper sharing a moment with his look-alike grandchildren.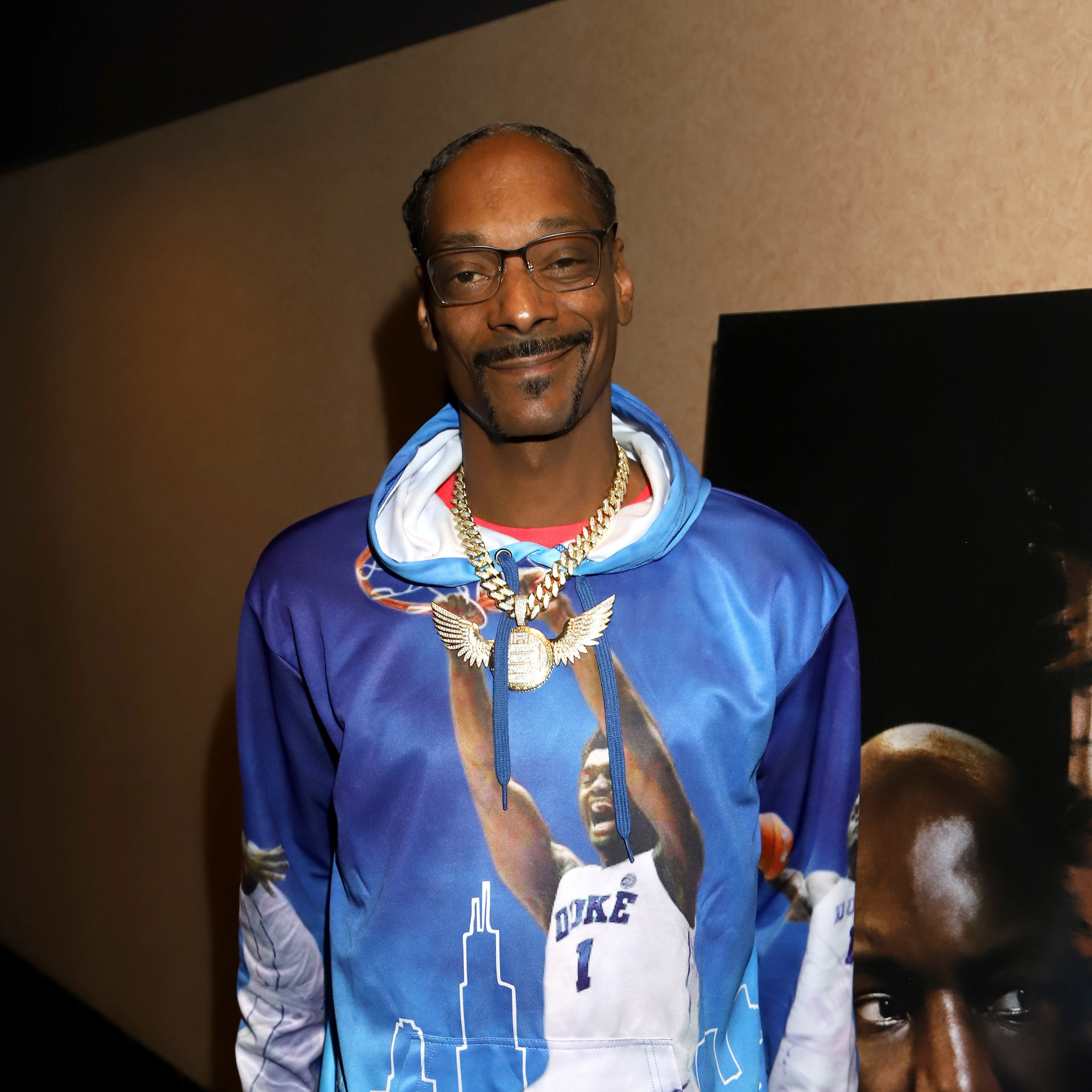 SNOOP DOGG SPENDS TIME WITH HIS KIDS
The 49-year-old Westcoast rapper is known for his love of family. Snoop Dogg is one of those rappers whose marriages have survived the test of time, especially when celebrity marriages crash in their numbers.
It comes as no surprise that the iconic rapper would be a devoted grandfather to his five grandchildren. Since welcoming his first grandkid, Snoop Dogg has never stopped carrying out his grandfatherly duties with pride.
Recently, a series of pictures shared on social media confirmed the 49-year-old to be nothing short of the perfect image of grandfatherly bliss as he was pictured enjoying the company of his two look-alike brown-eyed grandchildren.
The legendary rapper, dressed in a red shirt and blue hoodie, posed all smiles for the camera as his grandchildren, Zion Kalvin and Cordoba, whose nickname is Lulu, sat happily around him, enjoying his comfort.
In one of the pictures, Cordoba, who was carried by her famous grandfather, wore a yellow top and a pair of short jeans while Zion Kalvin rocked a simple white casual shirt and red shorts.
From the warm look on his face when spotted with his little ones. The music veteran ensures to take advantage of every opportunity to see his children and grandchildren after the pandemic.
Some of the rapper's fans have also praised the 49-year-old for having strong genes, with some claiming that his grandchildren took after some of his facial features like his nose and eyes.
Shortly after his granddaughter, Chateau, was born, fans congratulated the rapper, while some added that the toddler resembled the famous rapper.
BEING A GRANNY
Snoop Dogg tasted the joy of being a grandfather for the first time in 2015 following the birth of his first grandson Zion from his eldest son Corde Broadus and his ex-girlfriend Jessica Kyzer.
The veteran rapper shared the good news on his social media, noting how proud he was to be a grandfather. Of course, the entire Broadus clan was overjoyed by the new addition.
In 2018, Corde and his girlfriend Soraya Love welcomed their daughter Elleven, making it the second time the rapper would be a grandfather. Later on, his son Cordell Broadus revealed that the rapper's third grandchild, Cordoba, was on the way.
Cordé and Soraya were pregnant with another child, a baby boy named Kai. Sadly, the little one died 10 days after his birth. The family mourned the loss of their child and thanked their fans for their support.
This year, Snoop Dogg and his wife have welcomed two grandchildren. Sky Love was born earlier this year, while their granddaughter named Chateau was born in March. The newborn made Snoop's son Cordell Broadus and his wife, Phia, parents for the second time. 
SNOOP DOGG: A FATHER OF FOUR
The iconic rapper shares three children with his high school sweetheart: sons Corde and Cordell and their sister, Cori. The 49-year-old rapper also has a son, Julian, from a relationship with Laurie Holmond.
His oldest son Cordé was born when the rapper and Shante were in their twenties, and the rapper's career was beginning to bloom. Cordé was born on August 21, 1994, three years before Snoop Dogg and Shante walked down the aisle.
Cori, Snoop Dogg's only daughter, delights to follow in her father's footsteps and is pursuing a career in music. She often displays her talent on her social media and already has a song to her name.
Cordell, Snoop Dogg's second son, has a thriving career as a model and is also a father of two. Cordell often shares posts about his work and his partner Phia on his Instagram.
Julian, Snoop Dogg's youngest son, prefers to live away from the spotlight. As a result, not so much is known of him, but the rapper pledged to fully support the young man.