Kelly Rowland Flaunts Ample Cleavage & Curves in Purple Tassel Jumpsuit in Stunning Photoshoot
Kelly Rowland wowed her followers once again with pictures of her in a sparkling jumpsuit. The singer shows off all of her impeccable curves in the stunning ensemble just months after giving birth.
Like many mothers to a new baby, Kelly Rowland's Instagram page has become more and more family orientated. However, the former Destiny's Child member continues to prove that motherhood can be glamorous. 
As a result, Kelly Rowland never ceases to amaze her fans and followers with her Instagram posts. The flawless beauty always looks fantastic in her pictures, even a few months after giving birth to her second baby.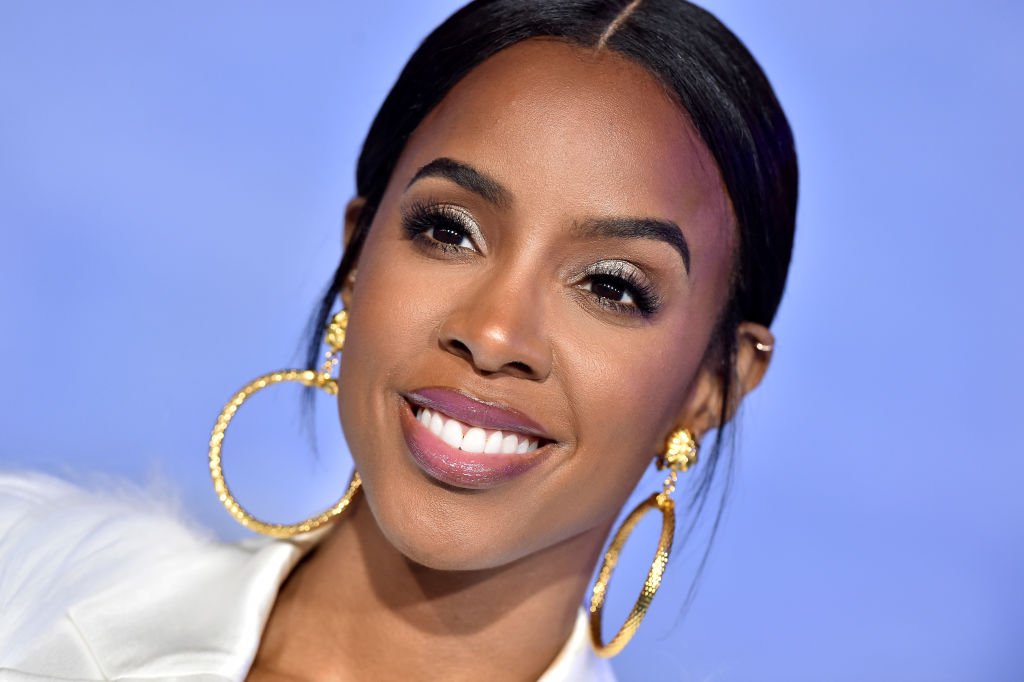 As per usual, Rowland showed off some of her best features in a picture of her wearing a purple jumpsuit. Her followers couldn't help but marvel at the former girl group member's stunning look in the recent posts. 
Rowland looks ravishing in her shimmering sparkle and tassel embellished jumpsuit with a plunging neckline. The singer paired the 70s style ensemble with a pair of silver platform heels to complete the look. 
In addition to being styled to perfection in her disco diva-inspired outfit, Rowland had a stunning beauty look to tie everything together. She wears her hair big and curly with a flawless makeup look fit for the star she is. 
Although it would be easy to believe that Rowland looks so stunning for a casual home shoot, it wasn't the case this time. The 40-year-old singer's images were from a performance on "Jimmy Kimmel Live." 
Rowland revealed that she was all glammed up to perform on the July 12th show in her photo's captions. She recently featured in a song called "Finally Cannot Hide It" with up-and-coming DJ and producer Amorphous. 
The dance style production in the tune is perfect for Rowland's overall dancing queen look seen in the posts. It is also fantastic to see Rowland back on stage as she has plenty of new work in store for her fans. 
Last year, Rowland surprised fans with a sexy single called "Coffee" accompanied by an equally steamy video. Fans of the singer could not have guessed that Rowland was pregnant while flaunting her rock-hard abs. 
When Rowland found out she was pregnant, she almost put the plans she had to drop an album on hold. However, the hard-working musician found a way to balance both the baby and music for herself and her fans. 
Sticking to her guns, Rowland welcomed her second son, Noah, in January and released an EP just a month later. The EP, "K," features six songs, including "Black Magic," which premiered with a video celebrating blackness. 
Rowland's new EP is her first full-length project since releasing "The Kelly Rowland Edition" with Red Bull Music Studio Sessions in 2019. Her latest studio album, "Talk A Good Game," was released in 2013. 
Although Rowland seemed to take a brief break from releasing music, fans never forgot her previous work. For example, Nelly's song "Dilemma" featuring Rowland recently reached a billion views on Youtube. 
The milestone comes nineteen years after the song was released, proving that Rowland's star power is everlasting. Another element about Rowland that is everlasting is her dedication to a healthy lifestyle. 
Rowland lost 70 pounds just four months after giving birth to her first son, Titan, thanks to her fitness routine. As a result, she adopted a similar fitness and nutrition regime while pregnant with her second baby. 
Rowland may also have an easier time shedding the baby weight this time around since she has some help. She revealed that she loves to play with her six-year-old, Titan, which can burn plenty of energy. 
Although
Rowland
has not announced any weight loss goals since her recent pregnancy, she sure is
showing
us how it's done. The singer has shared pictures of herself looking stunning in swimsuits since giving birth.