Texas Woman Stops to Use Gas Station Bathroom, Unexpectedly Gives Birth
A woman from Victoria, Texas, by the name of Kaitlyn Fullerton never would have thought that she would walk into a gas station bathroom and surprisingly come out of it with her own baby in her arms.
Fullerton and her husband, Sergio Mancera, were on their way back home from Houston when she started feeling the need to push, so they decided to stop the car.
The couple pulled over at a gas station in Beasley, and Sergio stayed with their son while Kaitlyn rushed to use the bathroom. However, things didn't turn out the way she expected.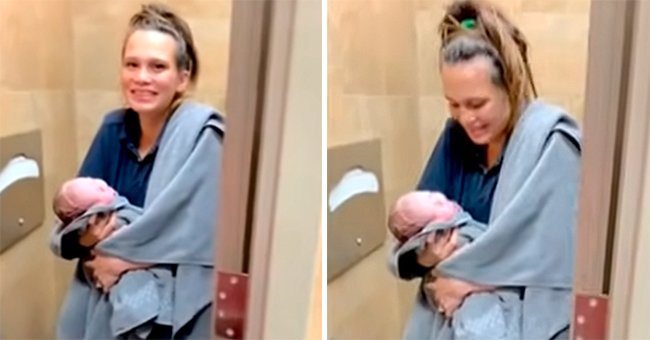 OUT OF THE BLUE
According to the mother-of-two, she kept feeling some sort of water pressure because whenever she stood up, her water would break. Shortly after, the contractions came, and so did the baby.
Women in the other stalls heard Kaitlyn and asked her if she was okay. In a matter of minutes, she was holding her newborn son and asking them to go tell her husband what had happened.
Sergio explained that he was on the phone next to his car when one of the women told him that his wife had given birth. Shocked and surprised, he grabbed their son and entered the bathroom.
The moment was shared on TikTok by the proud father, who filmed Kaitlyn holding their baby as a Fort Bend County paramedic is seen asking the other women to clear the way.
It has been reported that Kaitlyn and the baby, whose name is Callihan, were transported to Sugar Land Hospital. Mother and child are already home, but the video is still going viral and getting millions of views.
BABY OR KIDNEY STONE
Earlier this year, a woman named Melissa Surgecoff was also in the news after giving birth to her baby while sitting on the toilet. According to her, she had no idea that she was pregnant.
The 38-year-old explained that, at first, she was experiencing really intense menstrual pains but that the cramps just got worse throughout the day, leading her to think she was trying to pass a kidney stone.
As she struggled on the toilet, trying not to be too loud, Melissa felt something rushing out of her. What she believed to be a "lost organ" was, in fact, her baby. She recalled:
"I'm screaming, I'm freaking out, I'm in shock. I don't know what's going on, and Donnie went to the toilet, and he rescued the baby."
Her fiancé, Donnie Campbell, called the emergency services, and both mother and son were taken to a nearby hospital where the little boy, Liam, was found to be perfectly healthy.
A SKY-HIGH BIRTH
It almost seems like a trend, but the same happened to a woman named Lavinia Mounga, who gave birth to her son Raymond on the toilet during a flight between Salt Lake City to Honolulu.
Lavinia was only 29 weeks pregnant, and, luckily, there was a doctor and three neonatal nurses on board who were able to help her following the birth. Just like Melissa, Lavinia didn't know she was pregnant.
ⓘ The information in this article is not intended or implied to be a substitute for professional medical advice, diagnosis or treatment. All content, including text, and images contained on, or available through this NEWS.AMOMAMA.COM is for general information purposes only. NEWS.AMOMAMA.COM does not take responsibility for any action taken as a result of reading this article. Before undertaking any course of treatment please consult with your healthcare provider.