Ice-T's Daughter Chanel Kisses Her Father on Stage Sitting on Her Older Brother's Shoulders in Rare Family Photo
Multi-talented artiste Ice-T is a dad to three children, with whom he shares a great bond. Two days ago, he posted a picture of him and two of his kids enjoying a moment on stage. Continue reading to find out more! 
American rapper Ice-T's little daughter, Chanel Nicole, is growing up so fast. The little girl is now five years old, and over time, the bond she shares with the 63-year-old star has appeared to be stronger than ever.
From following her dad on his concert tours to appearing on stage with him, Chanel has melted the hearts of many with the enviable love she shares with her dad. Recently, Ice-T shared a lovely moment with his fans on social media. Let's take a glimpse into the contents of his update.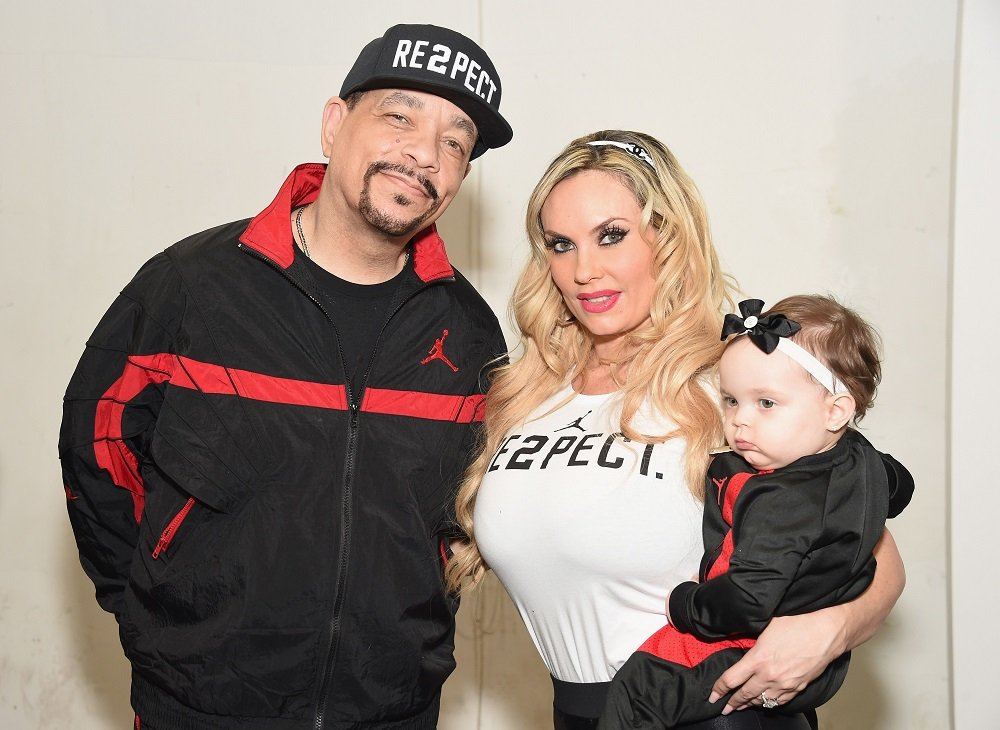 ICE-T AND CHANEL'S RELATIONSHIP 
One day ago, Ice-T took to Instagram to post an adorable moment he shared with Chanel, showing off their special bond during his RockFest concert. In the snapshot, the tot could be seen kissing her father on stage while sitting on her big brother's shoulders. 
Ice-T and his two kids were all dressed in matching black outfits. Chanel looked cute in her pigtails which were accessorized with pink hairbands. She finished off her gorgeous look with a pair of black Nike sneakers.
The record producer's son seemed to have an exasperated look on his face, but the father-daughter duo cared less as they were engrossed in their affectionate bonding. The picture was shared alongside a caption that read:
"I think Lil Ice paid the price for @babychanelnicole and my stage Kiss at yesterday's RockFest concert...lol."
Delighted fans who were in awe of the father-daughter pair swooned over them in the comments section. A respondent revealed that the image made her smile, while another said there was a lot of love in the photo. A third fan wrote:
"Cute image. The king Ice-T 👑 and the princess, Baby Chanel😍."
CHANEL IS HER DAD'S CARBON COPY
It appears that Chanel does not only share an unbreakable bond with her dad; the five-year-old also shares a striking resemblance with the star actor. Recently, Chanel's mom, Coco, shared a picture of the tot, and her Instagram fans could not stop talking.
While the little girl was praised for her cute looks, many could not get past the fact that she was her dad's spitting image. One fan said Chanel looked just like her father, and another disclosed that Ice-T does not need a paternity test. 
Chanel was born to her lovely parents in November 2015, and Coco announced the good news shortly after giving birth via Instagram. In the caption, the model expressed her excitement in welcoming her bundle of joy. 
ICE-T'S THOUGHTS ABOUT FATHERHOOD 
Since Chanel's arrival into the world, Ice-T appears to be more pumped about fatherhood than on stage and in the studio. During an interview, the star once explained that being a dad to his little girl was the best because it made him focused.
According to Ice-T, he was healthier at the time than he was at 40 years, and his brain always let him know that he had things to do and had to be around for his child. 
The 63-year-old also noted that he had witnessed Chanel grow every day, hence, the need to be more conscious of fatherhood. Ice-T also told People how much of a proud father he was and how he could not resist showing off Chanel on social media. 
Apart from Chanel, Ice-T is also a loving father to his 45-year-old daughter, Letesha Marrow, and his 29-year-old son, Tracy Marrow Jr.