Gab Union & Dwyane Wade's Daughter Kaavia Poses Like Mom while Wearing Cheetah-Print Dress in Photo
Two-year-old Kaavia Union-Wade proves that she got it from her mama in a recent photo. The adorable toddler shows off her model genes, courtesy of Gabrielle Union while posing in a cheetah print dress. 
Gabrielle Union and Dwyane Wade are a superstar couple, but they are both overpowered by their daughter's star power. The public knows her as Kaavia James, but her followers know her as "Shady Baby." 
Kaavia is regularly the subject of her parent's Instagram videos, showing off her cheeky personality. However, fans could not get enough of her, so her celebrity parents set her up an account of her own.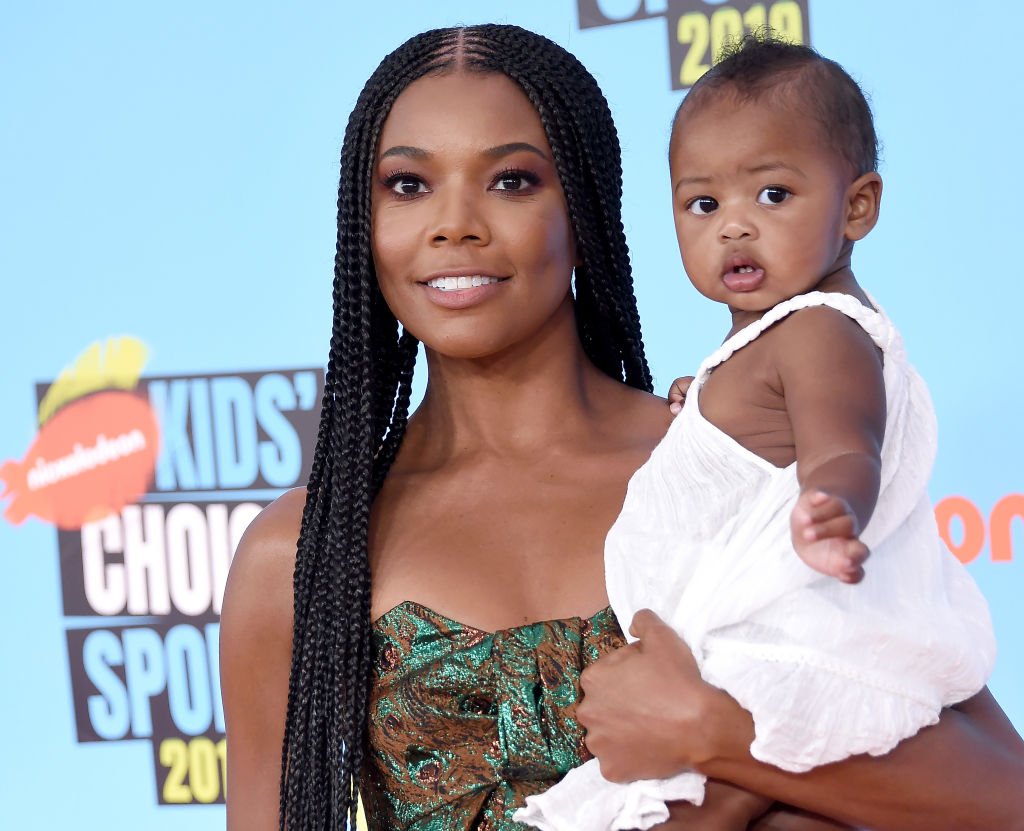 Kaavia may be the daughter of two stunning celebrity parents, but she constantly proves she can hold her own. The toddler's parents recently shared a picture of the three of them on her Instagram account, and it serves as an example of her presence. 
Union and Wade look ravishing in the picture as they pose next to their young daughter, who looks equally adorable. The famous couple is dressed as if they are about to step out on the town in their monochromatic ensembles. 
Although Kaavia poses beside her parents in the picture, fans would rather gush over the toddler's adorable poses. The two-year-old wears a stylish cheetah print dress in the photos, proving she is just as stylish as mommy. 
In addition to her fashionable ensemble, Kaavia shows off her fierce attitude while imitating her mom's pose. The little girl places her hand on one hip just like the gorgeous actress, demonstrating that she is the real star of the family. 
Kaavia even shows off some of her more innovative floor poses in one of the pictures shared on her Instagram. The post's caption, which reads, "Applying The Pressure At All Times," perfectly summarizes the toddler's energy in the pictures. 
Whenever Kaavia is on a social media post, she is always doing or saying something entertaining. The toddler likely got her mannerisms and personality from spending so much time with her famous mama.
Union regularly shares playful posts featuring her young daughter, showing off their close bond. The mother and daughter bond that the duo share is something that Union will cherish forever after her fertility struggles. 
The mother of one opened up about finally getting her adenomyosis diagnosis after years of it being undetected. Union even revealed that she had even gone through numerous rounds of IVF before getting diagnosed. 
As a result, the actress struggled with her fertility for years before welcoming Kaavia in 2018. She opened up about her experience this mother's day, celebrating the holiday by reflecting on her motherhood journey:
"My journey to motherhood was long, arduous and at many times extremely painful. Mother's Day will always be a challenging day to celebrate for me."
Nonetheless, Union has demonstrated herself as an excellent mother numerous times. Her stellar parenting skills have even presented themselves through Kaavia's confident reactions to things she does not like. 
Consequently, Union became inspired by her daughter's boundary-setting techniques and wrote a book about them. The children's book follows the "Shady Baby" character inspired by Kaavia as she steps up for herself and others. 
The book's theme of stepping up for others is important to Union and Wade. Both parents advocate for several social issues, leading by example for their two-year-old and other children they raise together. 
Although Kaavia is Union's first child with Wade, the basketball player has three other children from previous relationships. Wade's children include Zaire, 18; Zaya, 13; and Xavier, who is only 6.