Gabby Sidibe's Fiancé Gently Embraces Her Waist Poured into Long White Printed Dress Near the Pool
Gabby Sidibe and her fiancé, Brandon Frankel, looked so in love in a new picture shared on the latter's Instagram page. Many may know who Sidibe is, but here are some facts about the man who has captured her heart.
Award-winning actress Gabby Sidibe and her fiancé, Brandon Frankel, have enjoyed a blissful relationship for about two years. The lovely pair constantly serenade each other with kind words and praises to the admiration of their numerous fans. 
Recently, Frankel showed his social media lovers how in love he was with his 38-year-old fiancée. He took to his Instagram page to share a picture that saw him and Sidibe basking in each other's company.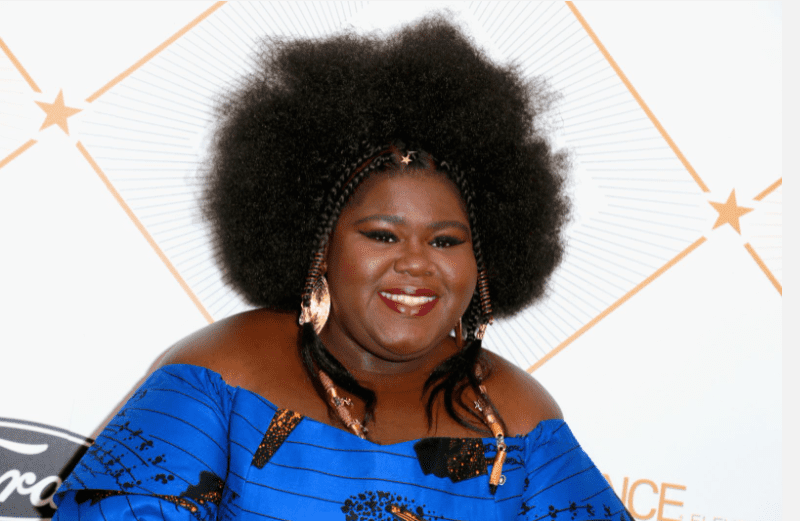 In the snapshot, Frankel was clad in a short-sleeved grey t-shirt paired with black pants and a pair of white sneakers. He gently held Sidibe's waist while they stood beside a pool. The "Empire" actress looked elegant as usual in a long white dress with black prints.
Sidibe rocked long curly brown braids and topped off her appearance with a pair of brown sandals. The post was accompanied by a caption that read: 
"Malibu's Most Wanted 🥰."
Without hesitation, several fans and followers took to the comments section to gush over the pair. A respondent relayed that she loved how adorable the couple looked, and another fan said Sidibe and Frankel were her favorite couple on Instagram.
THEIR FUN RELATIONSHIP 
This recent post is not the first time Frankel is sharing photos of him and his woman. Time and time again, the couple has flaunted their love on social media, and Sidibe always appears to be having a great time with the love of her life.
Three days ago, Frankel shared a post on Instagram that saw him and Sidibe having fun at what appeared to be a club. The elegant duo had smiles on their faces, and the handsome man leaned into his fiancée's embrace while holding a cup of drink. 
In another post, the lovebirds appeared so in love as Frankel hung his right hand around Sidibe's neck. The talented actress enjoyed the show of "choking affection" from her beau and laughed out loud, and it was nothing short of a spectacle.
WHO IS BRANDON FRANKEL?
While the public enjoys the show of love displayed by the lovebirds on social media, many possess no knowledge about the man who has captured Sidibe's heart. Let's take a deeper look into the life of Frankel.
Frankel is a branding and marketing expert who works at Cameo and does the brand's strategic partnerships. In 2017, he was named by Billboard as one of their branding power players. Billboard revealed that Frankel racked up frequent-flyer miles in pursuit of branding opportunities for his clients.
SIDIBE AND FRANKEL'S RELATIONSHIP
Sidibe and Frankel began their amazing relationship in 2019. They made the headlines in May that same year after the latter shared a selfie of himself and the actress on Instagram. 
Later that year, Frankel made their relationship official after posting several pictures, with captions that insinuated that he was in a relationship with Sidibe. Last year, the "Precious" actress left her fans shocked after announcing her engagement to Frankel via Instagram.
In the caption, Sidibe expressed her delight in holding her man forever. The 38-year-old said Frankel was the funniest man she had ever met and added that she was excited to learn more about the world by his side. 
Sidibe and Frankel's relationship is not only filled with lots of love, but they also enjoy a truckload of humor. The star actress once joked that her fiancé was using her industry connections and professional gains. 
Even though the duo shares no kids, they are proud parents of two cats and a dog. Sidibe and Frankel constantly show off the relationship they have with their pets on social media.
Once, Sidibe shared a video of her cats having a cuddly time together, and fans could not get over their cuteness. In another post, the actress introduced her dog, Arizona, to her Instagram lovers. From all indications, Sidibe and Frankel would be great parents to their kids in the future.