This Is What Three Women Did After Finding Out They Were Dating the Same Man
In the age of social media, it is almost impossible to keep a secret, so when a man was caught two-timing three women, they chose to steal his dream together. 
Bekah King, 18, Abi Roberts, 19, and Morgan Tabor, 21, became close after they found out they were dating the same man. The fast friends decided to move on together - by buying an old bus. 
While still dating this anonymous man, Tabor's intuition kicked in. After doing some deep online diving, she purportedly came across several "other women," two of whom were King and Roberts.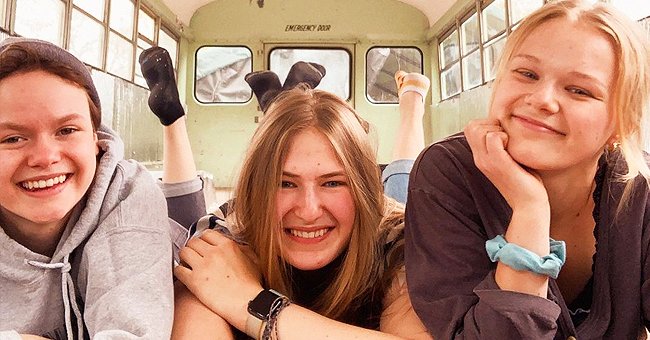 AN UNUSUAL BOND
Tabor and Roberts apparently and initially confronted their ex-partner when he walked in on Tabor talking over FaceTime with Roberts. Roberts introduced the shocked man to her new friend.
Natalie Noble (19) met her now-48-year-old boyfriend Bobby Lindsey when he was her tennis coach.
Tabor said that they chose to meet up in person after a few months of talking online. She stated that while speaking with one another, they touched on their ex-boyfriend's dream to travel in a VW.
SUNNY HOLIDAY
Tabor expressed that they chose to appropriate this aspiration by buying and renovating an old bus to travel for the upcoming summer. Speaking about the trip, Tabor said: 
"We're living our dream life, having a blast...It's incredible to think that it happened because of him."
They were reported to have been camping in Bozeman, Mont. earlier this month, where they spent time hiking and laughing. Roberts believes that they will remain friends forever. 
AN UNEXPECTED ROMANCE
In another unlikely yet slightly more controversial relationship, Natalie Noble, 19, met her now-48-year-old boyfriend Bobby Lindsey when he was her tennis coach. Their families did not react well.
According to Noble, the two kept in contact after she left school for university. After a long and complicated journey, the 19-year-old said, they eventually began dating. 

STANDING THEIR GROUND
Noble has stated that her family is still coming to terms with it and the 48-year-old's daughters were also not impressed. However, they remain committed, with the 19-year-old expressing:
"I think I have always kind of had an attraction to older men. I am super mature for my age so I can't really connect with guys my age."
She stated that her partner is young at heart, and she is the opposite. Noble also implied that the relationship works because she does not enjoy partying similarly to those her age. 

SHARED DREAMS
Vicki Lawlor, 43, and her daughter Hannah, 21, also defied societal perceptions of age gaps, albeit in a more uncontroversial manner. The two, based in Scotland, graduated from university together.
They did so after studying together during the lockdown. In true motherly fashion, Lawlor implied that although she is happy for herself, her pride for her daughter far outweighs her own achievement.