Teyana Taylor's Husband Iman Shumpert & Their 2 Daughters Cuddle & Play at Park in Adorable Snaps
Teyana Taylor does not have to worry about her two young daughters with husband Iman Shumpert around. The doting dad recently shared himself being a great father on Instagram. 
Teyana Taylor and Iman Shumpert seem to make one of the best couples in the entertainment industry right now. The couple's cute little family has been giving their fans baby envy since their 5-year-old Junie was born. 
The R&B singer and NBA player tied the knot a year after welcoming Junie, causing even more envy for the couple. Since then, the pair have been showing off glimpses of their perfect lives on Instagram, and fans are still obsessed.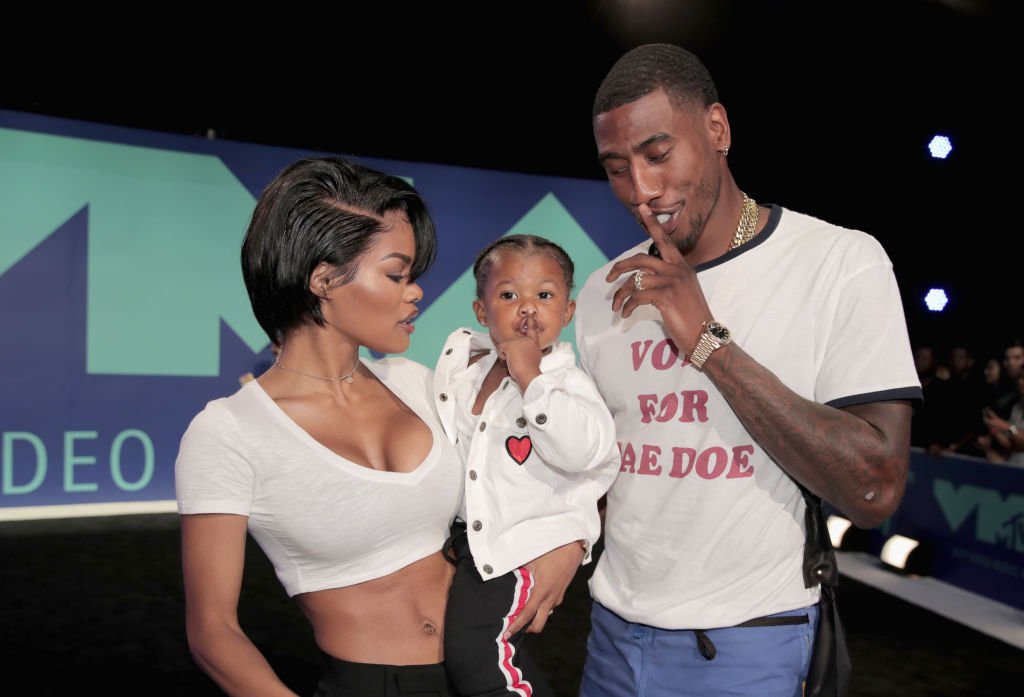 In a recent instance of the Shumpert's showing off their perfect family unit, fans got to see the NBA dad in action. Shumpert shared a post filled with images and videos of himself spending time with his daughters. 
The doting dad holds both of his daughters and looks at them lovingly in the pictures. His followers can also see his eldest daughter, Junie, planting a kiss on her baby sister's hand in the first video added on the post. 
The sweet moments between the three continue into the other images and videos shared in the post. In one picture, Shumpert snuggles up to his youngest daughter, Rue, as they watch Junie play on the basketball court. 
It is clear that the two girls are having a fantastic day out with their dad from looking at the images. The NBA athlete even shares a moment of joy and laughter with his baby as he holds her close to his face in one picture. 
Both girls look undeniably adorable in their tied-up hairstyles and casual kiddie outfits perfect for a day out. Shumpert also looks dressed perfectly for the occasion of spending the day with energetic young girls. 
Fans and followers of the family are glad to see that the girls are in good hands with their NBA star dad. Especially since their talented mom has been hard at work on her Atlanta film production studios lately. 
However, according to their Instagram accounts, it seems that both parents cannot get enough of their mini-me's. The adorable sister duo regularly makes appearances on Taylor and Shumpert's social media. 
Thankfully, the two little girls have some great genes that make their multiple social media appearances bearable. Both girls look so similar to both their parents that even they point out the uncanny resemblance at times. 
Although Junie and Rue look similar, their mother revealed that the two girls are complete opposites. Taylor explained that her older daughter has a more vibrant personality, while her baby is calmer and collected. 
Nevertheless, Taylor shares that even though her two daughters are completely different, they both touch her heart in their ways. The singer opened up about motherhood in an interview and explained its effect on her:
"Kids change everything. To see the obsession my kids have with me is amazing." 
Taylor further shared that she is now less affected by hateful comments on social media since being a mom. She revealed that she had her daughter's actions and words to credit for the new perspective. 
Taylor's revelations about her daughters also came as no surprise, especially with how they entered the world. Both children were born prematurely in the couple's home bathroom, making a huge impact quite early on. 
However, it is safe to say that Junie and Rue got their flair for surprises from their famous parents. Many may not recall a wedding announcement from Taylor and Shumpert because the pair eloped in 2016. 
The couple surprised their fans with a few snapshots of their casual and private nuptials months after the fact. So, it is unquestionable that Junie and Rue got their surprise factor genes from their proud parents.