Michael Jordan's Daughter Showcases Killer Curves in Skinny Gray Dress in the Mountains
Michael Jordan's daughter, Jasmine, knows too well how to leave her fans lovestruck and that's what she did in a recent Instagram post. The raving beauty has also made her dad a first-time grandpa.
Jasmine Jordan, the daughter of former American basketball star, Michael Jordan is a raving beauty with an enviable figure, which she constantly shows off on social media. Even though she is not as famous as her dad, news about her occasionally makes the headlines.
The 28-year-old also enjoys living her life away from the public eye and fancies treating her 154 thousand Instagram followers to incredible photos. Yesterday, Jasmine warmed the hearts of her fans with two lovely snapshots of herself.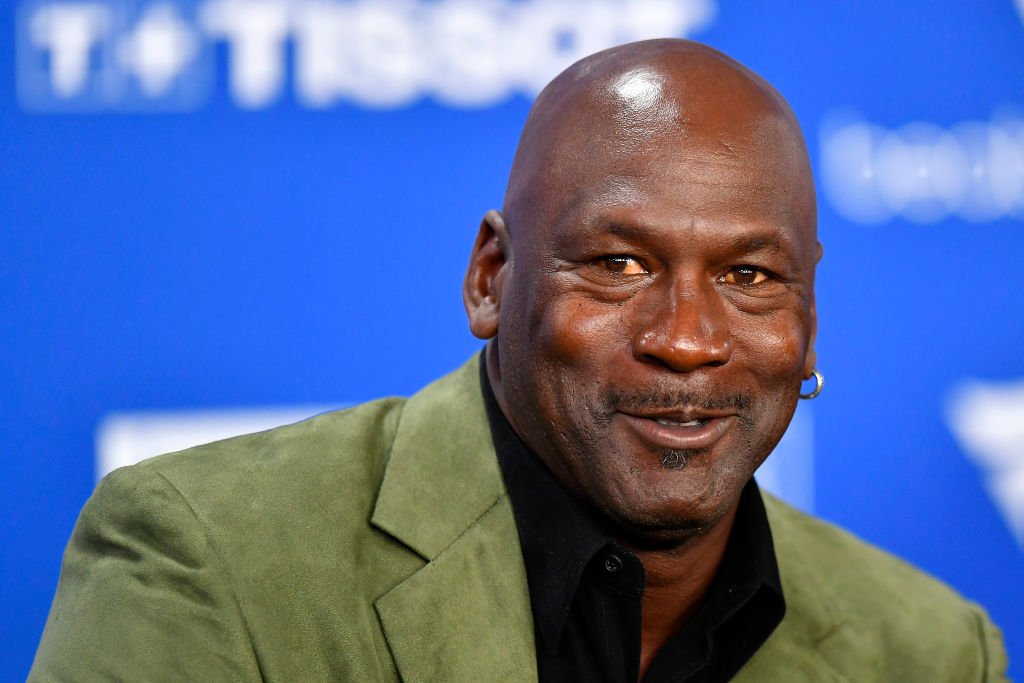 Taking to Instagram, the icon's daughter posted two pictures that saw her looking chic in a skinny gray dress. In the first slide, a selfie photo, Jasmine's gorgeous facial look was on full display and was accentuated by light makeup.
The stunning lady rocked black hair, braided at the tip, and accessorized with an elegant neck accessory and bracelets. The picture was taken in a picturesque environment featuring mountains and shrubs.
In the second slide, Jasmine stood sideways, flaunting her killer curves and donning a lovely pair of white sneakers. The snapshots were accompanied with a caption that read: "Taking in the scenery 🌴."
Several supporters clicked the like button and went on to pour out their heartfelt thoughts in the comments section. A user revealed that Jasmine was the prettiest, and another said she looked very beautiful. A third fan wrote, 
"The place behind you looks like you ✨."
FACTS ABOUT JASMINE JORDAN
Jasmine is Micheal's eldest daughter and youngest child with his ex-wife of seventeen years, Juanita Vanoy. She was born to the pair on December 7, 1992, joining her two older brothers, Jeffrey and Marcus.
According to her, Michael was always present as he could have been, and whenever he was not there, she felt his presence.
Time and again, Jasmine has proven how similar she is to her legendary dad by showcasing her interest in sports. She studied sports management at Syracuse University and currently works with the Jordan Brand athletes, owned by her dad.
Even though she does not appear on the court, Jasmine puts in incredible efforts to ensure that the athletes have all they need to get through a season. The 28-year-old also schedules photoshoots, appearances, and other media coverages. 
LIFE OUTSIDE SPORTS
When Jasmine is not looking after the Jordan Brand athletes, she is playing the role of a fiancee. The mother of one is engaged to the love of her life, Rakeem Christmas. Jasmine and Christmas met each other at Syracuse University, as students.
The lovebirds started their relationship, and in June 2018, they announced the great news of their engagement. Although no information about the wedding date has been heard, Jasmine cannot wait to walk down the aisle with her man.
While anticipating the amazing ceremony, Jasmine and Christmas will continue their parenting duties to their son, Rakeem Michael Christmas. The pair welcomed their bundle of joy in May 2019, making Michael a grandfather.
FAMILY IS EVERYTHING
Jasmine was a guest on Essence, where she revealed her father's thoughts on his new title. The proud mom mentioned that at first, Micheal wanted his grandson to address him as "Mike" or "Michael."
However, she explained that the legend was left with no option other than to accept the "grandpa" title. Last year, Rakeem celebrated his first birthday anniversary amid the coronavirus pandemic.
Even though the celebration featured just Christmas, Jasmine, and the infant, it was a worthwhile experience. Jasmine noted that they were blessed to spend it together as a family under terrible circumstances.
Overall, Jasmine was more focused on celebrating her son, just like Michael did her while she was growing up. However, she once relayed that her star dad was very involved during her childhood.
According to her, Michael was always present as he could have been, and whenever he was not there, she felt his presence. Jasmine remains appreciative of the father Michael was and how he is today.