Fans Stand by Tracey Edmonds' Partner Deion Sanders Amid His Scandal with Reporter - See Details
Lots of Twitter fans show support to Tracey Edmonds' partner Deion Sanders amid his scandal with a reporter who referred to him as "Deion" against his wish. Find out more details.
Former athlete Deion Sanders turned sports analyst and a head coach to the Jackson State football team has amassed recognition following his achievements in the world of sports.
The sports icon was dubbed "Prime Time" during his reign as a football and baseball player. These days he is often called "Coach," after all, that is his title.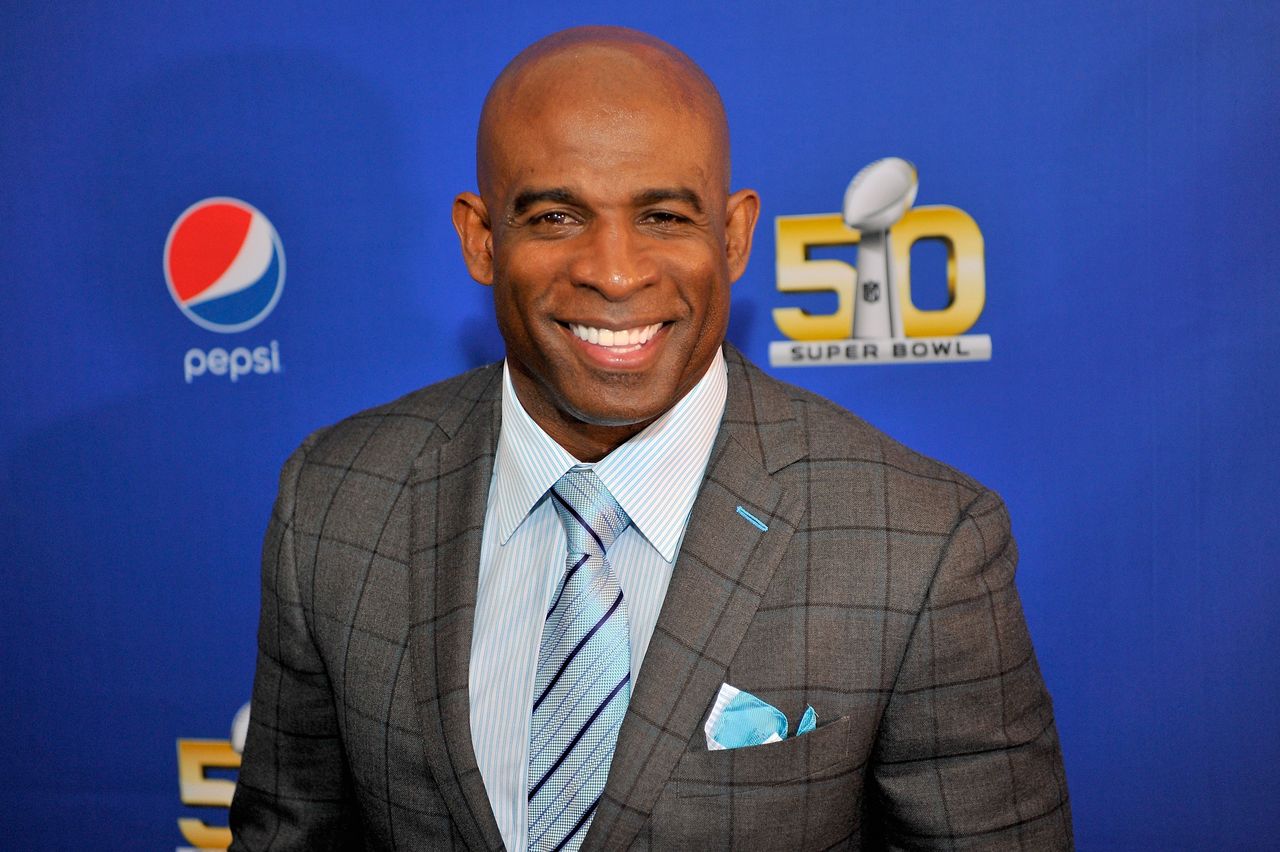 In a shared tweet via Sander's page, he shows how unimpressed it seemed being called "Deion." The head coach had a virtual interview with Clarion-Ledger's reporter Nick Suss, who called him by his first name. At first, the super athlete corrected him and added:
"You don't call Alabama's Nick Saban, Nick. Don't call me Deion...so don't do that to me. Treat me like Nick."
It appeared that Suss didn't get the memo; he argued a bit and still persisted with calling the sports analyst "Deion." This did not go down well with Sanders, who parted his lips in a wide grin and exited the event.
DEION SANDERS BACKUP TWEETS
After posting the clip, he shared a lengthy caption and established that he is all for "peace, love, work, commitment, sacrifice, and forgiveness."
The former football player shared more messages via the app in reference to the event that played out during the interview, emphasizing that he never left the event. In one of the posts, he wrote:
"I've been 💯 with you since 85, and I ain't got stop now that I'm COACH PRIME. And I had a GREAT TIME AT THE HBCU CONFERENCE & I NEVER LEFT."
This is how all of this started, I really Pray for all of us because this was something so minimal that was hilarious to me that you allowed a FOOLISH media outlet and person to play on your Preconceived notions. I'm all about Peace,Love,Work,Commitment,Sacrifice & Forgiveness. pic.twitter.com/ZjZPMVJVfj

— COACH PRIME (@DeionSanders) July 21, 2021
Another update followed where the sportscaster shared a post on respecting boundaries and added the caption "Morning Word, COACH PRIME."
WHAT DID FANS THINK?
The initial video had about 212.3k views, and fans began trooping in with their thoughts. Many of them stood by their number one sports analyst and berated the unprofessionalism of the other reporter.
Stop allowing folks you don't have a relationship with to convince you otherwise about someone you do have a relationship with. I've been 💯 with you since 85 and I ain't gon stop now that I'm COACH PRIME. And I had a GREAT TIME AT THE HBCU PRESS CONFERENCE & I NEVER LEFT.

— COACH PRIME (@DeionSanders) July 21, 2021
One person wrote: "In Mississippi, we politely ask how folks would like to be addressed. A white man should never assume he can call a BLACK man by his first name...Mr. Suss chose incivility..so sad." Another quipped:
"If a grown man tells you don't call him a certain name, you respect his wishes… EVERYONE knows Prime Time."
I've done many interviews as a journalist. It's most prudent to address EVERY coach, from HS to pros as "Coach" until asked otherwise. Can understand if he made a rookie mistake the first time but the second time, esp after the request?

— GameBeforeMoney (@GameBeforeMoney) July 21, 2021
Suss later commented on the matter by explaining that he often calls his guests by their first name and that it was not the first time he would interview Sanders.
Amid the drama, Deion Sanders is a man living his best days with his lover, Tracey Edmonds, with a successful career in the sports business.
In Mississippi, we politely ask how folks would like to be addressed. A white man should never assume he can call a Black man by his first name: there's just too much tragic history there. Even after you asked him to refer to you by your title, Mr. Suss chose incivility…so sad.

— Don Allan Mitchell (@Mitchellssippi) July 21, 2021
The duo is yet to get married but has proven to be committed throughout their relationship by being understanding and choosing to stick with each other.
The idea of marriage is not strange to either party. The head coach has suffered a few failed marriages and relationships; he is also a father to five kids; while his fiancé has been married twice.
WHO IS TRACY EDMONDS
Tracey Edmonds is a graduate of Stanford University, where she studied Psychobiology. She ventures into the real estate business before crossing over to the entertainment industry.
Edmonds is a prominent figure in the movie scenes and has amassed fame and wealth by being a producer and entrepreneur with a net worth of $30million.
The Stanford graduate is the CEO of Edmonds Entertainment Group; she is also part of the national board of directors for the Producers Guild of America.
SANDERS & EDMONDS' ROMANCE
Sanders and Edmonds have been an item for about a decade but got engaged two years ago, on Valentine's Day. They have been very vocal about their relationship and delightfully show support for each other.
Last year, when Sanders became the head coach, the producer shared memorable snaps and a lengthy caption where she proudly celebrated her lover's new post.