Serena Williams Turns Heads While Showing Off Curvaceous Body in Blue One-Piece Swimsuit
Serena Williams may not be heating it up at the Tokyo Olympics, but the 23-time Grand Slam champion surely did so in a new photo, wearing a swimsuit that emphasized her curves. Check out the athlete's breathtaking post.
Serena Williams is not just a tennis extraordinaire; she is a proud family woman. She is the mother of future tennis star Alexis Olympia Ohanian, Jr. and the loving wife of Reddit co-founder Alexis Ohanian. 
While excelling in her sports and family life, Williams has also been slaying fashion and fitness. She recently uploaded a photo on Instagram displaying her breathtaking physique in a jaw-dropping bikini.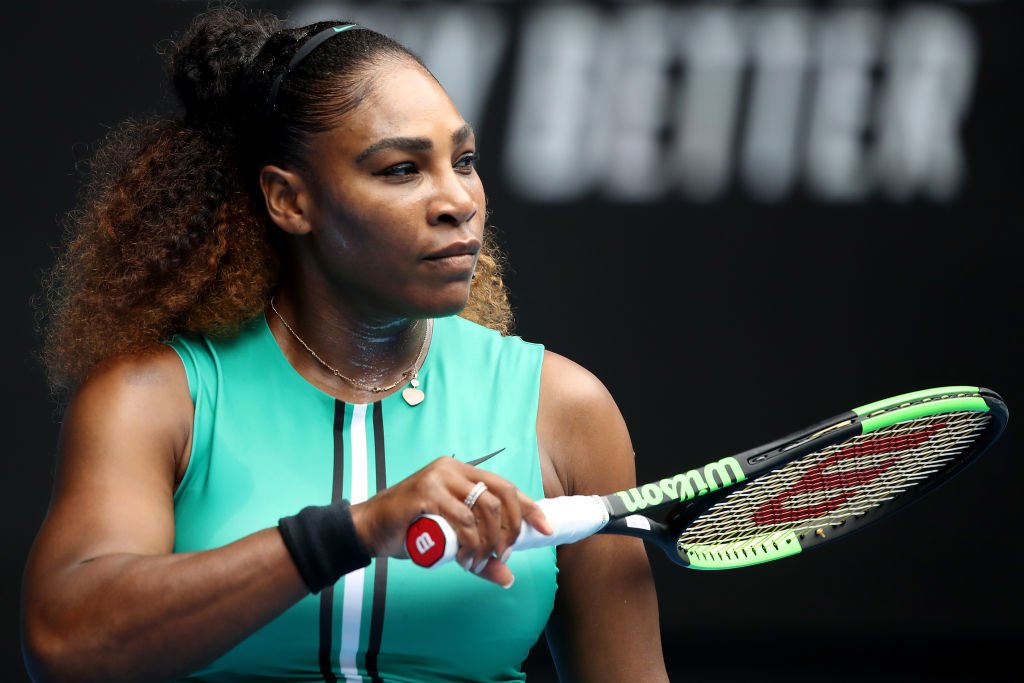 The photo showed Williams at a corner of a pool, posing with her beautiful face angled sideways. She donned a patterned blue bikini while raising a cover-up that matched her swimsuit. She wrote in the caption:
"Summer blues."
Besides her flowing brown locks, her sizzling number highlighted her flawless skin, her toned legs and arms. The 39-year-old tennis star also flaunted her striking curves and tiny waist. 
"Oh we love it," a stunned fan commented. The sensational picture amassed more than 150,000 likes, while thousands of admirers were speechless about Williams' athletic and shapely physique. 
Other gushing fans left warm and positive remarks on the tennis star's fiery ensemble and described her as "GOAT" or the "greatest of all time." Some followers remarked that she looked stunning in her swimwear. 
Like the starstruck fans, Ohanian could not help but adore his wife's impressive and fit figure. Meanwhile, another follower chimed in and described the tech mogul's wife as a fantastic woman. 

Proud of her athleticism, Williams has blessed her millions of fans with marvelous photos of herself in several flattering bikinis and will continue to do so in the future.
Although she skipped this year's Olympics,​​​​ the doting mother will continue to teach her daughter tennis.
She recently wore a one-piece white swimsuit with hints of yellow, black, and pink colors. She wore it while hitting a beach in France with Olympia and her husband.
Besides flaunting her stunning figure alone, she would sometimes appear with Olympia in matching swimsuits. In May 2021, Williams shared a photo of her and her daughter twinning in pink swimsuits.
Despite her busy schedule as a professional athlete and a mother, Williams maintains a well-balanced life. To achieve this, she believes that working hard, exercising, and following a healthy diet are necessary. 
Besides having a healthy diet, she does not deprive herself of eating less healthy food such as french fries and cheese pizza. Williams shared that part of being healthy is thinking about what your body needs. 
It does not matter whether the star athlete would win or lose her tennis tournaments or if she skips the Tokyo Olympics. When it comes to being Olympia's mother, Williams remains a winner. 
In June 2021, Williams confirmed she is not competing in the Tokyo Olympics. Her exclusion from the Olympic list is not the only reason not to participate in the prestigious event.
Williams said she wants to spend more time with Olympia, adding that she does not want to be separated from her. She previously shared she could not function well without her daughter's presence. 
Although she skipped this year's Olympics, the doting mother will continue to teach her daughter tennis. Olympia has been training in the sport with Williams' coach, Patrick Mouratoglou.
Williams previously won the singles and doubles gold medals in London Olympics in 2012 with her sister, Venus. They both won gold medals in the doubles category in the 2000 Sydney Olympics and Beijing Olympics 2008.