Daily Joke: Robin Hood Declares His Last Wish Before His Death
The famous hero of the people, Robin Hood, had grown old and grey and was at the time of his death. He called his friends together and told them of his final wish. 
On his deathbed, Robin Hood knew he did not have much time left so he gathered all his old-time friends together, including Maid Marian, Little John, Friar Tuck, and the rest of the Merry Men.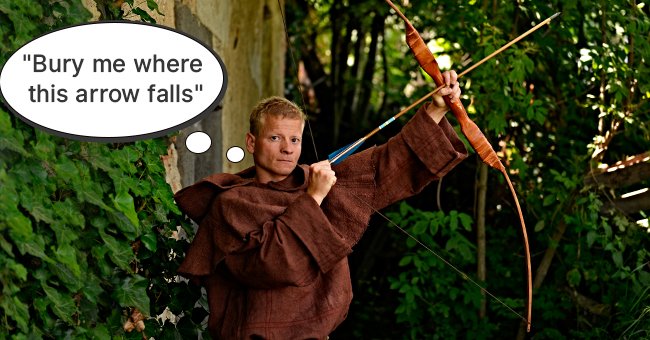 When everyone gathered at the appointed time, they all filed into Robin's bedroom. He looked at everyone and was glad they were present. He then went on to address his friends. He said in a soft tone:
"Maid Marian, my love, and all my dear friends. I am dying. I feel death's icy grip tightening on my soul. Ere sundown, my soul will depart for the hereafter."
At this utterance, there was a huge silence as everyone felt the weight of their dearest friend's words. They all looked sad, realizing that Robin was dying. 
He continued speaking in low tones, and he gently called to Little John. He instructed Little John to grant him one last wish by bringing his "great bow of yew."
Robin added, "And bring hither also the black arrow that has always flown true, and ever has returned to me after I have used it. Never has it missed its mark, and many are the enemies that it has slain at my bidding."
Without wasting any more time, Little John left immediately and hastily brought Robin's longtime and beloved great bow. Everyone gathered closer to watch intently what was about to happen.
Robin held the bow and arrow in his arms for a while as he looked at everyone around him. When he realized that no one could understand what was happening, he asked them to move his bed and position it directly opposite the window. 
Some of the men got on their feet and lifted Robin to where he desired. He continued addressing his friends, explaining that he wished to shoot his arrow one last time.
Robin noted that wherever the arrow landed was where he wanted to be buried. And with this declaration, the old Robin Hood drew his arrow one last time with all his strength and fired.  A single tear, whether of love, sadness, happiness, or regret, rolled from his eye as he loosed the arrow for the final time.
And so it came to pass that Robin Hood was buried on top of his wardrobe. 
Did you enjoy this joke? Here is another one about a duke who went on a hunting trip only to have a fateful encounter with an aspiring young bowman.
Source: Reddit