Erykah Badu & the DOC's Daughter Puma Looks like Mom's Sister in Recent Pic Together
Renowned singer Erykah Badu shared a beautiful photo with her teen daughter with rapper The D.O.C., and they look just like sisters. Take a look at the duo's uncanny resemblance below.
Erykah Badu is one of the most influential singers and songwriters in the entertainment industry. She gained prominence in the music scene in the early '90s and has been dubbed the Queen of Neo-Soul.
Badu has released songs that have become classics, including "Next Life Time," "On & On," and "Didn't Cha Know." Besides being a successful musician, she is also a proud mother of three.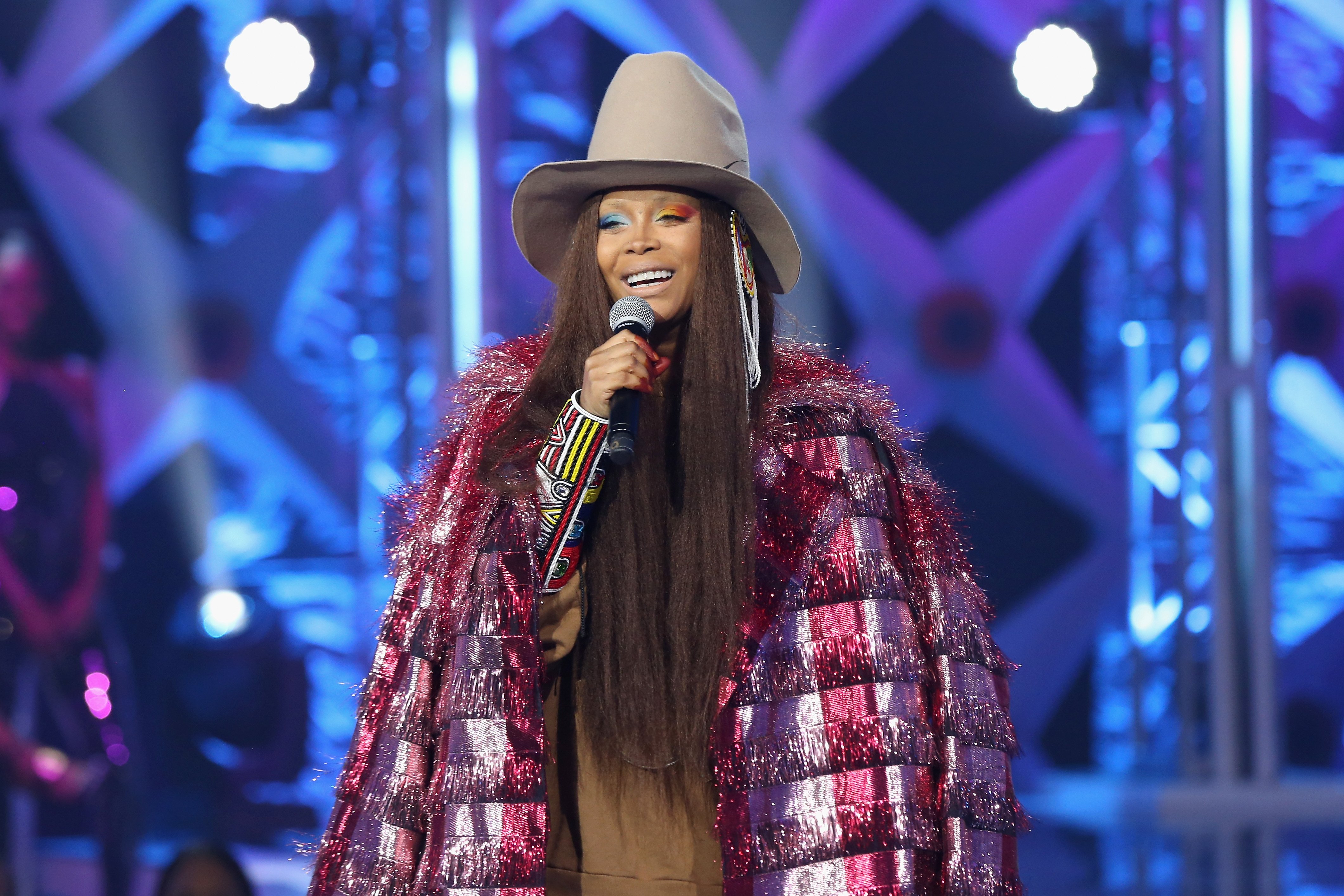 Of her three children, Badu's daughter, Puma Sabti Curry, shares a striking resemblance with the 50-year-old music superstar, and the latter shared a proof she posted on Instagram. Badu wrote in the caption:
"Mama's Lil Crimey. #choctawnation"
She shares Puma with acclaimed rapper The D.O.C, whose real name is Tracy Lynn Curry. The impressive photo showed Badu serving a serious look beside her gorgeous 17-year-old daughter.
Puma wore a dark grey shirt with a yellow-blue round print on her chest, while Badu wore a brown shirt. The mother-daughter pair wore similar necklaces with intricately designed pendants. 
While her daughter seemed to be wearing light pink lipstick, her mother opted to wear bold red lipstick. Although Badu showed only half of her face, her likeness with her daughter was undeniable.
Puma is the mini version of her famous mother as she perfectly copied her mom's signature fierce look. She has inherited the gifted singer's brown eyes, the shape of her face, and naturally pouted lips.
With their similar appearances, the "You Got Me" hitmaker appeared younger than her age, and she could pass off as her daughter's sister. "Gorgeous Twins," a mesmerized fan commented. 
Badu has two other children from previous relationships.
Not only is Puma the spitting image of Badu, but her singing skills are also just as impressive as her mother's. While she has yet to launch her singing career, she has shown off her breathtaking vocals on TikTok. 
Besides Puma sharing her gift on TikTok, Badu has shared about her daughter's talent on her own social media feed. In 2017, Puma went viral on social media after her mom shared a video of her singing a cover of Rihanna's track "Stay." 
Two years later, Badu posted another clip of the future singing sensation wherein the latter powerfully belted out the "One Night Only" song at a school talent show in Dallas, Texas.
In addition to bonding over music, the closely-knit pair seems to share a love of eccentric fashion. The duo previously appeared as cover models for Vogue Mexico where they dressed in colorful and fun clothes.
Badu has allowed her daughter to have her own creative freedom. However, another side of the veteran singer showed how protective she is as a mother to her children. 
In 2011, The D.O.C. expressed his interest in filming a reality show in his ex-girlfriend's wonderful house in White Rock Lake in Dallas, Texas. He also imagined they would end up tying the knot in her home.
Unfortunately, Badu disapproved of his seemingly ambitious plans, saying that she would not allow filming inside her private residence nor feature her children. She said she has no plans on marrying him.
Badu has two other children from previous relationships. She is also a mother to 23-year-old son Seven Sirius Benjamin and 12-year-old daughter Mars Merkaba Thedford. 
The doting mom shares Seven with ex-partner Outkast rapper André 3000, who is also known as André Lauren Benjamin, while she shares Mars with former boyfriend, hip-hop star Jay Electronica.