Daily Joke: Old Cowboy in Montana Let Young Cowboy Eat All His Chili
A young cowboy walked into a Montana cafe situated on an isolated lane. As he entered, he was greeted with the warm air and mixed odor of food, drinks, and people inside the cafe.
The young man walked straight down to the counter, took a seat, and was about to place his order when he looked up and noticed an old cowboy sitting next to him.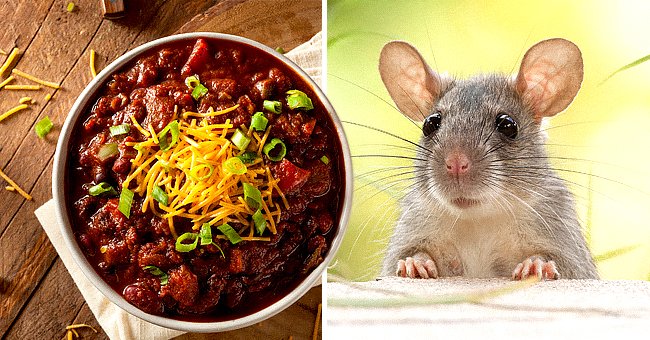 The older man sat with his arms crossed over his chest and stared unblinking at the entire bowl of meaty chili placed in front of him. The young cowboy, who was so hungry, wondered why someone would just want to stare at such a mouth-watering meal.
After a few minutes, the boy couldn't stand it anymore. He turned to the old cowboy, adjusted his hat, and asked him to hand over the meal if he wasn't interested in eating. 
The older adult reluctantly shifted the bowl of mouth-watering delicacy to the boy. As the bowl glided to his front, he stopped it with his right arm, scooped a spoon into the delicious chili, and took a generous amount into his mouth.
He took another spoonful of chili into his mouth, and he could not stop himself again. He closed his eyes as he savored the meal. He had almost finished the food when he opened his eyes and noticed something black in the bottom of the bowl.
He took a closer look and noticed that there was a dead mouse in the chili. He wanted to be sure he did not see the wrong thing because he was already full, so he touched the object he saw with his spoon.
It was indeed a dead mouse. The young cowboy immediately became lightheaded and threw up. He couldn't believe he just ate a bowl of meaty chili with a dead mouse in it! 
After he was sure all the chill he ate was back in the bowl, he wiped his mouth with his left hand and turned to the old cowboy. He looked at the man with utter disgust and was about to say something when he heard the man say:
"Yeah that's about as far as I got too."
If you enjoyed this joke, you might find this one even more hilarious. It is about a man who came up with a plan to fool a medical kiosk into giving the wrong diagnosis but received shocking news instead.
Source: Reddit.com