What If All Men Had a 9 PM Curfew? Women Make Chilling Confessions
When a woman asked online community members what they would do if men had a curfew every night, she never expected the thousands of responses she received—most of them were chilling! 
In 2018, Danielle Muscato, the host behind The #Resist Podcast posed a question that got many people talking. She asked women what they would do differently if every man in the world had a 9 pm curfew.
The tweet was shared thousands of times, and women from all walks of life jumped in to share their thoughts and answer the question presented by Muscato.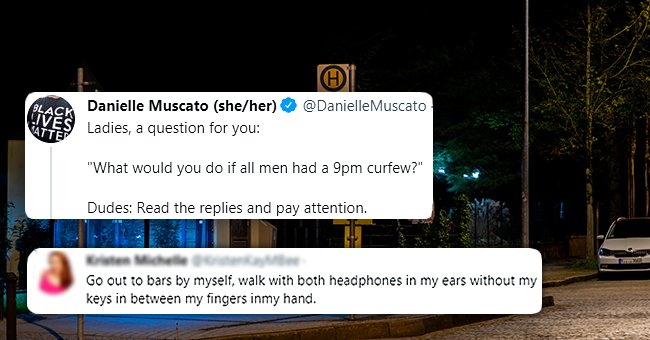 WOMEN RESPOND
An array of women outlined how different life would be if they were not constantly concerned about their safety at night. One user imagined what life would look like if all men were indoors after dark.  
She stated:
"I would walk to my car with my keys in my purse and not spread between my fingers as a potential weapon. I would listen to music on headphones, as I strolled and admired the lit street lamps ..."
Honestly I would just walk around, by myself, listening to music. When I get to my car at night I wouldn't lock it as soon as I close the door.

— Cassidy (@cassidoo) September 25, 2018
NO NEED TO LOOK AROUND
Women also shared sentiments about not having to worry about their safety. One said: "Imagine being able to look at stars in a really dark place ... And look up instead of around you."
Muscato's thought-provoking question demonstrated that many women share a universal fear. 
Another woman added a list of ways that her evening would be different. She expressed: "So many things. I wouldn't feel scared walking home alone after a late class. I would be able to grab drinks with girlfriends without someone interrupting us."
Also I would go out dancing, drink and dance and not constantly monitor myself? And not wait up for everyone to text back that they got home okay? Just to see what it's like, just once.

— Erynn Brook (@ErynnBrook) September 26, 2018
NORMAL ACTIVITIES 
Some women mentioned that they would partake in their usual everyday activities like jogging or grocery shopping. One woman shared that she would love to go to the shops at night because the queues would be shorter. 
However, she explained that she was too scared to do any shopping at night because she feared walking through the parking lot. One woman added that she merely wanted to enjoy spending some time in a quiet park without any looming threats. 
I would go outside or to a park at night. I love the nighttime outside when it's so quiet, and there is a quiet contemplative beauty to the world, especially in the city. But is hard to enjoy it when I'm hypervigilant to possible threats (getting mugged/assaulted/kidnapped).

— 12 ft. giant-sized Alive Girl with LifeEyes (@neutronsoup) September 26, 2018
MEN ADDED THEIR OPINIONS 
Men were also quick to add their voices to the discussion. Some shared that they felt "horrible" about the condition of the world, while others added supportive comments like this: "Dear Women, I am so sorry."
However, some users questioned the tweet. A male netizen stated that it was unfair to assume all men needed a curfew. He added: "Not all men treat women bad, though. I'm a 27-year-old man, and I have always treated women with respect."
Yea it's sad that most of the women answer to this tweet was to take a walk or walk to the car. I wished one day women don't have to deal with this, I'm so sorry u ladies go through this every day

— Eduardo Sanchez (@Sweeteddie) October 3, 2018
THE GOAL BEHIND THE QUESTION
Regardless of some negative commentary, Muscato told The Daily Dot that the post achieved its goal. She wanted to start a conversation about how different the world is for women—and she did.
Muscato expressed: "A number of people really seemed genuinely shocked at the kinds of mental exhaustion women have to endure every day just navigating our lives."
Wow... this is immense, humbling even. Every man should read this thread.

Gender privilege is clearly a huge problem, and has been like forever.

— Chris Benson (@therealBennoooo) October 2, 2018
THRILLED TO SEE MEN ADDRESSING THE ISSUE
While some people questioned Muscato and the thousands of other women who relayed their personal experiences and safety concerns, the comment area was filled with an array of men interested in the discussion. 
The replies from women were difficult to ignore, and Muscato was "thrilled" to see so many men attempting to understand and "address their privilege." Muscato's thought-provoking question demonstrated that many women share a universal fear—that they will become a vulnerable target after dark.