James Van Der Beek Is All Smiles in Rare Absolutely Cute Pic with Wife Kimberly & Their 5 Kids
American actor James Van Der Beek and his family recently flashed for the camera in a beautiful cover for Austin Life magazine. The couple has been through a rough patch as hopeful parents.
James Van Der Beek smiled from side to side in a rare, charming picture with his wife Kimberly Van Der Beek and their five kids. He took to Instagram and wrote a lengthy post about the occasion:
"Last year, @vanderkimberly had several dreams about moving to Texas, so I took her to Austin for our 10th anniversary (August 1). A year later, we're on the cover of @austinlifemagazine."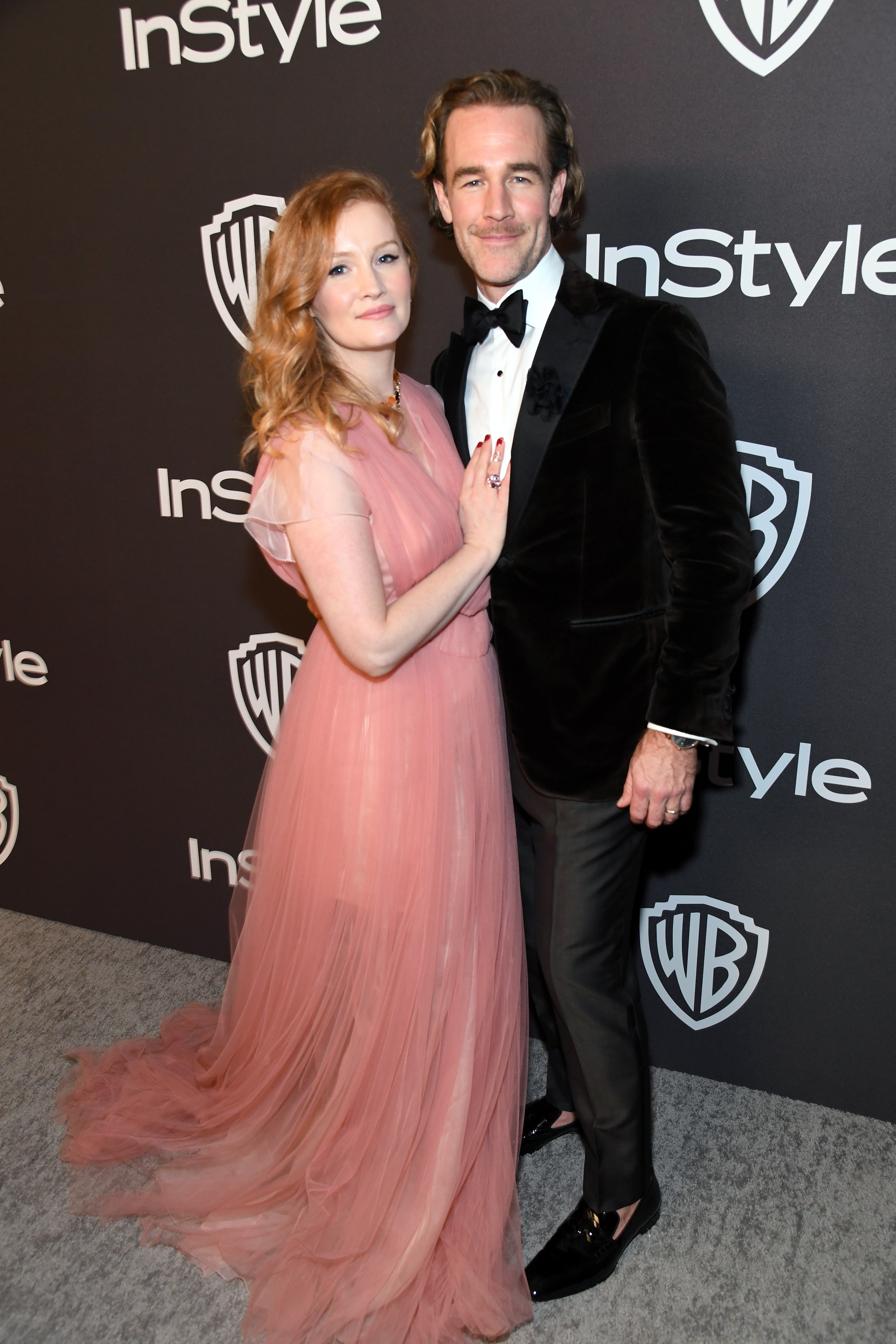 The 44-year-old shared a few snaps from the photoshoot taken outdoors in a refreshing setting on a bright sunny day featuring his spouse and kids, including their dogs, in the family portrait.
"I'd feel dishonest if I didn't share just how many tiny synchronicities and 'coincidences' we had to observe and honor for this blessing to occur," James added. 
One photo displayed Kimberly with two of her girls posing with a dog and snuggling up to it. What stood out from the shot was her pretty floral dress.
The last image showed the family striking poses on a wooden ramp basking in the sunlight with Kimberly and some of the kids barefoot. At the same time, James held onto one daughter wearing a grey suit with brown shoes. The children dressed up in color-coordinated looks.
James announced in September that he and Kimberly were relocating from Los Angeles to Texas. In the new cover story for the publication, they pose with their brood Olivia, Joshua, Emilia, Annabel, and Gwendolyn to talk about the big move.
The "Dawson's Creek" star told the magazine they wanted to get the children out of LA. "We wanted to give them space and wanted them to live in nature," he shared.
James said when he and Kimberly visited the state for their anniversary, "I felt an energy to Austin," adding it was the same energy he felt when shooting "Varsity Blues" when he was only 21 years old.
He realized there was something special about the place and wanted to bring his family there and settle in a homestead as he described the feeling as "exciting."
James and Kimberly got married in 2010 and have one big family with one son and four daughters. "The Rules of Attraction" star first became a dad that same year when he and his spouse welcomed their first child Olivia, 10, in September.
In 2018, the proud dad posted a cute picture holding his eldest child and credited her for teaching him all he knows about being a good father.
"Seven years into #parenthood, I am realizing more and more that all that matters…are moments of connection," he gushed on social media at the time.
He and his producer wife welcomed their second child, Joshua, 9, on March 13, 2012. Following his birth, James opened up about welcoming his first son and told Us Weekly that he was in love.
The couple welcomed their third child, Annabel, 7, on January 25, 2014. Being a dad of many kids, his children look alike, and James once shared a throwback photo of one of his babies and admitted he did not know who it was but later realized it was Annabel.
The lovebirds welcomed their fourth child, Emilia, 5, on March 23, 2016. A year after her birth, her dad shared the first-ever picture of his youngest child to mark her 1st birthday and described her as a "sweet, determined, magical little soul."
Kimberly, 39, and James welcomed their fifth child, Gwendolyn, 3, on June 15, 2018. Like her siblings, she was born at their home with a doctor and a midwife on hand. However, Oliva was born in a hospital.
On a sad note, the pair previously revealed that Kimberly suffered three miscarriages and got candid about the ordeals in May this year. Kimberly nearly lost her life during the back-to-back pregnancy losses at 17 weeks.
"My life was on the line. What saved my life was blood transfusions, people who donated blood. Without them, I probably would not be here," she explained.
She suffered her fourth miscarriage in November 2019 and her fifth in June 2020. To show gratitude to those who donated blood for her, Kimberly, and James, partnered with the American Red Cross to spread the word about the vital need for blood donations.
On a lighter note, James reflected on his blessings in March when he celebrated his 44th birthday and shared being a father brings him joy. Not only that, but it makes him a better dad and husband to Kimberly.
"With my forties has come the recognition that I'm a better father, a better husband, better human when I open my heart to that creative spark and invite it to everything I do," he said of being creative.