Starbucks Barista Shows Overwhelming Number of Orders Just 10 Minutes after Opening
A Starbucks worker couldn't help but break down because of a horrible and busy day at the chain store. However,  she managed to smile through her tears. 
Taking to TikTok, a Starbucks barista going by the name of Ria on the platform posted a video of herself crying on the job. This was presumably due to a wave of orders just minutes after the store opened. 
In the video, a young lady who is assumably Ria, going by the username "a_problem_like_maria," gives a thumbs up to the camera. She does so with tears in her eyes.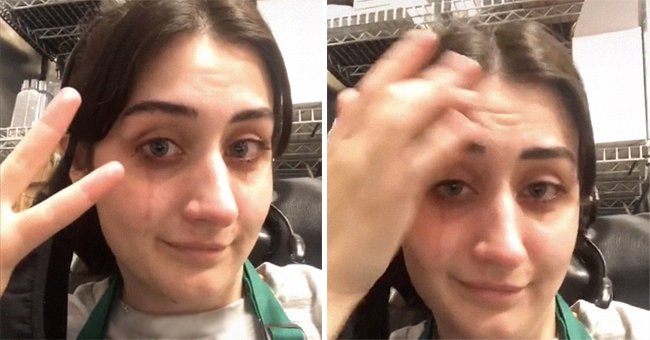 Wearing her uniform in the store's backroom, she posed satirically in a model-like manner, giving a tiny smile while pulling a strand of hair behind her ear. Overlaying the clip with text, she expressed:
"When they only schedule 3 people to run the entire store on a Saturday morning in the summer."
Another individual can be heard comically implying that the job is not worth the strain and all the workers should go home. Someone else laughed in response. 

The poster's description humorously read that she can take on challenging tasks, but she will do them while crying. The majority of commentators have empathized with Ria. 
It has been claimed that some have been fired due to taking time off. 
Many baristas, some of who work at a Starbucks store, shared similar stories. The post has so far received 5,000 likes as well as 102 comments. 

A video posted by the same user showed the actual scene, which presumably made Ria cry, where the baristas received many order stickers. Overlay text read:
"This was literally ten minutes after opening."
Taking to the comment section, Ria expanded on her shift. She expressed that the sticker machine had broken in the middle of this extremely busy day.

Once again, the majority of remarkers shared their sympathy for the Starbucks workers. Similarly, other individuals who are also employed at the chain store shared related stories. 
One of these commentators noted that a customer once became angry for waiting a long time when she had ordered 45 drinks. The post has gained just under 43,000 likes. 

According to a Starbucks employee at another one of the chain stores, it doesn't take 45 drinks to make them go over the edge. In this case, it was 22, which made the workers want to quit. 
TikTok user @sarai.camp0s clip showing the situation wrote that it was just a normal day at Starbucks. She spoke directly to the customer in the video, stating that they made everyone want to leave their job. 
Another TikTok user with the username @dolltin also made a video about Starbucks. She claimed to give impolite customers decaffeinated espressos. 

Frito-Lay factory workers also had a challenging experience with their jobs. It has been claimed that some were fired due to taking time off. 
Several individuals in Topeka, Kansas, stated that they worked for 5 months with not a single off day and have to work 31 days straight. Just like Ria, these individuals are no longer staying silent.