Daily Joke: Pharmacist's Assistant Prescribes Laxatives to Treat a Cough
One day in a pharmacy, customers came nonstop with various complaints and symptoms. It was a really epic day for the pharmacists because they kept working. But, it was finally one of the pharmacists' lunches break.
The young pharmacist stepped out and turned his head left and right to stretch the muscles before entering a nearby cafe to have lunch. As he walked in, he was greeted by the sweet aroma of the food and coffee.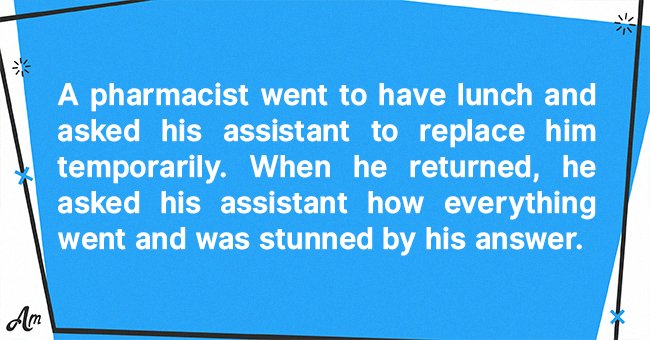 It felt refreshing to leave the pharmacy's commotion. The pharmacist sat down on a table close to a window as he placed his order of chicken and waffles with coffee, and ate his delicious lunch.
He returned to the pharmacy after his lunch break and found his assistant standing beside a customer. He remembered he saw the man walk into the pharmacy through the cafe's window across the road.
The customer looked tense all the while his assistant was addressing him. When the pharmacist asked his assistant what the customer wanted, he explained that the patient had a cough.
The main problem was that the pharmacy couldn't help him because they ran out of all the drugs that could cure a cough. Because of this, the assistant prescribed laxatives for the customer.
When the pharmacist heard what his assistant did, he became furious, acknowledging that he should have let the customer go instead of prescribing the wrong medication.
The two pharmacists continued arguing, and for a moment, they forgot that someone else was standing in front of them. The customer groaned in discomfort as he watched the two argue back and forth.
The pharmacist couldn't stand the fact that his assistant was not apologetic and even tried to defend his actions. He told him that he could not prescribe laxatives to treat cough. He was about to walk away when he heard his assistant say:
"Well, of course, you can, Look at the customer. He's far too scared to cough." 
If you enjoyed this joke, you might find this one even more hilarious. It is about a man who developed a plan to fool a medical kiosk that can diagnose any condition. He ended up getting the shocker of his life.
Source: Reddit.com