Daily Joke: Elderly Lady Turned to Her Husband in a Romantic Mood One Night
Two lovebirds, Burt and Molly, have been sweethearts for a very long time. They got married in their hometown and remained there afterward. They were really romantic and made the other couples jealous.
Burt and Molly remained married and grew old together. In their 70's, the couple refused to relocate to the government's old people's homes like some of their colleagues. They remained in their home and tried doing things on their own.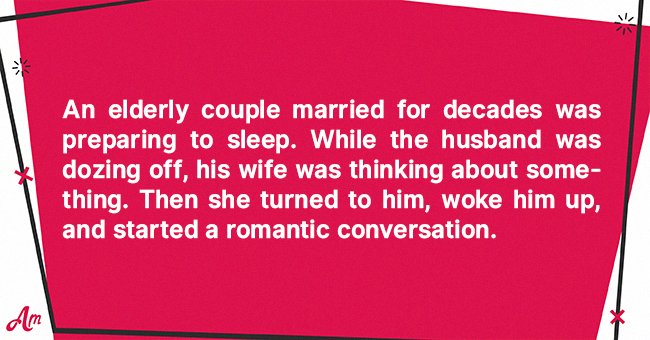 However, one day after dinner, the couple settled in their living room for a movie like they do most nights. Halfway into the film, Burt started feeling sleepy. He dozed off and, at some point, almost fell from the chair. 
So he decided to retire for the night. He walked upstairs to their bedroom and was about to change into his pajamas when Molly joined him. They both changed and got into bed, ready for sleep.
But Molly wasn't sleepy and was even in the mood for some romance. She wanted to talk, so she moved closer to her husband and tapped him. He grudgingly turned to face her. 
When Molly saw that she had his attention, she reminded him that he used to hold her hand when they were courting, and she wanted that again. Gloomily, the older man held her hands for a split second before rolling over and trying to sleep again.
Still, Molly wouldn't give up. She wanted more attention, so she told him again that he used to kiss her. The older man, angry, reached across the bed and planted a kiss on her left cheek before settling back in bed, but she still wasn't satisfied.
She tapped Burton on his back and reminded him that when they were younger, he loved biting her neck too, and this time Burt got Irritated. He yanked the bedclothes away from his body and stood up, ready to get out of bed.
He sat up and wore his sleeping flip-flops before he stood up and left Molly alone in bed. He took only one step when he heard her soft voice as she enquired where he was going. Without turning, he replied:
"To the bathroom to get my teeth." 
If you enjoyed this joke, you might find this one even more hilarious. It is about a man who found a trunk of his wife's belongings in the attic of their home. The revelation behind the contents of the trunk will crack you up.
Source: Reddit.com