Gabby Sidibe & Fiancé Brandon Frankel Share PDA Moment While She Slays in Blue Floral Dress in Pic
Gabby Sidibe and her fiancé Brandon Frankel looked even more in love after getting engaged. The beautiful couple was seen displaying some affection in a recent snap.
Gabby Sidibe is an acclaimed actress who started her acting career in the hit 2009 movie "Precious." Recently, her fiancé Brandon Frankel shared a photo of himself and the star looking more loved-up than ever.
"Mom & Dad hit the LA Art Show [sic]," Frankel wrote. In the photo, Frankel can be seen wrapping his arm around Sidibe's shoulder while the latter is smiling and looking at her beloved man with sweetness.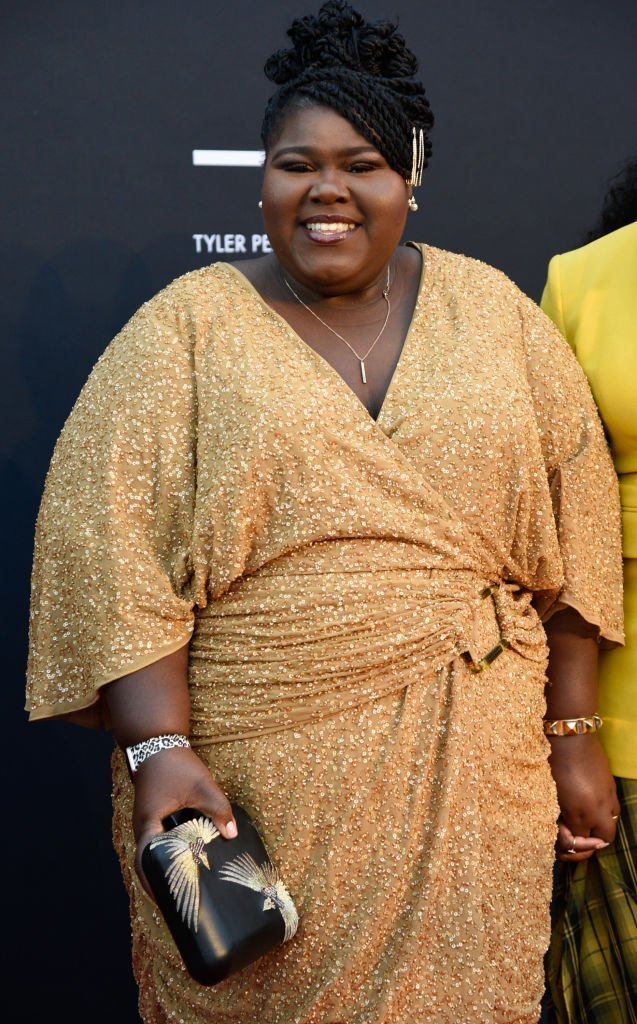 PERFECT COUPLE
For the photoshoot, Sidibe donned a blue floral dress that was classy and elegant. The actress accessorized her look with bracelets, earrings, and a shoulder bag. A headband was also on her head.
Frankel, on the other hand, looked dapper in his blue shirt paired with black pants. The fitness enthusiast and creative artist wore a watch on his right wrist and flashed a view of the tattoo on his arm to his followers.
In the comment section, one fan said that they're a lovely couple. Meanwhile, Sidibe and Frankel regularly go on dates, as evidenced by their Instagram pages. In June, Frankel shared a pic of the couple wearing sporty clothing.
The snap shows Sidibe and Frankel standing back to back. In the caption, Frankel wrote, "Everybody get up it's time to slam now. We got a real jam goin' down. Welcome to the Space Jam [sic]."
Additionally, he shared a photo taken while they were at Cocoon Malibu last July. Sidibe and Frankel looked so sweet as the latter hugged the actress from behind. He described them as Malibu's most wanted.
In a statement, Sidibe expressed excitement about working with Gamechanger on her first feature.
THE COUPLE'S LOVE STORY
In April, Sidibe and Frankel, who became engaged back in November, seemed to hint that they were married as they walked out in Beverly Hills with jewelry on their rings during a romantic dinner date.
It was reported that the couple has been dating since May of 2019. However, things were not officially announced until July, when he shared a portrait of the actress on social media, calling her his "sunshine."
GUSHING ABOUT EACH OTHER
Afterward, Frankel posted dozens of pics of himself and Sidibe while the star has kept her relationship more private. In October, they looked to be having a blast when they attended actress Taraji P. Henson's birthday.
Throughout recent months, Sidibe has gushed over Frankel on social media. The star rang in the new year last year with her beau, describing him as "the cherry on top of this last decade and the foundation of the next."
Meanwhile, Frankel, who works at Cameo on the brand's strategic partnerships, gave a tribute to Sidibe, who he calls "Queen." The marketing expert said that he learned so much about life from her.
Earlier this year, Sidibe opened up about her experience with depression and bulimia. In 2017, her autobiography entitled "This Is Just My Face" became the first public revelation about the condition.
LATEST PROJECT
Last May, it was reported that Sidibe would be directing her first feature-length movie, the psychological thriller "Pale Horse," for Gamechanger Films. Filming for the movie is scheduled for this fall.
"Pale Horse" follows a story written by Chris Courtney Martin, with a screenplay by Asabi Lee and Paul Hart-Wilden. Taking place in the Pacific Northwest, the story follows Naia, an African American woman.
Naia is a well-known author who has multiple sclerosis. As the story unfolds, a diabolical mystery swirls around Naia when she houses the man who managed to escape captivity with her missing brother.
In a statement, Sidibe expressed excitement about working with Gamechanger on her first feature. She described the project as "a true stand-out." Moreover, she said the character of Naia is strong.