Michelle Obama Shares Never-Seen-before Photo with 2 Grown-Up Daughters on Husband Barack's 60th B-Day
Michelle Obama commemorated Barack's 60th birthday with a rare and hilarious photo of their family. The former President once candidly admitted he feared for the future of his marriage.
Barack Obama just turned 60, and although he and his family had planned a big celebration with supposedly hundreds of people invited, the coronavirus' Delta variant made them rethink things. 
Initially, it was reported that high-profile celebrities like George Clooney, Steven Spielberg, and Oprah Winfrey were invited to the party on Martha's Vineyard, Massachusetts.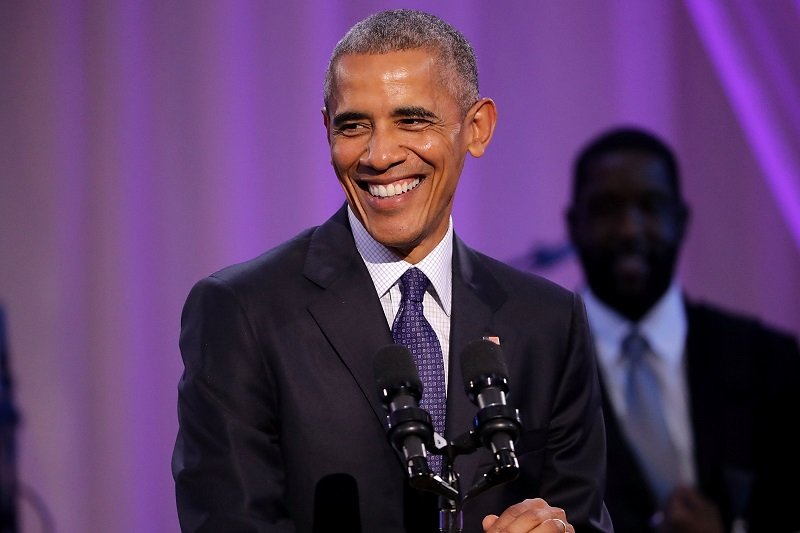 CHANGE OF PLANS
Even current POTUS Joe Biden was on the guest list, but he reportedly had no plans to attend. It is important to point out that Biden served as Vice President when Barack was in office.
Unfortunately, the US has identified a rise in infections for coronavirus, so the Obamas decided to celebrate Barack's birthday only with close friends and family members. 
Even before changing plans, Barack and Michelle Obama were urging people to get vaccinated. They even asked their guests to get tested before attending the party.
"WONDERFUL HUSBAND AND FATHER"
Barack won't celebrate his birthday how he wanted, but Michelle is still making him feel loved. The "Becoming" author honored her husband with a never-seen-before photo of their family, and it is nothing short of adorable.
In the pic, found at the bottom of the article, Michelle appeared wearing a sleeveless, red and white, plaid dress and flashing her smile at the camera. Next to her was Malia, who held her thumb up for the pic.
As per Sasha, she struck a duck-face pose while rocking a black top. In Barack's case, he chose a pale blue shirt, and although he had a serious facial expression, he gave Sasha bunny ears in the photo.
After leaving the White House, [Michelle and Barack] felt a huge weight lifted off their shoulders.
In the caption, Michelle confessed that out of all of her husband's accomplishments, being a "present, loving" father to their daughters was the best. She added:
"Thank you for never letting the weight of the world get in the way of being a wonderful husband and father. Happy 60th birthday, [Barack]."
BARACK ON PARENTING AND MARRIAGE
After leaving office, the Obamas have been very candid about their personal lives. In March 2021, Barack said he realized he would do anything for his kid as soon as he saw Malia's eyes looking up at him when she was born in 1998. 
The moment was special for many reasons, including that he and Michelle had been trying to have children for some time, but she had "a couple" of miscarriages. Malia and Sasha were conceived via in-vitro fertilization.  
Barack's revelation came only four months after his memoir "A Promised Land" hit the shelves. In it, the former POTUS wrote that his eight years in office took a toll on his and Michelle's relationship. 
He even said that they went through such a dark moment that he feared for their marriage. Barack explained that some nights, he would remember when everything between him and Michelle felt "lighter" and her smile was "more constant."
At the thought that those days might never return, his heart would "tighten." After leaving the White House, they felt a huge weight lifted off their shoulders.
Barack confessed that after his Presidential term ended, he and Michelle rediscovered their love and rekindled their friendship by sleeping late, eating "leisurely dinners," going for long walks, swimming in the ocean, and thinking of their second act. 
Michelle and Barack have had their fair share of ups and downs during their three decades together, but they've worked through them and are now the epitome of a power couple.