Daily Joke: Soldier Asks Nun to Hide Him under Her Skirt
A person dressed in a nun's outfit was standing outside a street, close to a signboard, when she heard heavy footsteps behind her. As the steps grew closer, the nun turned to see what was going on.
A soldier was running towards the nun. Before the nun could make sense of what was happening, the soldier stopped at her front and asked if he could hide under her skirt. He noted out of breath that he would explain all that was going on later.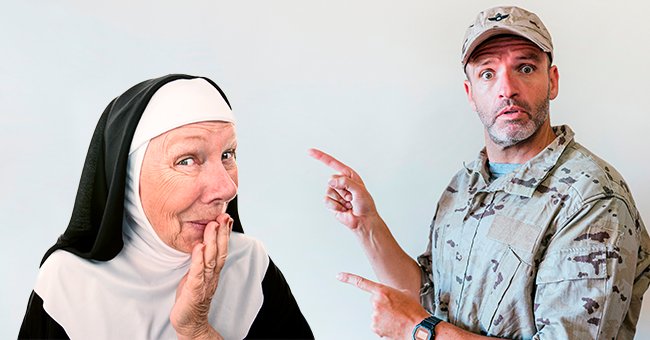 The nun agreed, and he immediately ran under her dress. After a split second, the nun heard another set of heavy footsteps coming her way from behind. But before she turned, two men dressed in soldier uniforms appeared in front of her.
The officers asked if the sister saw anybody run past. The sister affirmed that she had indeed seen an officer running breathlessly, giving them the wrong information of where he went. 
She explained that the officer ran towards the direction she pointed. As the officers disappeared, the man hiding under her garment crawled out and thanked her for her kindness and help. 
After appreciating the sister's selfless gesture, he explained that he ran away from the army barrack because he was afraid of going to war. When the nun heard this, she said that she understood his fears. 
She had been following up the update of the war, and there had been so many killings. She opined that the chaos in the war was quite frightening, and it was enough to make any sane human scared.
As they continued their conversation for some time, the soldier shyly told the nun that she had elegant long legs that he kept admiring while he was under her skirt.
The nun placed her hand on her chest, acting shocked by his confession. She dropped her hand, cleared her throat, and adjusted her dress before saying to the soldier:
"If you had looked a little higher, you would have seen a great pair of testicles... I don't want to go to Iraq either!"
If you enjoyed this joke, you might find this one even more hilarious. It is about a man who received a postcard from his mistress whom he had an affair with for several years. The turn of events will crack you up!
Source: Reddit.com