Daily Joke: Cat Keeps a Diary of His Carefree Life
A house cat fed up with living with his owners kept a diary detailing his carefree life in the hands of his tormentors and his grand plan to escape captivity.
Day 752 of the diary had some interesting content, as the cat narrated how his captors continued tormenting him with bizarre little dangling objects. He also expressed grievances about how his captors dined lavishly on juicy pieces of meat while subjecting him to bland cereal.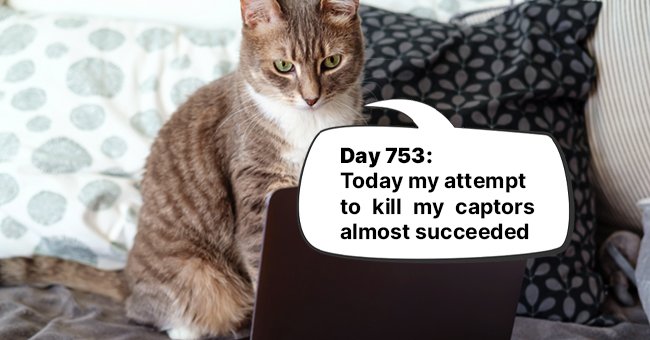 The cat disclosed that his only driving force was the hope of an eventual escape and the satisfaction derived from ruining their furniture. Notwithstanding, he still feared he was going insane, evident in his newfound tendency to eat houseplants.
On Day 761, the cat wrote about his plot to kill his captors by curling around their feet while they walked. The plan almost succeeded but for a loophole. He made a mental note to try the trick next time at the top of the stairs.
Meanwhile, he made little strides in his attempt to repulse his oppressors by puking on their favorite chair. Subsequently, he planned to induce himself to vomit on their bed.
Day 762 saw the cat taking a new approach, deciding to annoy his captors by sleeping all day, and waking up at ungodly hours to plead for food. Progress!
With most of his plots so far not availing the desired results, the cat resorted to passive threats. On the 775th day, the cat decapitated a mouse and brought the headless corpse to his captors to give them a taste of what he could do, thereby striking fear in their hearts.
The subtle threat seemed to have the opposite impact on his captors, as rather than become fearful, they cooed, and patted his head, and went on about what a good little cat he was. He realized the tactic was definitely not working.
The cat's life became more of a living hell on day 778, making him realize his captors were more sadistic than he ever imagined. They subjected him to water torture for no good reason, adding a burning foamy chemical called shampoo to the water.
He couldn't help but wonder how sick someone could be to invent such liquid. Despite the burning torture he endured, the cat penned down how he found consolation in the piece of thumb still stuck between his teeth.
On day 781, the captors seemed to intensify their approach, enlisting a slew of accomplices to discuss his impending doom. Meanwhile, they placed him in solitary confinement while they carried on with their meeting.
The cat managed to grasp a few words from their conversation over the lingering smell emanating from the "glass tubes they call beer." Penning down some of the words he overheard, the cat wrote:
"I overheard that my confinement was due to my power of 'allergies.' Must learn what this is and how to use it to my advantage."
Day 784 came with a new bout of realization, finally convincing the cat that his co-captives, the dog and the bird, were flunkies and snitches. He termed the dog a half-wit, as he kept returning happily each time their captors released him.
As for the bird, the cat became convinced he was an informant, given that he mastered the frightful tongue of their captors, which sounded more like "mole speak." He also had conversations with them regularly, further confirming the cat's theory that he was reporting his every move.
Being smart, the cat knew he could barely do anything to the bird, as he was securely placed in the overhead metal room, away from his potential attack.
Notwithstanding, the cat resolved to bide his time until the ideal opportunity presented itself. He concluded the day's entry with the reassuring words: "I can wait; it's only a matter of time…."
If that made you laugh hard, this joke about a man who noticed his neighbor digging a hole in his backyard will make you burst out laughing too.
Source: Startsat60