Sade's Son Izaak Theo Goes Shirtless Showing off Fit Physique in Camo Shorts & Straw Hat in Pic
Izaak Theo, the transgender son of acclaimed singer Sade, is now all grown up. Recently, he showcased his impressive physique with a shirtless post on social media.
Sade is often considered a significant influence on contemporary music and is recognized as a highly successful female artist in the UK. Her contribution to music earned her the Officer of the British Empire, OBE, in 2002.
Aside from being a great singer, Sade is an excellent mother to her son Izaak Theo Adu-Watts, who first outed himself as a transgender man in 2016 in conjunction with the National Coming Out Day.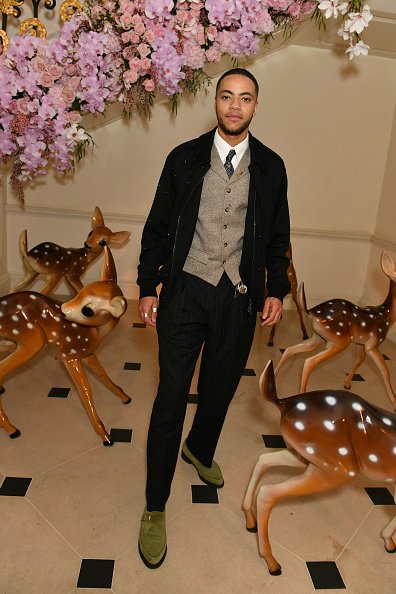 HE'S ADORABLE
On August 2, Adu-Watts shared a shirtless photo of himself on Instagram, showing him wearing camo shorts and a straw hat. He described the outfit as an adult version of what he wore as a child.
There was a gold necklace and ring on his finger. With an orange beverage can in hand, the 25-year-old gave his legion of followers a sweet smile. Commenters lauded him immediately. One person wrote:
"A sexy man."
NO ORDINARY MOM
According to Adu-Watts, Sade isn't an ordinary mother. In September 2019, he created a heartwarming Instagram post expressing his gratitude to his mom for her support as he transitioned from female to male. 
Adu-Watts, previously known as Mickailia "Ila" Adu, revealed he was transgender five years ago. Then he had gender reassignment surgery and only announced his return home after six months of recovery. 
"Thank you for staying by my side these past 6 months Mumma. Thank you for fighting with me to complete the man I am," Adu-Watts wrote alongside a photograph of him hugging his famous mother.
Sade shares Adu-Watts with Bob Morgan, a renowned Jamaican music producer. The singer, who has shown a reputation for being completely private, declined to comment publicly on her son's transition. 
Shakeshaft said she knew shortly after she met Adu-Watts on Instagram that she wanted to be with him.
STRUGGLES OF TRANSITIONING
In July 2019, Adu-Watts discussed the challenges of transitioning from female to male through an Instagram post. As seen in a snap shared from his page, Adu-Watts lies on a hospital bed recovering from the surgery.
The accompanying caption described Adu-Watts' emotional and physical stress during the transition. As he expressed excitement as to what the future may hold for him, he thanked his family for always supporting him.
HIS CAREER
In February 2020, Adu-Watts made his modeling debut at one of London's biggest shows. Supermodels Irina Shayk, Joan Smalls, Kendall Jenner, and the Hadid sisters were among the other stars in the parade.
As well as modeling, Adu-Watts is an aspiring artist who posts sketches and drawings on his Tumblr. From Ryan Gosling to prospective tattoo designs, Adu-Watts explores a lot of different subjects. 
HE'S MARRIED
Throughout her childhood, the music of Sade gave Emily Shakeshaft comfort and peace. Several years later, after meeting the multi-awarded singer's son back in 2019, the two felt they had a connection.
Last April, Shakeshaft and Adu-Watts tied the knot. The former works as a hairdresser and artist in Fresno. Their current residence is in Fresno, but it is common for them to travel overseas to visit extended family.
It sounds like they chose their paths impulsively, but Shakeshaft said she knew shortly after she met him on Instagram that she wanted to be with him. Still, she never thought they would marry because it was just so far-fetched.
But when Adu-Watts flew to the States to make his love and commitment known, Shakeshaft quickly became enamored. When she noticed how easily he integrated into her life, she knew she wanted to marry him.