Fans Praise Meghan Markle's Youthful Look at 40 after Seeing B-Day Video from Her & Harry's Home
Meghan Markle just turned 40, but some fans believe she looked much younger in her birthday video. Melissa McCarthy couldn't keep it together with Prince Harry's cameo.
The Duchess of Sussex Meghan Markle celebrated her 40th birthday on August 4, 2021. To commemorate the milestone, she uploaded a video on her and Prince Harry's nonprofit website, Archewell, with a very special guest.
In the clip, which gave the Sussexes' fans a glimpse at their lives in the States, Markle appeared talking to fellow actress Melissa McCarthy about 40x40, a new charity initiative.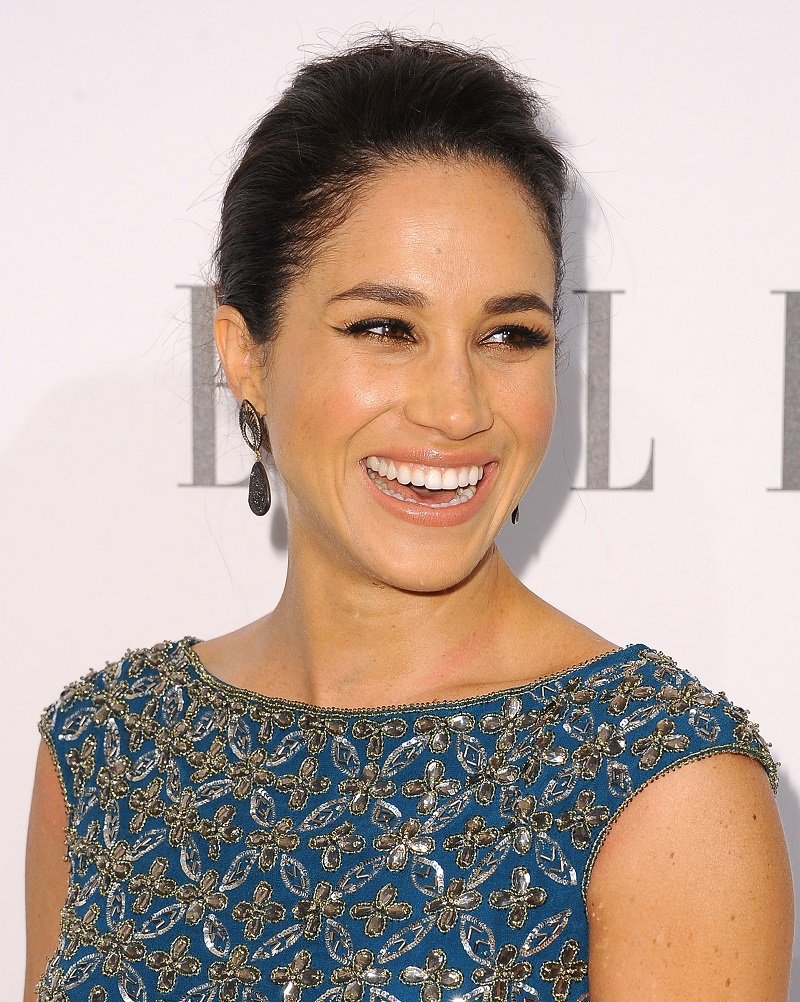 40X40
According to Markle, more than two million women lost their jobs due to the coronavirus pandemic in the States, and many more faced the same challenge around to world.
That's why 40x40 was created; a global effort focused on getting people to commit to providing 40 minutes of mentorship to women getting back into the workforce.
Markle pointed out that if everyone committed to any service, they could create a "ripple effect." You can find the video at the bottom of the article.
The last seconds of the promotional clip showed a couple of bloopers and parts of Markle and McCarthy's conversation that were not included in the main two-minute clip, including Prince Harry's cameo. 
The Duke of Sussex was spotted wearing a dark grey shirt and black sunglasses juggling three balls in what seemed to be the house's backyard. As soon as McCarthy saw him, she couldn't help but laugh out loud.
Apart from the mentoring campaign and the hilarious conversation between Markle and McCarthy, the Duchess' looks attracted many positive comments from her fans.
Something that Meghan Markle taught the world today: set yourself free from toxic environments, surround yourself with people that want you to succeed and be happy, put your mental health before everything else and you'll look at 40 even younger than you were at 20. ❤️ pic.twitter.com/7atYK0pLfK

— natasha ♡ (@meghansupporter) August 4, 2021
MARKLE'S LOOKS
The proud mother of two appeared chatting with McCarthy from what seemed to be an office in her and Harry's $14.7 million home in Montecito, California. 
Sitting at an ornate desk filled with stacks of her children's book "The Bench," Markle showcased a casual look with her hair tied in a messy bun.
"[Lilibet] is more than we could have ever imagined."
cannot believe meghan markle is 40 today, LOOK AT HER pic.twitter.com/GeoweyyLNC

— michelle (@ddarveyy) August 4, 2021
Her monochromatic outfit included a tank top, white pants and sweater, and a pair of Manolo Blahnik heels in brown suede. As per the accessories, Markle chose necklaces with the Taurus and Gemini constellation, Archie and Lilibet's star signs, respectively. 
According to make-up artist Laura Kay, Markle used a peachy powder blush and gold liquid highlighter on her cheekbones to get that "goddess glow." 
May we all age like #MeghanMarkle 😍 #MeghanMarkle40 pic.twitter.com/r6YREUotNl

— Dee 🐶🐾 (@duchessofpoms) August 4, 2021
Kay added that the Duchess probably found inspiration for her makeup in the summer, but she also included a "twist of J-Lo sexiness." As expected, Markle's followers took to Twitter to share their thoughts.
A netizen wrote that Markle prioritized her mental health and looked even younger at 40 than she did at 20. Others pointed out that Markle was aging like a fine wine and looked like a "goddess."
She's 40 and looking like a GODDESS 🔥🔥🔥🔥🔥 #MeghanMarkle #MeghanMarkle40 #Meghans40celebration pic.twitter.com/rezIYX1vGo

— Hani çok No Sorry ☺️ (@HaniIsSoBlocked) August 4, 2021
WELCOMING LILIBET
Markle launched the 40x40 campaign two months after she and Harry welcomed their second child, Lilibet Diana, born on June 4 at Santa Barbara Cottage Hospital in California. 
They named their baby after two crucial members of Harry's family: Queen Elizabeth II (Lilibeth was her childhood nickname) and Princess Diana, who passed away in 1997.
Appreciation post for Meghan who turns 40 today and is definitely aging like a fine wine 💖#MeghanMarkle #MeghanMarkle40 #Meghans40celebration pic.twitter.com/QnexuwrHNq

— Robynne (@everydayrobsten) August 4, 2021
Markle and Harry wrote on their Archewell website that Lili's birth was a blessing. Apart from thanking their followers for their kindness and support, they added: 
"[Lilibet] is more than we could have ever imagined, and we remain grateful for the love and prayers we've felt from across the globe."
It has been a busy year for the Duke and Duchess of Sussex. In March, their tell-all interview with Oprah Winfrey stopped the Internet due to their allegations of racism within the British Royal family. 
If that wasn't enough, Markle's dad, Thomas, revealed he would take things to court if he were not allowed to see his grandchildren. Only time will tell if Markle and her dad can make amends.