Derrick Jaxn Has 2 Kids with Wife Da'Naia Jackson Who He Cheated on – Meet the Relationship Guru's Family
Derrick Jaxn is famous for giving out relationship advice on his YouTube channel. However, his marriage faced a challenging test earlier this year, and here is what it was.
Author and YouTuber Derrick Jaxn is not only a social media sensation, but he is also a happily married man to his wife— Da'Naia Jackson, who he constantly flaunts on social media.
In a Twitter post, Jaxn shared a heartwarming picture of him and his wife in beautiful outfits. In addition to the snapshot, the proud husband wrote that he has only one baby mama, none other than his wife.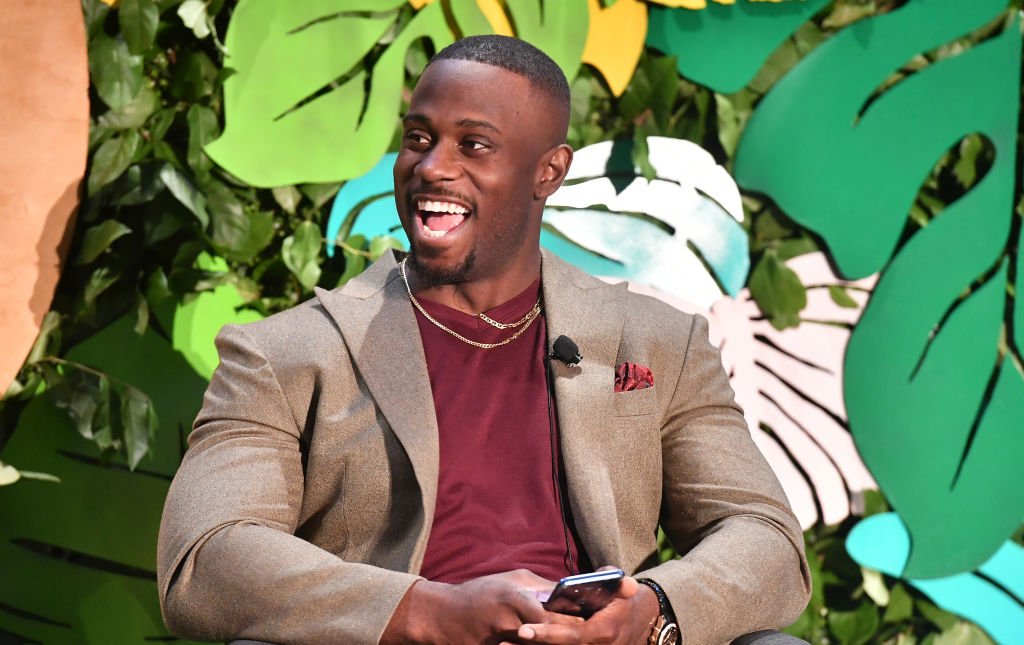 INSIDE JAXN AND JACKSON'S FAMILY 
Another post shared on the social media guru's Instagram page showed him sharing the dance floor with his beautiful wife, and it was lovely. Captioning the post, Jaxn wrote:
"How would you like it if both of our names had Jackson at the end? 😏"
During the 2021 Mother's Day, Jaxn serenaded his wife with sweet words in a post he shared on Instagram. He mentioned that their kids were blessed to have a loving, nurturing, and passionate woman of God raising them.
The lovebirds are doting parents to their two adorable children and are enjoying their duties to the fullest. Jackson once posted a picture of her kids on Instagram and tagged them "the fruit of her womb."
The month of June was a time to celebrate fathers for their endless sacrifices, and the mom of two was full of praises for her husband. She shared a photo of themselves embracing each other, and fans loved it. 
She also noted that Jaxn's impact on their children made them grow and develop beyond what the human eyes could see. Jaxn also celebrated himself on the special occasion with a snapshot that saw him holding his kids.
JAXN'S INFIDELITY SCANDAL 
Although the celebrated socialite's bond with his family appears to be a desirable one, his marriage hit the headlines in March after news of an extramarital affair he was involved in became viral. 
According to a report, Candice De Medeiros claimed to be romantically involved with a famous YouTuber. Medeiros alleged that she and Jaxn texted through the summer in 2020 and slept in the author's marital bed. 
A selfie that captured the moment she slept in Jaxn's bed, alongside proof of the duo's relationship, was also produced. While allegations from Medeiros were ongoing, another side chick claimed to have been pregnant with the celebrity's child.
The revelation eventually sparked several comments from fans and was followed by a confession video from Jaxn regarding his unfaithfulness, which his wife appeared in. 
In the video, Jaxn admitted to being involved in the alleged relationship while he was still married. To the public's shock, the father of two revealed that he was also involved in other relationships outside his marriage.
Furthermore, he made it known that he needed spiritual support to make better choices. According to Jaxn, one had to have the grace of God to break off and abstain from certain things.
HOW DID THE COUPLE WEATHER THE STORM? 
Despite her husband's involvement with other women, the bond between Jaxn and his wife appeared to be stronger than expected. In the video, Jackson noted that she had received tons of questions regarding her decision to stay, despite Jaxn's infidelity.
In her response to the constant inquiries, she said after she became aware of his unfaithfulness, she left her husband and made a decision never to return. However, her stance changed when she observed a change in his personality.
JACKSON'S THOUGHTS ON SPIRITUALITY 
After the video made headlines, fans and followers criticized Jackson's reasons and her overall appearance. In her defense, Jackson said her clothing was a source of power for her. 
While speaking, she made it known that she saw her outfits as "the armor of God." According to Jackson, it was a spiritual battle, and anyone who did not come prepared would not know what to do. 
I have one baby momma, and she's my wife.
Now, will you be as quick to spread the truth as you were to spread rumors you never fact checked? Admit you're ignorant? Think before you tweet? 🤔 Nah. God bless y'all tho. 👌🏽 pic.twitter.com/kHZtl3p2w6

— Derrick (@DerrickJaxn) March 23, 2018
While Jackson and Jaxn have shown optimism towards their marriage, fans are also hopeful things get better between the husband and wife.