Teyana Taylor Mourns Loss of Her 'First Baby, Her Son' 1 Year after His Death: 'I'm Still Speechless'
August 8, 2020, will always be a memorable day for Teyana Taylor and her family after their dog, Boski, died. A year has passed, and the actress has found the courage to say goodbye to the wolf-dog. 
American singer, songwriter, and actress, Teyana Taylor has proven to be one of the biggest dog lovers in America with her recent social media post. The "Rise Up And Dance" actress mourned the death of her dog, Boski, who died a year ago.
The Hollywood star updated her 12.9 million Instagram followers with a touching tribute and a seven-piece slideshow that captured memorable moments with the big black wolf-dog.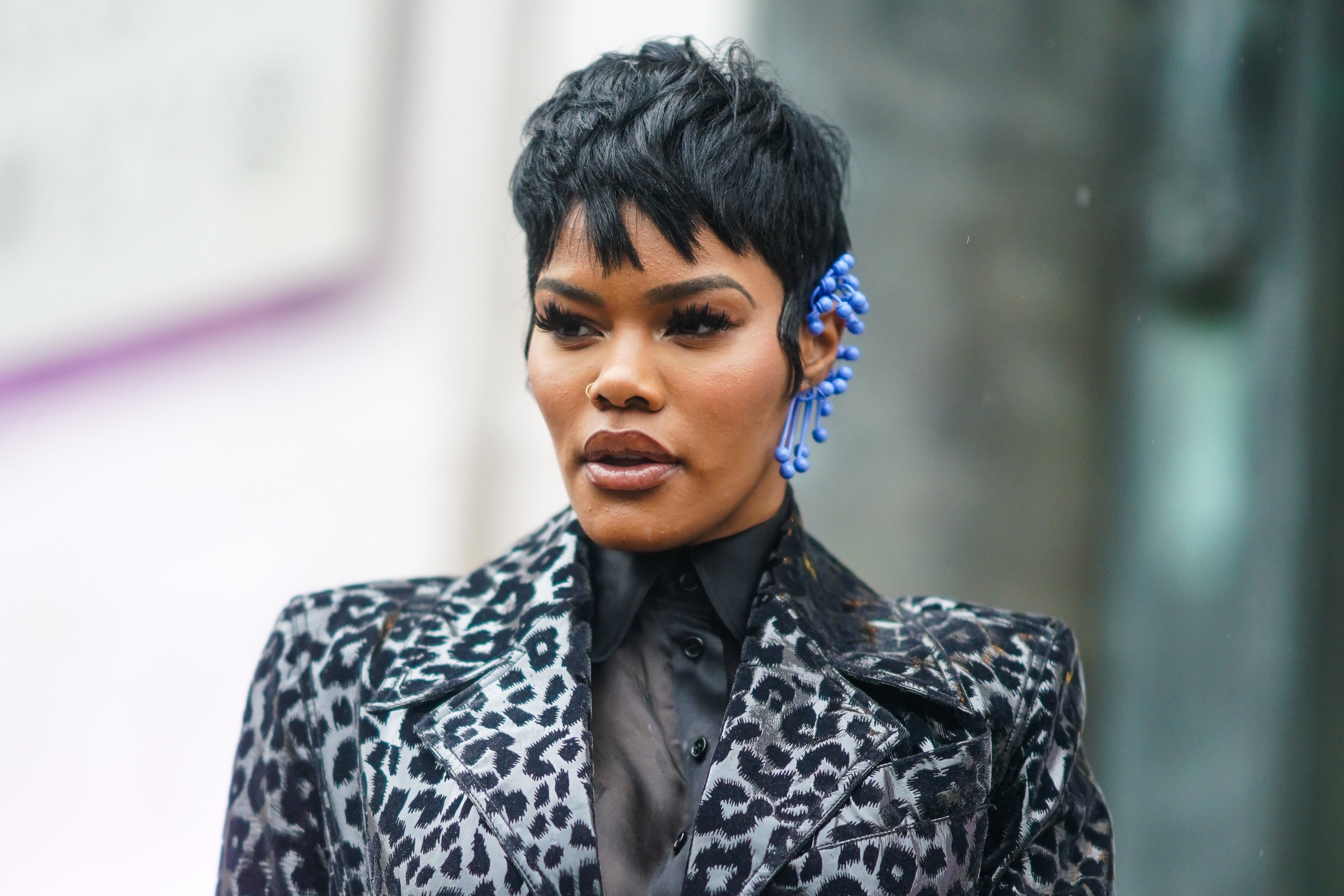 TRIBUTE TO BIG BOSKI
In the first picture, Boski, who had an orange collar, sat in a picturesque environment with some dried grasses. The second photo featured the adorable big black wolf-dog posing next to a fountain.
The third slide was in a black and white setting, showcasing Taylor's close bond with the dog. In the third photo, the talented singer was clad in a nettop paired with a long camo skirt and flaunted her baby bump.
Boski laid in front of her on a platform and looked cute in his shiny black fur. Another slide saw Taylor's daughter and the big dog standing side by side with each other.
Boski showed an immense amount of love for the little girl as he stuck out his tongue to lick her face. She captioned the post:
"A year ago today was one of the worst days of my life...I'm still missing you...I'm still speechless...I'm still in disbelief...I still feel you...I still love you so much."
Furthermore, Taylor tagged Boski as "Her first baby and son" and related that he left a month before meeting his new baby sister. According to Taylor, the dog was so excited to meet her daughter and never left her side.
Finally, the Grammy award-winning singer made it known that her family was broken and incomplete without Boski. The wolf dog's death was a hard blow on the dancer, as it took her a year to bid a final farewell to Boski. 
Whether Junie picks basketball, singing, modeling, or business, she always wants to give her the opportunity.
Since the post was shared, it has garnered over 2000 comments, as fans, followers, and fellow celebrities have dropped words of consolation. A concerned follower wrote:
"All loss is painful, there's something about the loss of the unconditional, nonjudgmental love of a pet that hurts differently❤."
TAYLOR'S BEAUTIFUL FAMILY
Losing a loved one is heartbreaking; however, Taylor had the support of her family to get her through the pain. The "sexiest woman alive" has been married to her husband and basketball player, Iman Shumpert, since 2016.
Apart from being an amazing wife, Taylor is also a doting mother to her two daughters, Iman "Junie" Taylor Shumpert Jr. And Rose Rue Shumpert. The admirable couple welcomed Junie on December 16, 2015, in their bathroom and shared the news on Instagram.
Taylor and Junie share an unbreakable relationship, and the former is always full of praise for the tot. In a 2016 interview, the mom of two noted that Junie was her world and added that she would not be the same person without her.
Above everything, Taylor is ready to support her daughter, irrespective of the career path she chooses. According to the icon, whether Junie picks basketball, singing, modeling, or business, she always wants to give her the opportunity.
Taylor and Iman welcomed their second daughter in September 2020, and the former constantly shares several sweet moments she experiences with Rose Rue on Instagram.
Last year, Taylor shared a surprising video of three-month-old Rose Rue trying to speak. In the short clip, the infant could be heard saying the words "hi," "how are you," and "hey girl" to the shock of her parents.
Taylor also uploads other exciting moments of her family experience, and it is pretty evident that the Shumpert family remains full of love for one another.