Daily Joke: Two Soldiers Controlling the State Border Saw a Man's Body in a Tree
Two soldiers from Germany serving on the German-Austrian border were out on patrol when they happened upon a man's body in a tree. 
The man had walked some distance into the forest through where the German border ran before he hung himself. One soldier stared at the body and told the other that they would never get off work in time for dinner if they reported the sighting.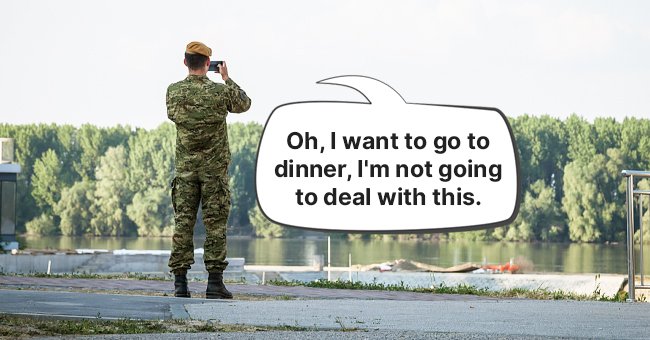 The other soldier turned to his colleague and revealed that he got an idea. The easiest way for them to evade extra time at work was to make it "the Austrian's problem." Having agreed on the way forward, they grabbed the unfortunate man and pulled him down from the tree. 
The two soldiers dragged the corpse to the border fence and put him up on a tree growing in the Austrian territory. After the deed was done, they went on a coffee break. 
Half an hour later, two Austrian soldiers returned from their break to see the man hanging from a tree. The two men glanced at each other, and one said:
"Goddamn, how did he get on our side again?"
ANOTHER BORDER JOKE
A family's farm was located on the border of Manitoba-Minnesota, and for years, there was a dispute on whether the main house was on the US or Canadian side. 
They received a letter from the government one day, and the oldest son opened it. The letter revealed that the government had finally completed a survey on their land.
The survey had determined that the house is located on the US side of the border which made them officially Americans. His mother gladly replied:
"Good, I am getting old and my body can no longer take those Canadian winters"
 MORE BORDER JOKES TO LOVE
When a car driver lowered his window, a cop congratulated him and said he had won a $200 gift card because everyone in the car had their seatbelts on. 
The driver was relieved. He had been afraid the cop pulled them over for running a stop sign one mile back. However, the front passenger quickly dismissed the driver's statement, stating that he was drunk. 
The first back seat passenger woke up looking dazed during the interaction and said, "I told you we wouldn't make it far in a stolen car!"
The final passenger woke up dazed and requested to know if they were at the border yet. All this time, there was an awful scream coming from the trunk.
Did you enjoy this joke? Here is another one about a soldier who informed his commander that a bridge was impassable for military infantry.