Matriarch of Notorious Big's Family & His Son Pose in Never-Seen-before Pic Revealing Their Likeness
Notorious B.I.G was famous for his album, "Ready To Die." Although he died before living out his dreams to the fullest, his impact will always be celebrated, especially by his family. Meet the rapper's grown-up son and the family matriarch.
Late American rapper Notorious B.I.G remains one of the most celebrated rap sensations of all time. Although he died in his prime, the star left behind two children— T'yanna and C.J Wallace, to continue his legacy.
Recently, C.J took to his Instagram page to share a picture that featured him and his great-grandmother, Gwendolyn Wallace. In the snapshot, the upcoming actor was clad in a short-sleeved black t-shirt paired with black shorts.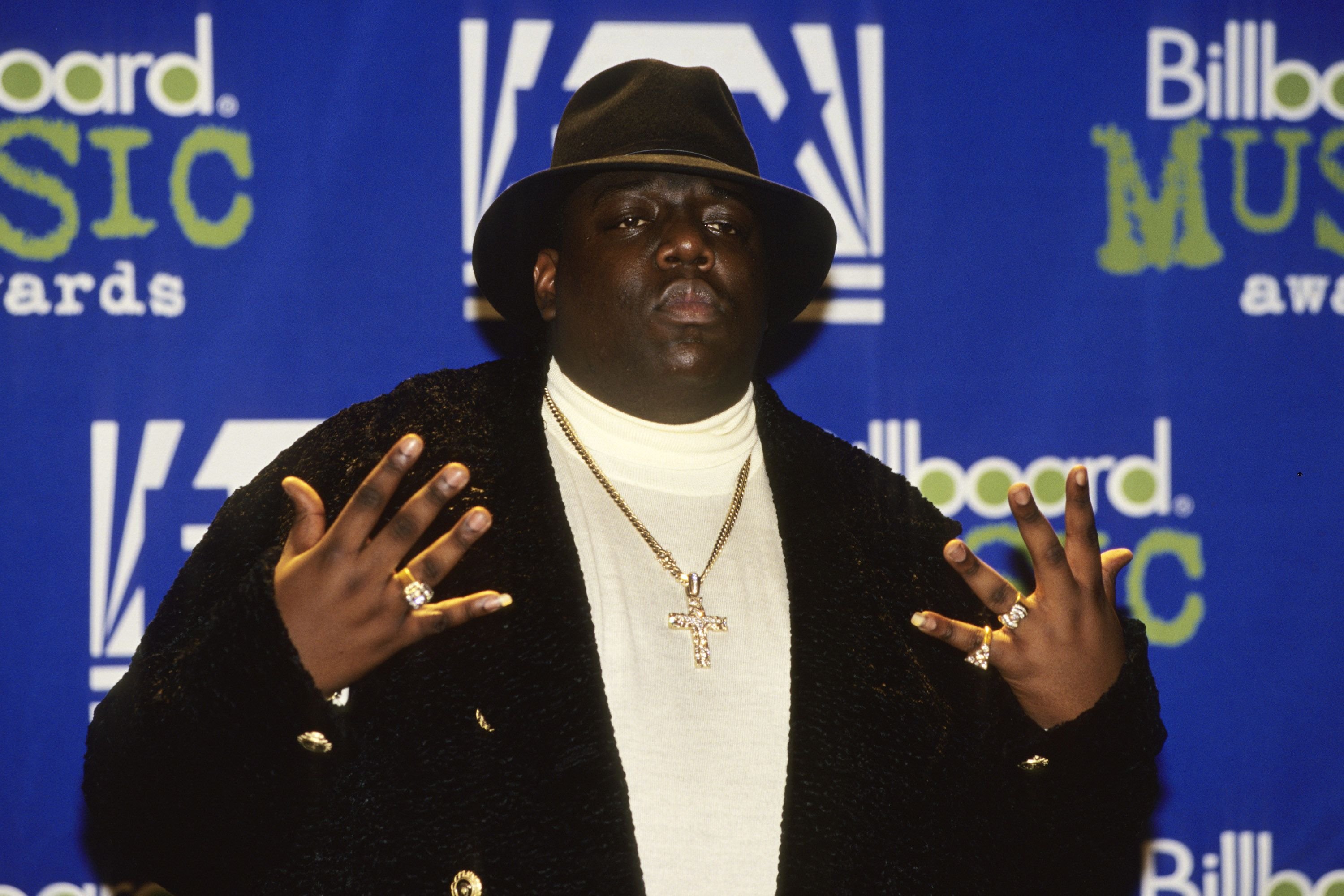 C.J accessorized his look with a wristwatch and finished off with a blue cap facing backward and a black bandana tied on his neck. He posed side by side with Gwendolyn, who looked fabulous in a nude dress, white hat, and a pair of glasses.
C.J wore a subtle smile on his face, and the Notorious BIG family's matriarch looked away from the camera. The post was accompanied with a caption that read:
"Gwendolyn Wallace AKA G.G turned 99 on July 20th… living legend." 
C.J's recent post would not be the first time he's been seen posing with his lovely great-grandmother. In 2020, he was seen in the company of Gwendolyn, his grandmother, and his beautiful sister.
The black and white image saw the Notorious BIG's family dishing out sweet smiles that captured the hearts of many. A happy fan said Notorious BIG's legacy lived on and prayed for blessings to surround the happy family.
The rap sensation's name will always be remembered as he was inducted into the Rock and Roll Hall Of Fame in 2020.
Before he passed away, Notorious BIG shared his talented son with his wife, Faith Evans. The rapper died at the age of 24 on March 9, 1997, after being shot during a drive-by shooting in Los Angeles.
Gwendolyn once recounted how she felt following the news of the death of her grandson. She recalled that she could not believe her eyes and could not understand why the rapper could be killed like that.
NOTORIOUS BIG'S CHILDHOOD DAYS
Notorious B.I.G was a talented young star; however, being the child of a single mom and an immigrant from Jamaica, the father of two was exposed to a terrible lifestyle as a young teenager. At the age of 13, Notorious B.I.G had started dealing drugs to a platinum-selling artist.
In a Netflix documentary titled "Biggie: I Have A Story To Tell," Notorious BIG's mother, Voletta Wallace, explained that she was ignorant of her son's dealings until he revealed his pasts in interviews.
According to Voletta, she was convinced that her rapper son was working. Notorious BIG's engagement with drugs got even more significant, and he began selling crack in North Carolina, getting quadruple of what he was receiving in New York.
Notorious BIG was also arrested for drug possession, weapon possession, and threatening the lives of autograph hunters outside a club. The Hall of Famer eventually became entangled in a rivalry that claimed the life of the icon Tupac.
CELEBRATING THE STAR'S LEGACY
Voletta's son was blamed for the death of Tupac in 1994, which later escalated and led to his untimely death. To celebrate his legacy, C.J launched the Think B.I.G initiative with his friend, Willie Mack, in 2018.
The establishment fights for criminal justice reform and global cannabis legalization. Although C.J's bond with his fantastic dad did not last more than five months, he still feels close to his dad when walking through the streets of Brooklyn.
The rap sensation's name will always be remembered as he was inducted into the Rock and Roll Hall Of Fame in 2020 alongside stars like Whitney Houston, Nine Inch Nails, amongst others.