Notorious B.I.G.'s Only Daughter Celebrates Her 28th B-Day Posing in Neon Top with Her Brother in New Pics
American rapper Notorious B.I.G.'s daughter T'yanna recently celebrated her 28th birthday in grand style. Let's take a look at how T'yanna marked her new age with friends and family.
T'yanna Wallace recently turned 28, and friends and family greatly celebrated the moment. Pictures of the special occasion were splattered all over social media, and it was pretty evident that the raving beauty was loved. 
Taking to her Instagram story, the only daughter of the late rap sensation, Notorious B.I.G., shared a picture accompanied by a caption that read: "Early bday surprise."
PHOTOS FROM T'YANNA'S BIRTHDAY CELEBRATION 
The classic snapshot featured a table setting with beautiful trays, plates, and adequately wrapped cutleries. In addition to the stunning setting was a glass of white wine elegantly placed in front of the table.
T'yanna's stepbrother, Jahad Russaw, also posted three delectable images that featured the rapper's daughter looking elegant in a skimpy neon-colored top and a pair of denim shorts.
T'yanna rocked long black curls and added a wristwatch to her outfit. She also had a yellow bang hanging over her shoulder as she smiled heartily, posing amongst family members. Wishing his sister a happy birthday, Russaw wrote:
"Happy birthday @tyanna81O !!!!!!!!!!!"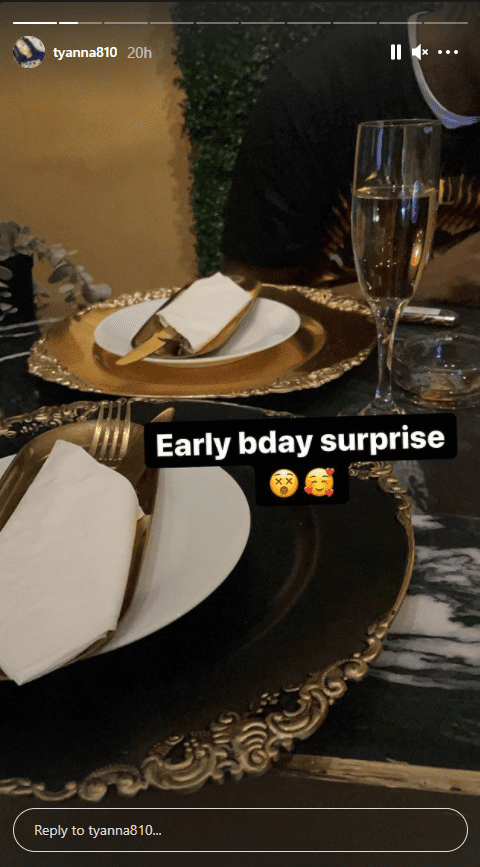 T'yanna donned the same outfit in another picture and sat next to her brother CJ Wallace, who had a camera hung over his neck. The sibling duo wore big smiles, revealing the striking resemblance they share with their rapper father.
C.J. also celebrated his older sister by sharing images of her on his Instagram story. In the first slide, T'yanna wore a white sweatshirt and a lovely cake with lit mini candlesticks. He also added the caption:
"Happy Earth Strong @T'yanna810."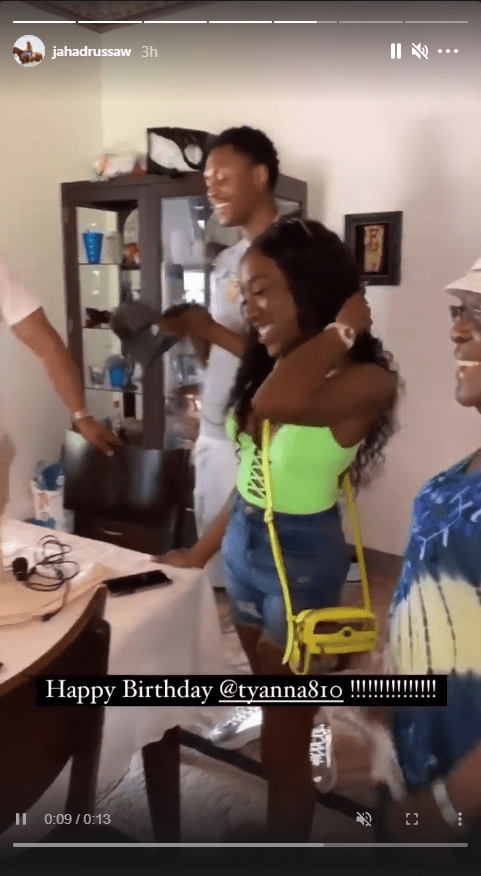 The second slide saw the fashion enthusiast and C.J. standing side by side with each other. In the picture taken in an outdoor scenery, the latter embraced his sister, placing his right hand over her shoulder.
KEEPING NOTORIOUS B.I.G.'S LEGACY ALIVE 
T'yanna might not have enjoyed a long relationship with her dad, as she was only three years old when he died; however, she is doing everything possible to keep her father's legacy alive.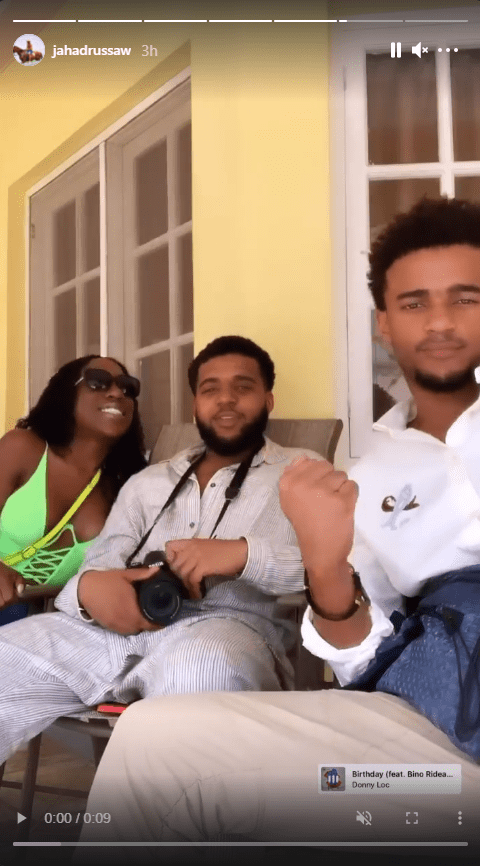 The rapper's first child owns her brand called "Notoriouss Clothing" and also made it known in a 2016 chat with MusicXclusives that the Wallace name was big, and she was trying to continue the legacy.
According to T'yanna, she had no interest in rap but looked for the best way to celebrate her father's impact on the world. Venturing into the fashion industry, the entrepreneur started the clothing line in 2013 and dedicated it to the Rock and Roll Hall of Famer.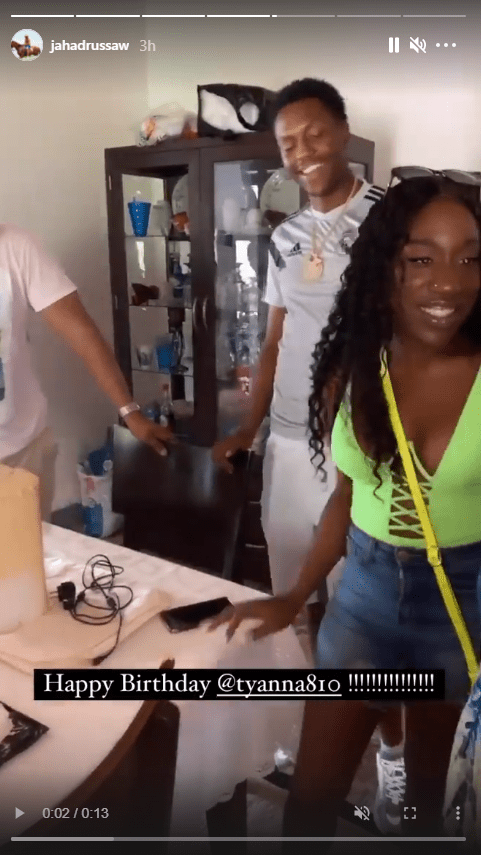 Every year, T'yanna designs a particular edition item to mark the anniversary of her father's death, which occurred on March 9, 1997. The young star is proud of her late father for leaving a massive legacy at a young age, which is very difficult. 
T'yanna misses her father a lot and once made it known that she knew her father's personality. She told an interviewer she always heard stories of the record producer from her mom, stepmom, and the rapper's friends.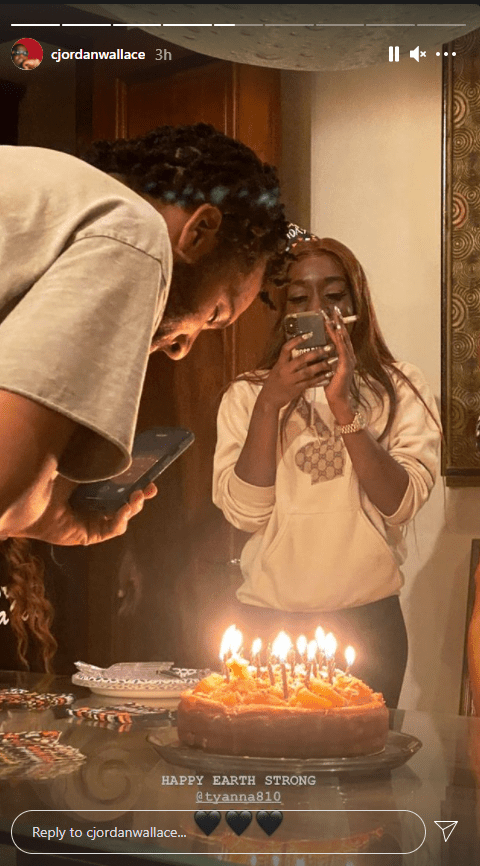 Notorious B.I.G.'s daughter said her father was a big bundle of joy, who everybody loved and loved being around. On the other hand, C.J. is not into fashion or music but is enjoying an upcoming career as an actor.
Just like his sister, C.J. is working hard to celebrate his father's legacy. In March 2019, he started a cannabis company called "Think BIG," which generated a lifestyle brand named after his dad's alter ego "Frank White."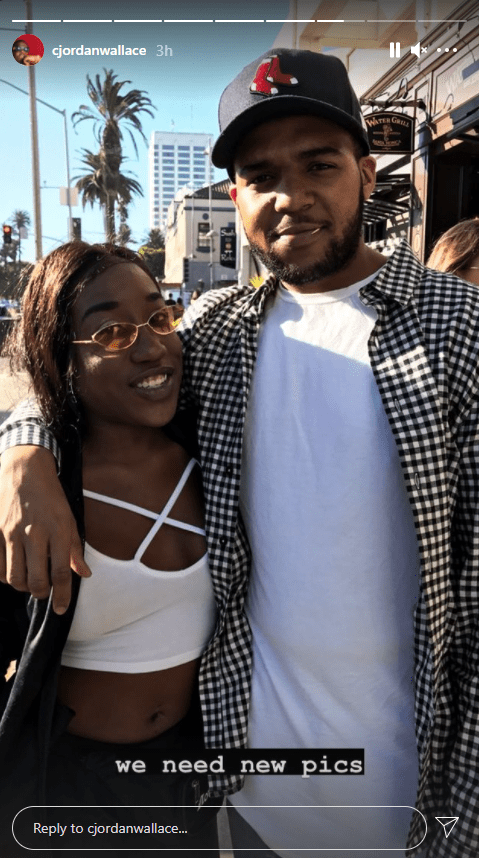 Notorious B.I.G. will always be remembered for his excellent music and incredible love for his kids. He was inducted into the 2020 Rock and Roll Hall of Fame, along with other great names, including Whitney Houston.