Woman Runs onto Soccer Field during a Game to Retrieve Her 2-Year-Old Baby
A mother found out just how fast her 2-year-old was this month after he stormed onto a soccer field during the game. She retrieved him from the pitch quickly, but the viral clip still garnered a massive online reaction. 
One speedy toddler wasn't happy staying on the sidelines and managed to dart onto a field while an FC Cincinnati vs. Orlando City SC match was still in play.
In the clip shared on the Major League Soccer Twitter account, the youngster's mother could be seen running after him. As she reached her child, she instantly scooped him up in her arms and accidentally slipped on the wet grass.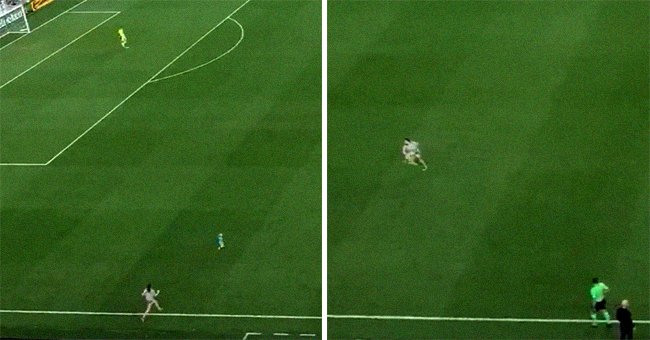 THE YOUNG PITCH INVADER 
Sam Greene, a photojournalist at The Cincinnati Enquirer, captured the moment and said: "A young pitch invader was quickly scooped up by their own personal security detail without incident." 
Later identified as Zaydek Carpenter, the little one was speedily returned to the sidelines by his mother, Morgan Tucker. The duo purportedly enjoyed the game despite their brief moment of "fame" that has garnered thousands of likes online.  
We hope this mother and her young pitch invader are having a great day. 😂
pic.twitter.com/hKfwa6wyWI

— Major League Soccer (@MLS) August 9, 2021
FASTEST HUMANS ON EARTH
Netizens were quick to react, and one person comically called toddlers "the fastest humans on earth." Another user added a laughing emoji and said: "Toddlers only have two speeds: zoom and asleep." 
The home team, FC Cincinnati, didn't seem perturbed by the incident. They reshared it on their Twitter account and stated: "Good kid. Loves the game." 
ZERO-TOLERANCE POLICY 
Some commentators didn't show the mother and her son any mercy. One user suggested that the mom was busy on her phone and allowed her son to slip away.
Another insisted that the duo should be banned from future games. The user said: "Zero tolerance policy for a pitch invasion. Mom has to go also…. Sorry bud, a tough lesson to learn." 
I hope they treated her like any other pitch invader and kicked her out and whatever other consequences. She should be watching her kid.

— Rick Ogle (@txdincho) August 9, 2021
COMMENDING THE MOTHER 
Despite these comments, most of the online community sympathized with the mother. Users shared stories about their own kids, and many pointed to the mother's quick reaction time. 
One person stated: "She's pretty fast. I'm impressed." Others commended the mother and said: "Bravo to that mom, that little guy is a fast runner. Mom should put him in a soccer team."
This would have been my kid, but no way could I have caught him as fast as she did

— Alisa Stanfield (@alisas622) August 10, 2021
ANOTHER FIELD INCIDENT 
August was a busy month on the field, and during a Los Angeles Dodgers match, a fan also ran onto the field at the Dodgers Stadium. But this time, it wasn't a mother that removed him from the field—it was a Dodgers ball girl.
She stood her ground as the fan ran across the field, and consequently, she assisted security with the tackle. While the fan initially managed to outrun security, the ball girl's tackle stole the show and gave the stadium a tackle worth noting!