Jennifer Aniston Candidly Revealed Feelings about Brad Pitt's Denial of Cheating Allegations Involving Angelina Jolie
Angelina Jolie once revealed that she refrained from getting intimate with Brad Pitt because he was married to Jennifer Aniston at the time. Aniston has since cleared the air about the rumors.
In September 2005, Jennifer Aniston opened up about her failed marriage with fellow actor Brad Pitt. She sat down for her first interview after her separation from Pitt with "Vanity Fair."
At the time, reports stated that Pitt got involved with Angelina Jolie while filming "Mr. & Mrs. Smith." Aniston's seemingly fairytale wedding ended in separation when she and Pitt announced the split on January 7, 2005.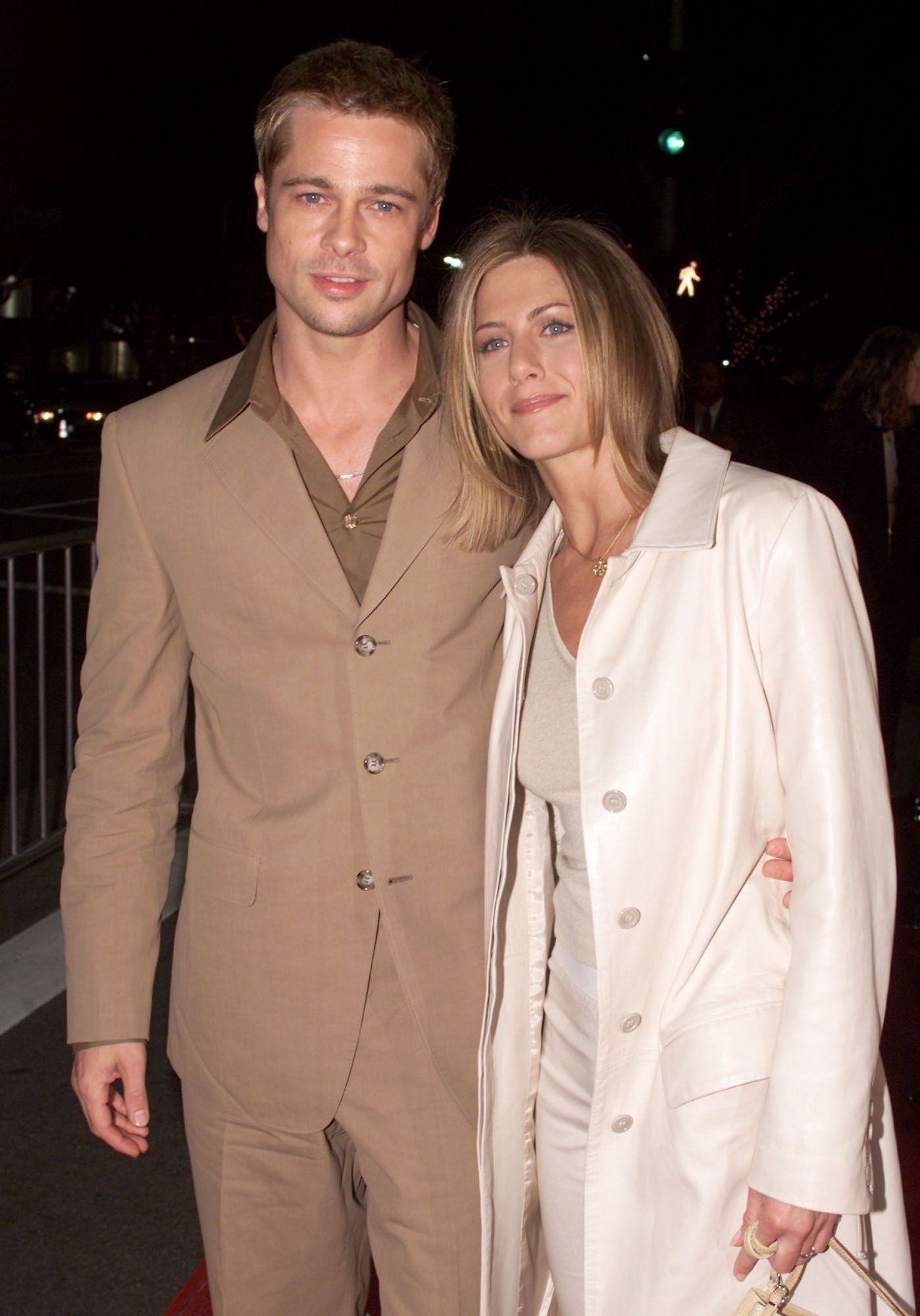 The couple married on July 29, 2000, after dating for two years prior, said they were separating after "much thoughtful consideration." They vowed to remain friends who still shared admiration and love for one another.
Pitt denied that he was seeing Jolie as they continued meeting up in exotic places. One photo showed the "Troy" actor stepped into what looked like a paternal role with Jolie's adopted son, Maddox.
This is certainly very unusual.https://t.co/STI7wHQ5eX

— Irish Daily Mirror (@IrishMirror) August 9, 2021
Some tabloids claimed Aniston and Pitt's marriage ended because the actress refused to have his baby because of her career ambitions. Aniston clarified how the rumor upset her because she'd never made that claim.
Sadly, Pitt never bothered to refute the claims or to set the record straight. His former wife was left heartbroken as she retreated to her Malibu beach home accompanied by her elderly corgi-terrier mix, Norman.
When Pitt and Aniston separated, he insisted he hadn't slept with Jolie, and Aniston accepted that. However, the relationship with Jolie made it seem she and Pitt had been having an affair all along.
Aniston filed for divorce on March 25, 2005, and it was finalized on October 2, 2005. Seeing images of her husband with Jolie and her son Maddox on vacation in April 2005 left the actress shocked.
When #AngelinaJolie Said #BradPitt Is A 'Real Man' While Opening Up About Their Relationshiphttps://t.co/hbRpgd3H2A

— Koimoi.com (@Koimoi) August 5, 2021
The "Friends" star ended up retreating to nourish herself with self-care and the support of her longtime pals. She admitted that she was lonely, confused, and upset about how things played out with her husband.
In the book "Angelina Jolie: Portrait of a Superstar," it was said that Jolie's parents ended their marriage because of her father's infidelities. She said she never considered dating Pitt when he was married because of this, adding:
"To be intimate with a married man when my own father cheated on my mother is not something I could forgive."
When #JenniferAniston Revealed Her Biggest Regret Ever With Ex-Husband #BradPitt & Said, "I'll Love Him For The Rest Of My Life"https://t.co/XwF2mliLm0

— Koimoi.com (@Koimoi) August 5, 2021
The actress explained that she wouldn't have been able to look at herself in the morning if she had. In the 2009 biography, the star defended herself by insisting that she believed it wasn't nice to break up a marriage.
They [Angelina Jolie and Brad Pitt] stayed close friends until Pitt and Aniston announced their separation.
Angelina Jolie is seemingly thriving following her divorce from Brad Pitt.https://t.co/xUheuufEmP

— GRAZIA (@graziatweets) August 5, 2021
In a December 2006 "People" magazine piece, Jolie said she first met Pitt on the set of their thriller in 2003. She didn't know much about his personal life but knew he was dating his best friend.
At the time, the actress said she wasn't looking for a relationship and was content with being a single mother. The two stars ended up building a friendship and partnership through their film.
Jennifer Aniston and Brad Pitt have managed to become friends again following their heartbreaking 2005 split. Get their full relationship timeline. https://t.co/Gxy9B3BEBM

— Closer Weekly (@closerweekly) August 10, 2021
Soon enough, Jolie couldn't wait to get to work because she enjoyed doing things with Pitt. The pair only realized when they were almost done filming that their friendship could become more.
They stayed close friends until Pitt and Aniston announced their separation. Jolie said her son, Maddox, sealed it that she and Pitt should try a romantic relationship by calling the actor "Dad."