Daily Joke: Little Girl Tells Dentist What Her Tooth Fairy Looks Like
A young girl demonstrated her intelligence during a visit to a dentist. She confidently explained that she had seen a tooth fairy inside her room.
Many 5-year-olds are inquisitive; they ask questions like "Why is the sky blue?" and they want to know where babies come from. But not this 5-year-old. She was a girl who surprised her dentist with her revelations.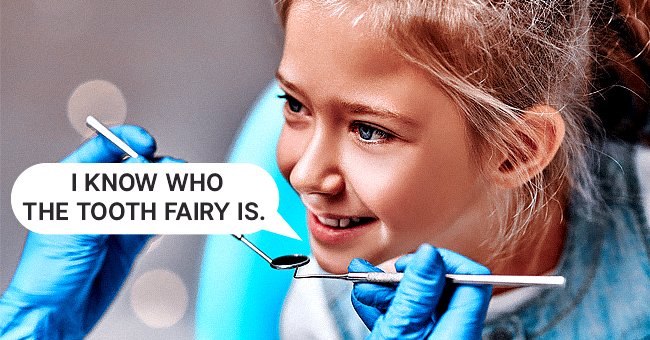 She had lost a tooth, and her mommy scheduled a visit with the family's dentist. When they got there, the dentist playfully explained the tooth fairy myth.
He asked if the little girl believed in fairies and mentioned that leaving a tooth under a pillow would attract a tooth fairy and this fairy would exchange the tooth for money.
The little girl smiled and confidently told her doctor that she knew about the truth fairy. In fact, she said she could describe the tooth fairy because she had seen her entering her room.
This left the doctor stunned, and the girl asked, "Do you wanna know what the tooth fairy looks like?" The dentist nodded, so she said:
"It looks just like my momma, but naked."
Here is another dental laugh, but first, would you believe mythological creatures also visit their own dentists? Well, this is a fact.
After a visit to the dentist, a young boy revealed that he witnessed it. According to him, the waiting room was filled with these creatures, and they were very busy but orderly.
The creatures entered in an orderly fashion, as a dentist's assistant often came out to call out their names.  Meanwhile, every time the assistant appeared, a half-man, half-horse ran wild with excitement and would say, "Is it my turn now? Oh, pick me, pick me!"
Sadly, it was never his turn as the assistant always called out another patient. It was either the Kraken, Minotaur, or the Chupacabra's turn. 
The half-man half-horse's consistent bickering soon got on Satyr's nerves. Finally, the creature looked his way and screamed:
"Pipe down, Mike! We are all sick of you trying to be the Centaur of attention!"
If you found this joke funny, you might like this one about a dentist who just received a great award then threw it in the trash.