Sarah Hyland's Fiancé Wells Adams Opens Up about Re-planning Their Wedding after It Was Delayed Twice
"Modern Family" star Sarah Hyland and her fiancé Wells Adams should have been married by now, but the pandemic delayed everything. Now, they are hitting the reset button on their wedding plans.
The internet has made many things easier, including finding love. "Modern Family" actress Sarah Hyland and "Bachelor in Paradise" bartender Wells Adams know it firsthand.
They are one of the cutest couples in Hollywood. Their love story started In August 2017 when Hyland shared how excited she was for Adams becoming the new bartender of "Bachelor in Paradise."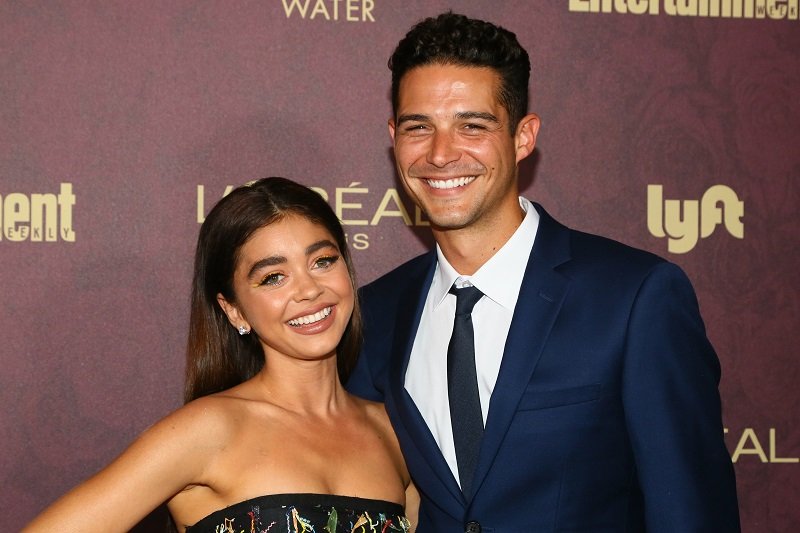 Shortly after, he sent her a private message on Instagram and told her he would take her out for drinks and tacos when he went to Los Angeles. According to Hyland, his confidence was "sexy."
They kept in touch for about a month before Adams finally made it from his home in Nashville to Los Angeles to host a dog awards show. It was perfect timing as they met just before she underwent her second kidney transplant surgery.
Hyland and Adams' first date was very Hollywood: they went to a star-studded Emmys party after his hosting gig. Their connection was so strong that they knew right away they would marry each other.
The couple made their relationship Instagram official in October 2017 by posting Halloween photos dressed up as Eleven and Dustin from "Stranger Things." By that December, they had already exchanged "I love yous." 
In August 2018, they moved in together. On July 16, 2019, he popped the question at the beach! They were set to walk down the aisle on August 8, 2020, but the coronavirus pandemic forced them to change the plans.
Hyland "got robbed" of all the fun activities brides are supposed to do.
Still, they threw a fake wedding that same day. Talking to Ellen DeGeneres on her show, Hyland said that some friends and family went to a winery with her and Adams to celebrate their fake ceremony.
This August, Adams admitted he and Hyland were supposed to marry this year following their first delay, but they ended up postponing it once again. He joked: 
"We are hoping next year, or we're gonna go to Vegas, or the courthouse. Well, we're not going to do those last two things. [...] 2022 has got to be our year, right?!" [sic].
Adams pointed out that Hyland "got robbed" of all the fun activities brides should do. So, they will "hit reset" and do it all again, including going on a nice vacation to the same place they got engaged and re-planning their bachelor and bachelorette parties.
Hyland and Wells were not the only celebrities forced to postpone their wedding, though. "Bachelor in Paradise" contestants Astrid Loch and Kevin Wendt postponed their wedding from July 2020 to November 2021, too.