Lil Nas X Shares Flamboyant Outfits on Instagram Months after Hilarious Wardrobe Malfunction
A few months after his hilarious wardrobe mishap during a "Saturday Night Live" show performance, Lil Nas X serves spectacular looks in different outfits. Check out his stunning snaps below.
At 22, Lil Nas X, also known as Montero Lamar Hill, has successfully dominated the music industry with his genre-bending music. He gained prominence after his song "Old Town Road," which he recorded with country singer Billy Ray Cyrus, topped the charts.
Besides his music, he is also known for his flamboyant fashion. Brushing off his wardrobe malfunction on his previous "SNL" live performance, Lil Nas X continues to post awe-inspiring looks on social media.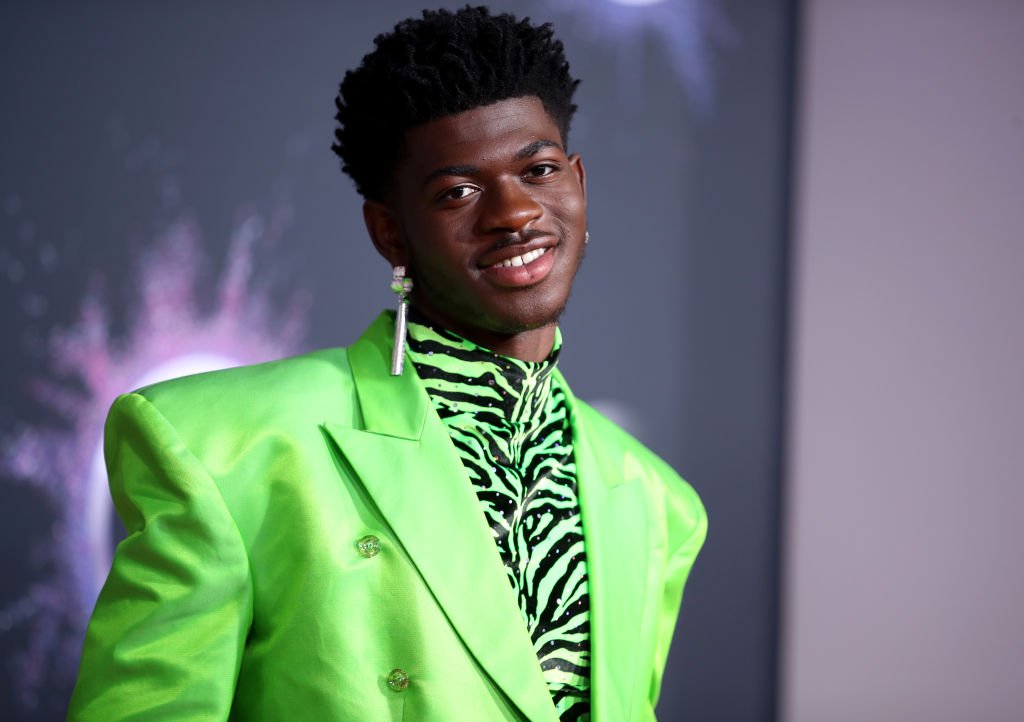 Lil Nas X recently shared on Instagram several photos of himself dressed in various fancy outfits. Two similar snaps showed him looking sharp in a white shirt with puffed sleeves. A fan commented:
"Keep Breaking Them Barriers Bro💜."
Pink roses and a stonewall added beauty to the hip-hop star's otherworldly look. Lil Nas X completed his outfit with silver accessories, including a nose ring and dangling diamond earrings.
He gave fans a dramatic look on the second slide, which showed him dipping in the water with his head bowed down while wearing a blue ensemble with gold patterns. In his third snap, the rapper posed with his legs spread out.
Lil Nas X donned a pair of wide-leg pants with green stripes that matched the wall of lush plants and trees in the background. He served a serious look while being clad in body jewelry in the fourth photo.
The fifth picture showed a shirtless "Panini" singer donning a seashell necklace and covering himself with a pink mesh. The sixth snap showed him wearing a pink silk robe with a matching head turban.
The acclaimed singer's gorgeous snaps, intended for Out Magazine, amassed over 1 million likes, with several fans leaving flattering remarks. Others described him as "king."
He came out as gay at the end of Pride month in 2019.
Lil Nas X's post comes after he endured a wardrobe mishap in May while performing his song "MONTERO (Call Me By Your Name)" live on "SNL." Though it was an awkward moment for him, watching his own video still leaves him in stitches.
In a previous interview with TV host Jimmy Fallon on "The Tonight Show With Jimmy Fallon," Lil Nas X appeared wearing a red plaid skirt after ripping his pants while on the pole.
Recalling his "SNL" show performance, he told Fallon he became conscious about his outfit after feeling air go through his pants. On why he wore a skirt, the witty rapper hilariously tweeted, "I will never trust pants again!"
The wardrobe error seems to be one of the highlights of his year. In addition to that, Lil Nas X revealed he once had a chance to take his fame to the next level through acting. 
But the "Sun Goes Down" singer revealed he turned down an acting gig on "Euphoria," an HBO drama series starring actress Zendaya. He said he was not prepared for it and that he wanted to focus on music. 
Besides his music and eye-catching looks, Lil Nas X is known for his candidness about his sexuality. He came out as gay at the end of Pride month in 2019.
But though he is outspoken, he is careful when choosing his words. When asked about rapper DaBaby's homophobic remarks, Lil Nas X refused to comment, adding that it is for his "safety."