Daily Joke: English Lady Vacationing in Switzerland Can't Find a WC in a Rented House
An Englishwoman fell in love with a little village and the surrounding countryside while on holiday in Switzerland. She asked a local church pastor if he knew of any houses with rooms for rent that were close to town but out in the country.
The local church pastor took her to look at a property that had a room for rent. Immediately after she saw it, she fell in love with the house and decided to rent a room. Then she returned to her country to finalize her plans to relocate to Switzerland.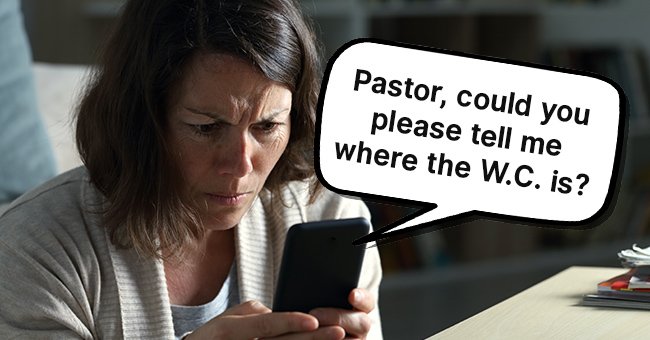 On getting to England, the woman recalled that she did not spot a WC in the room or any of the rooms in the hall. In her country, England, WC stands for water closet. So the woman wrote the pastor an email to ask about the location of the WC.
Unfortunately, the local church pastor in Switzerland had never heard of WC, so he looked it up on Google and found an article titled "Wayside Chapels." The Swiss pastor assumed the woman was inquiring about a country church near her new house so he replied to her saying:
"Ms. Smith,
I'm looking forward to your relocation. In response to your query about the W.C.'s location, the nearest W.C. is only two miles from the accommodation you've leased, nestled in a magnificent grove of pine trees. The W.C. has a maximum capacity of 229 persons, however, few people visit during the week.
I recommend going on Thursday evenings when they have a sing-along. The acoustics are incredible, and the cheerful sounds of so many people can be heard all throughout the W.C."
Sunday mornings are hectic. Locals are known for arriving early and bringing their lunches to make a whole day of it. Those that arrive just in time are usually able to get inside the WC before the event begins, although this is not always the case. If at all possible, arrive early!
It may be interesting to know that my own daughter was married in the W.C., where she met her spouse. Everyone crammed in to sit close to the bride and husband, I recall.
Our friends and family were pleased to share a seat that would normally be occupied by one person. I'll admit that when it was finished, my wife and I were both relieved. We were exhausted.
I can't travel as often as I used to because of my responsibilities in town. In fact, it's been almost a year since I've been out there. So, of course, I miss going to the WC as often as I would like to, but we can make plans to go together when you return. I can get us seats where you'll be seen by everyone.
Sincerely,
Pastor Kurt Meier
Enjoyed the joke? Read this one about a new pastor of a local parish who decided to pay a visit to his members' homes over the weekend.
Source: Reddit