Little Girl Wins Hearts with Her Model Catwalk on Runway at a Fashion Show
The room burst with applause as the audience screamed in adulation. They recognized that this tiny girl in pink might possess that inner assuredness to make it in the modeling world as an adult—she clearly knew she had the X-factor!
Kristen Weaver shared an adorable TikTok video of her pretty-in-pink little sister Abrianna strutting with confidence in front of a huge audience. This toddler stole the show and everyone's hearts, offline and online. 
Abrianna showed no shyness on the runway as she imitated a model catwalk at a fashion show. The little one looked angelic with short blonde curly hair while dressed in a pink dress with a matching bow and white sandals.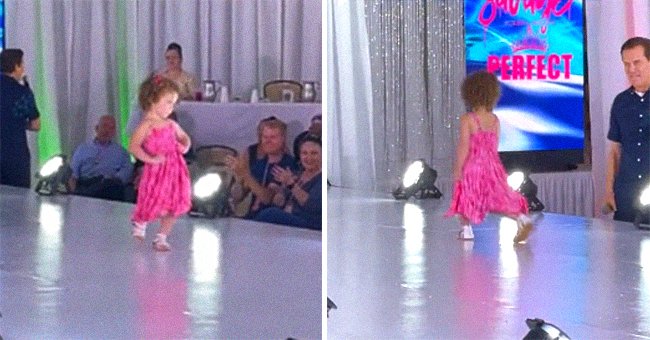 The toddler unexpectedly came walking out from behind the silver curtains to a round of applause. It appeared as though people were surprised to see such a young girl on a runway.
 Julianna Kinnard made her way into kindergarten to the silent sound of tears.
Abrianna boldly and without hesitation took on some model-like poses, cutely exaggerating them in the process. Eventually, a woman handed the little girl her hand, and Abrianna made her way off. 

The comment section roared and laughed lovingly along with the crowd as they commented on how cute the toddler was. One TikTok user remarked: 
"Awwwww this is so lovely. 🥰 🥰 🥰 🥰 🥰 "
Some expressed that they found Abrianna gorgeous, while others hoped she would always possess her confidence level. The viral post collected just past 5,500 likes. 
This wasn't the first time Weaver posted this video of her sister.  The initial clip, which the TikToker posted on Instagram, has gathered views well into the millions. 
Adding to the Instagram video's description, the elder sibling stated that the clip had been reshared and reposted many times by other channels and individuals on the internet. She asked that they please tag her if they did so.
Weaver also expressed that she didn't expect the video to become so popular. The doting sister then described Abrianna as an adorable angel. 
A DIFFERENT KIND OF WALK
Rather than walking to applause, Julianna Kinnard made her way into kindergarten to the silent sound of tears. Deputies escorted the little girl to her first day after her veteran father passed away. 
The young girl was immediately handed a yellow rose. As she moved forward, a squad of officers from Maricopa County Sheriff's Office (MCSO) stood in place on each side of the pavement, effectively creating an aisle to her school. 
Marine veteran and detention officer Joshua Kinnard served in the Marine from 1999 until 2003 and suffered from post-traumatic stress disorder afterward. Although Kinnard's walk held a somber tone, both little ladies showed courage as they stepped out.