Inauguration Day Poet Amanda Gorman & Penguin Random House Offer High School Poets Chance to Win $10,000 Award
Amanda Gorman and her publisher Penguin Random House launched a creative writing contest for young poets. They have a chance to win hefty prize money.
As a young poet, Amanda Gorman knows how important it is to encourage young people to pursue art, especially because fiction authors and poets struggle a lot to make it.
So, she is partnering with her publisher, Penguin Random House, to launch a creative writing contest for high school poets with a chance to win the Amanda Gorman Award for Poetry.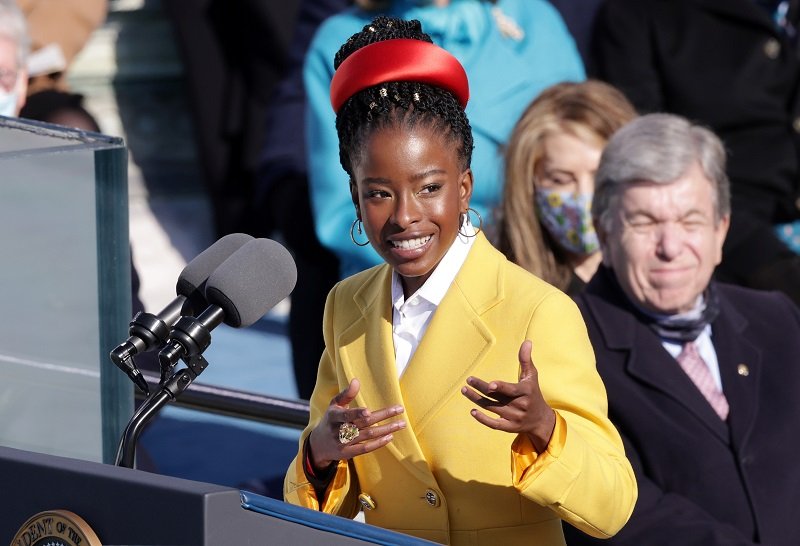 The contest will accept submissions from October 1 to February 1, 2022, and it is urging only seniors enrolled in public institutions in the US with plans to attend college upon graduation.
Gorman admitted to being honored to partner with her publisher for the contest, which will give $10,000 to the winner. She said she wanted to foster the love of writing at a young age in the "next generation of great poets."
Speaking of Gorman, she achieved worldwide recognition in January 2021 when she became the youngest poet to write and recite a poem at a presidential inauguration. 
The 23-year-old author, who became the first national youth poet laureate in 2017, was handpicked by First Lady Jill Biden – a fan of her work – for such an incredible honor.  
Even before that, Gorman was making a name for herself by reading poems at different events, including the inauguration of a Harvard University president.
She became the first poet ever to grace de cover of [Vogue].
She fell in love with poetry as a third-grader when her teacher recited Ray Bradbury's "Dandelion Wine" for her class. Although she doesn't remember the exact metaphor that caught her attention, it sparked a flame inside her.
Her mother, a sixth-grade teacher at an inner-city school, has been crucial in her life, too, as she gave her a personal view of how "literacy" can influence young people. 
Earlier this year, Gorman made headlines for posing on the cover of Vogue wearing different dresses, including a green and orange African-inspired Louis Vuitton one.
She proudly shared images of the photoshoot online and pointed out that she became the first poet ever to grace the cover of such an iconic magazine. What a talented young lady!