Pete Davidson and Phoebe Dynevor's Split – Inside Their Whirlwind Romance
"Bridgerton" star Phoebe Dynevor and comedian Pete Davidson made their first public appearance as a couple in July this year but allegedly parted ways already. Here's all we found about their love story.
Although actor and comedian Pete Davidson has had a prolific dating history, not many fans believed his relationship with "Bridgerton" actress Phoebe Dynevor would end soon.
This March, one month after Dynevor briefly visited New York to film the final season of "Younger," Davidson was spotted in Altrincham, just outside Manchester.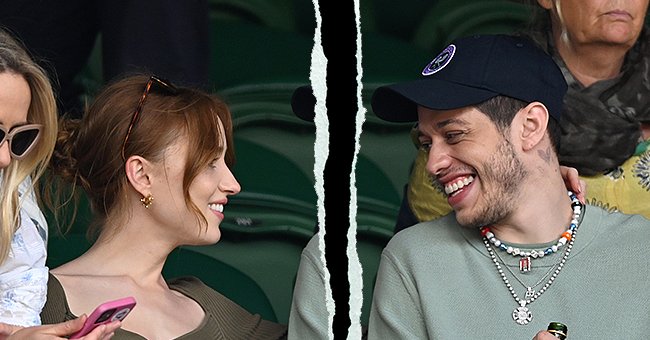 A couple of days later, it was reported that Davidson and Dynevor met each other when she was in New York, and he was in the UK visiting her.
The actress was eventually photographed in Altrincham, which added fuel to their dating rumors. In April, people noticed that they wore similar "PD" necklaces during separate interviews. 
In Dynevor's case, she wore hers in early March for Brie Larson's International Women's Day video. Davidson wore his during his April interview with the "Tonight Show Starring Jimmy Fallon." 
Later that month, they were photographed together in Stoke-on-Trent, the English city where she was filming "The Colour Room." Around the same time, Davidson opened up about his approach to relationships.
Their long-distance romance didn't stand the test of time.
Big Pete Energy.

The King of Staten Island is available to stream on @hbomax. pic.twitter.com/ETYdCsUhsw

— HBO (@HBO) January 13, 2021
During an interview with the "Breakfast Club," he admitted he was "very honest" from the start. He added that it could be "a lot," "weird," and "intense" for some people and "refreshingly honest" for others. Davidson said:
"Off the top, I'm like, 'Hey, I'm nuts. Here's all my issues. Here's what I do. Here's the therapists. This is what happens.'"
In July, Dynevor and Davidson sat side-by-side during Roger Federer and Cameron Norrie's tennis match at Wimbledon in London. They showed some PDA, seemingly confirming their relationship. 
Sadly, their long-distance romance didn't stand the test of time. After only five months together, and although the former couple was "totally committed," they allegedly parted ways due to their busy schedules. 
It is important to point out that Dynevor has been filming "Bridgerton" in the UK while Davidson has been working in "SNL" and his upcoming film, "Meet Cute," in the States.
Before Dynevor, Davidson was in a relationship with Kate Beckinsale and briefly engaged to Ariana Grande, who made headlines earlier this year marrying Dalton Gomez in a Vera Wang gown. Davidson is still looking for "the one."