Tia Mowry's Son Cree Is Almost As Tall As Her Looking Dapper in Cream Suit in Photos with Mom
American actress Tia Mowry posted a picture of her and her tall son, Cree, on Instagram, showing off their unique bond and the uncanny resemblance they shared, and fans had a lot to say about the image.
Tia Mowry Hardrict is a talented actress who first gained recognition after being featured as Tia Landry in the sitcom "Sister, Sister." Over the years, she has proven to be not only excellent at her acting career but skilled in the job of motherhood.
Tia is a doting mother to two children— Cairo Tiahna Hardrict and Cree Hardrict and loves showing them off on social media, mainly Instagram. Recently, the proud mom shared a picture of her and Cree, who is 12 and is as tall as his mom.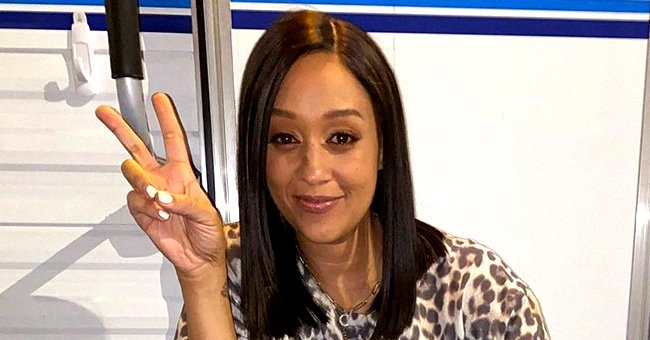 In the snapshot, the actress was clad in a bright multi-colored outfit while rocking a blonde hairstyle. She wore a lovely necklace and bracelet and showed how happy she was, smiling from ear to ear.
On the other hand, the young lad looked dapper in a cream-colored suit, with a pink shirt underneath. He looked adorable in his short brown curly hair and a golden necklace, subtly grinning for the camera.
Cree was in his mother's embrace as the actress placed her left hand over her son's shoulders. In the caption, Tia revealed that she missed her son that day more than she usually did, and according to her, family time was significant.
Tia further made it known that she was blessed to have her family around every day, even when she was away for work. To the actress, it made coming home very special.
Cree is not only tall like his mom, but he also shares a striking resemblance with her, and Tia showcased it in an Instagram post. She posted a snap of her and the child in a swimming pool, rocking matching hairstyles, and fans loved it.
The actress once opened up about a situation that resulted in taking Cree to the emergency room.
Even though Tia is full of love for her son, she has also revealed that she instills discipline in him. Unlike the traditional way of disciplining a child, the mom of two prefers collaboration and communication.
She once said she explained to Cree that there were positive and negative consequences of every action. Tia taught her child to listen to his parents; else, his favorite things would be taken away from him. 
As kids grow up, it is normal for parents to worry, hence the need to teach their children values while they are young. Apart from disciplining Cree, Tia also taught the lad to be social and prepared him for school from a young age.
However, she made it known that it came as a shock when she heard her son was being bullied. Speaking to Essence, Tia said she was surprised.
She noted that the key to making one's child confident was to let them be themselves and feel comfortable and free. Tia does not only take an interest in her son's mental health, but she also makes sure he is okay physically.
The actress once opened up about a situation that resulted in taking Cree to the emergency room. She explained that her son was once exposed to a peanut snack and began to get hives all over.
Cree was eventually taken to the hospital and diagnosed with peanut allergy, and although it was stressful at first, she learned to keep her son safe by changing his diet.
Her goal is to educate people and protect Cree from accidental exposure. Meanwhile, Tia is making sure that she and Cree enjoy the best mother-son moments.
The star once shared on her Twitter page that she and her son watched the "Sister, Sister" sitcom together, and Cree loved it. She tagged the experience as heavenly.