Gabrielle Union's Daughter Kaavia Rocks a Rainbow-Printed Swimsuit & Fans Notice She's Starting to Look Like Mom
As she grows older, Kaavia James is starting to look more like her mom, Gabrielle Union. Some fans observed this after viewing a recent picture shared on the little tot's Instagram. 
American actress Gabrielle Union is happily married to former NBA and Miami Heat star Dwyane Wade. After tying the knot in 2014, Union became a stepmom to the basketballer's three children. 
The couple welcomed their first child together, a daughter named Kaavia James, via surrogate on November 7, 2018. Since her birth, Kaavia has been thrilling fans on social media.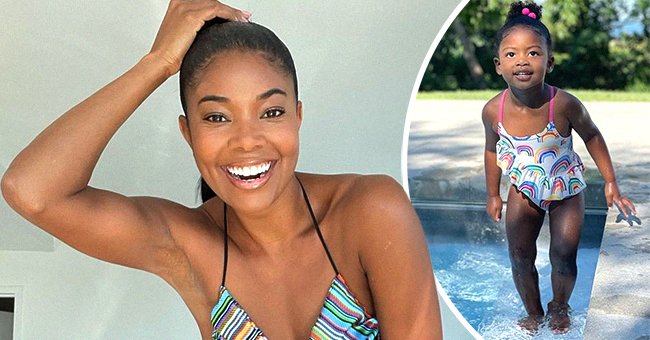 She is famous for her serious facial expressions, which earned her the nickname "Shady Baby." Kaavia is a social media sensation and has an Instagram page with 1.8 million followers. 
There, fans get to see pictures and videos of the adorable tot's precious moments. A recent photo posted on Kaavia's Instagram is generating a lot of "Oohs and Aahs" from fans. 
The photo showed Kaavia in a rainbow-printed rainbow swimsuit. She stood in a shallow swimming pool and looked up, smiling excitedly. 
The two-year-old posed in an about-to-jump stance and seemed to be having so much fun. In the post's caption, Kaavia narrated what was going on in the snapshot. She wrote: 
"They said 'Don't do it Kaav' ... guess who went ahead and did the dang thing 👶🏾 #ShadyBaby."

Many fans gushed about Kaavia's cuteness and described her using various endearing terms. However, some fans noticed how she is beginning to look more like her mom with each passing day. 
One fan said Kaavia is starting to look like Union, while another agreed with the observation and said the same. The fans are not wrong, as Kaavia's striking resemblance to her mom was all too evident in the photo. 

Besides looking like her mom, Kaavia also shares a close bond with her. Many times, the mother-daughter duo has been seen twinning in matching outfits. 
They also enjoy spending time together. When they do, Union takes the opportunity to teach her daughter some valuable lessons. For example, last week, the actress taught Kaavia to love her body in an adorable video shared on the latter's Instagram page.
Kaavia's recent Instagram post also showed her love for swimming. After giving birth to her daughter, Union introduced her to swimming early and shared some adorable videos of a then-9-month-old Kaavia taking swimming lessons. 
Practice makes perfect, and Kaavia soon became a little swimming pro as she learned to hold her breath underwater at nine months. Impressive!
Five weeks ago, a video on Kaavia's Instagram page showed her and her mom lying still at the pull side with their heads facing the still waters. She captioned the post, "Me and my shadow. Matchy-Matchy 👙." 
Union's bond with Kaavia is undeniable and all too good to see. Fans love the mother-daughter duo so much and are always eager to see more of their uploads on social media. With the overload of sweetness on display in those posts, no one can blame them for wanting more.