Alana 'Honey Boo Boo' Thompson Looks Unrecognizable in New Photos as She Talks About Body Positivity & Fatphobia
Many remember Alana Thompson as the little girl who first appeared on the 2012 reality show "Toddlers and Tiaras." Now she is almost 16 and denounces the name we all knew her by - "Honey Boo Boo."
The show chronicled Alana and her mother,  Mama June's life through a children's beauty pageant before they premiered in their own family show, "Here comes Honey Boo Boo," which features her siblings as well. 
The show followed the lives of the working-class family living in an economy highly affected by celebrities. It was highly publicized using terms such as "trainwreck" and "white trash."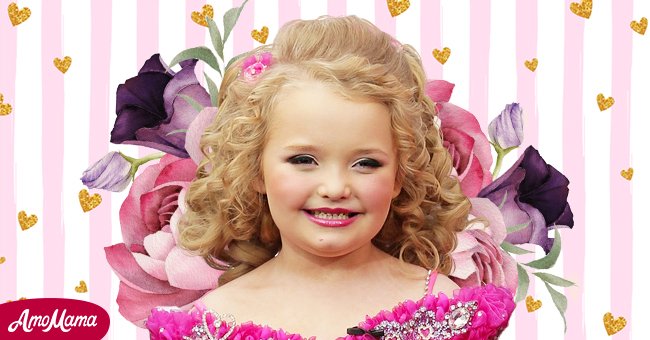 Thompson, who was in the middle of it all, was described as "just too much," "too obnoxious," and was considered too twangy and loud. 
The show was canceled in 2014, and in the place of a child who spoke loudly and whose mannerisms seemed to border on stereotyping black women stands a gorgeous and calmer almost-16-year-old.
During a photoshoot with Teen Vogue, Thomson seems more focused on her future, saying that despite it being hard, she is hell-bent on making a promising future for herself. She says:
"I want to be the best I can be, and I want to make my money, and I also want to make straight A's, so I just try my hardest." 
Thompson seems to want to put her Honey Boo Boo past behind her, even denouncing the name everyone knew her by. She now prefers that people refer to her by her birth name.
She dislikes the notion that many people cannot differentiate between the real her and "Honey Boo Boo," her character. "They are completely different people," she says.
Thompson seems to be winning this year, and in a previous interview, she admitted that her relationship with her mother is in a far better place after Mama June's struggle with drug addiction. 
Given her years of being in the public eye, [Thompson] feels people only befriend her only because she is Honey Boo Boo.
Mama June is reported to have spent close to a million dollars on her drug habits and even getting arrested at some point for possession. Thompson says her mother is now more involved in their lives and is finally making them her priority. 
Despite her rough patch, something good came out of it, the reality show " Mama June: Road To Redemption". The show follows the family and especially mama June as she wades the murky waters, trying to leave her addiction behind. 
And Thompson loves it. She says she loves being on these shows, seeing as no other job would pay her as well as TV does, and it is so much easier than having a regular job. 
It is, however, not without its perks. Being on TV for as long as she has, has placed her in a position of criticism and ridicule from online strangers.
She says despite the current generation being equipped to fight body shaming and fatphobia, they actually make it worse. She continues to say:
"I feel like my generation is probably making it worse. Everybody's all about body positivity, body positivity, until they see a body they don't like."
She does not, for the life of her, understand why anyone would hate her for having a little more "meat" on her bones. She does not, however, let the negative comments get to her because she loves her body and is always confident she looks good. 
Thompson also opens up about not having many friends saying she does not trust easily. Given her years of being in the public eye, she feels people only befriend her only because she is Honey Boo Boo and prefers to keep to herself.